by Tom Gaylord
Writing as B.B. Pelletier
This report covers:
Condor
Flexibility
Goof jobs
More power
For the latest Spin Loc valve
What it does
The kit
AirForce testing
Widest range of power today/li>
So what?
Summary
Today we start looking at what I believe is a really big deal. This is what I teased you about on Tuesday. The Ring Loc Kit from AirForce takes the world's most powerful and flexible air rifle and expands both its power and flexibility by an order of magnitude! That's a strong statement that I will now begin to justify.
Condor
The kit we are looking at is for the AirForce Condor and also for the CondorSS. The Condor has a 24-inch barrel. The CondorSS barrel is 18 inches, so everything you read about the Condor will be just a bit less in the SS. As you know, in PCPs barrel length makes a difference.
I was working at AirForce when the Condor first came out and I hand-tested the first 100 production rifles to make certain they would shoot a .22 caliber Crosman Premier pellet at 1,250 f.p.s., because that was the AirForce ad campaign. They never launch anything without first making certain that it will deliver as advertised. We recorded each serial number and the velocity it produced with a Premier, just so we could be certain that each and every rifle we sold delivered what was promised. After testing those rifles we knew with confidence that the valve design was right on the money and production was making them the way we thought. We could go back to testing a sample of production and not every gun.
Flexibility
I have said it many times before — when you buy an AirForce sporting rifle you aren't buying just one air rifle; you are buying an entire system. No other airgun on the market allows you to change barrels for three different lengths in 4 different calibers (that's 12 combinations), has a primary power adjuster that operates without the use of tools, and has a secondary means of power refinement in the valve cap. The secondary means of power adjustment involves adjusting the height of the valve cap to control the length of the valve stroke. In turn, that determines how long the valve remains open for the air to flow. And it doesn't stop there. You can put a standard air tank on a Condor to reduce the power, and even install a Spin-Loc Micro-Meter air tank to take it right down to nearly nothing (12 foot-pounds in .177 caliber). I tested that for you in 2008. So, a Condor can be almost whatever you want it to be.
Goof jobs
However — as soon as the rifle came out in 2004 the couch engineers had to "fix" the things that AirForce got wrong. One of the popular early modification was to install a heavier striker weight, thinking that a harder blow would hold the valve open even longer. What it did was pound the Delrin valve seat into the valve stem, ruining the valve. And, on Mr. Condor's personal rifle, it also bent the aluminum frame of the gun, so that when we rebuilt his gun for him (one of the original 100 to go out) we weren't able to repair the frame. We got his rifle working within specifications again and he stopped posting his fixes on the forums, but I often wondered where that poor beat-up Condor is today!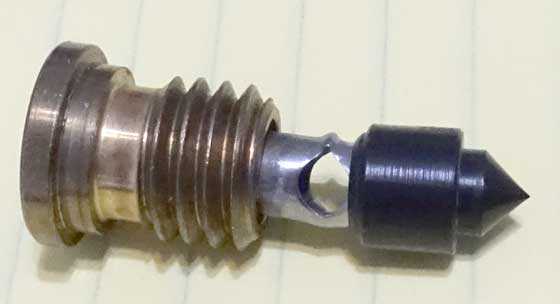 I saved Mr. Condor's destroyed valve, or what was left of it (the valve cap and stem were broken off), to show people what happens when you fool with things you don't understand. My Condor that's just as old still works perfectly.
Now you understand my background. I was there and saw this from the inside. The Condor was a world-beating air rifle that produced up to 65 foot-pounds of muzzle energy when it first came out in .22 caliber. Today it is offered in .25 caliber and goes out the door capable of 80 foot-pounds, mostly due to the heavier pellets that have come into the market.
More power
As Tim the Tool Man Taylor tells us — what we need is more power! For those not living in the U.S., that's a reference to a comedy television show, Home Improvement that ran from 1991 to 1999. It's based on comedian Tim Allen's humor. And AirForce has listened! The Ring Loc Kit that I'm reviewing for you starting today (and continuing for I don't know how long) does just that. It takes the 80 foot-pound .25 caliber Condor up to 105 foot-pounds! That's Escape territory, with the additional benefit of the large Spin-Loc Condor air tank instead of the smaller Spin Loc Escape air tank! So — there are more shots!
For the new Ring Loc valve
The Ring-Loc Kit is made to fit the new Spin-Loc tank that has the Ring Loc valve, only. If you have the older Spin-Loc tank that has two Allen screws in the valve cap, you need to buy a new tank with a Ring-Loc valve to use this kit. However, if you have an even older Condor like mine that has the quick-detach tank (the one that unscrews from the rifle and doesn't have the gauge or quick-disconnect fill port) with one or two Allen screw(s) holding the valve cap to the stem, your gun has to be modified by AirForce to accept a Spin Loc tank. Then the Ring-Loc Kit will fit. Obviously if you buy a spare air tank for this kit, only buy the one that has the latest Ring-Loc valve.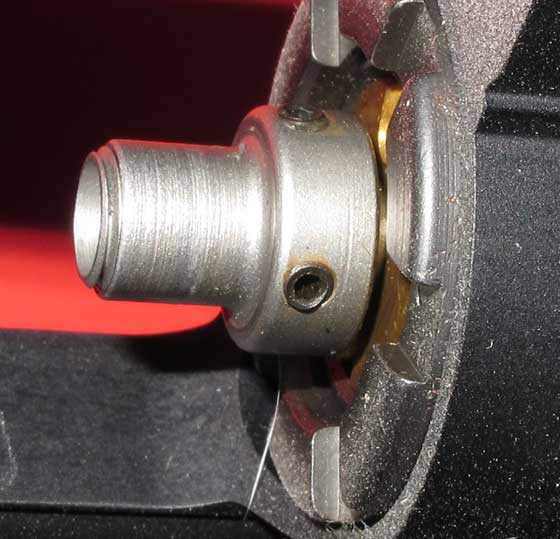 This is the Spin Loc tank you are familiar with. It has two Allen screws to lock down the valve cap at the proper clearance.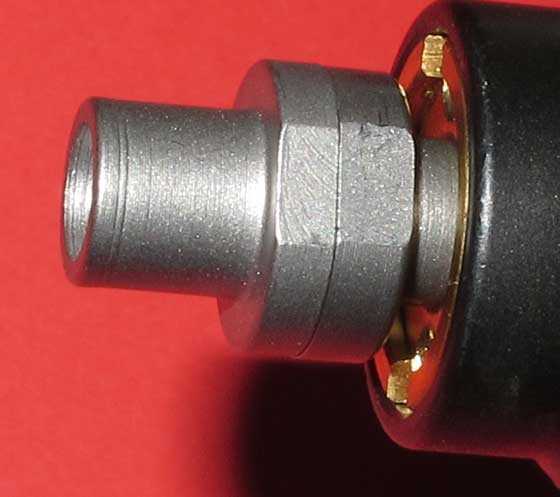 The new Spin Loc tank has the Ring-Loc valve cap.
What it does
Now I will get specific. The Ring-Loc Kit allows the owner to quickly adjust the size of what AirForce calls the orifice (we would call it the air transfer port) of the firing valve. A larger orifice allows more air to flow from the tank, resulting in more power. How much more power depends on the caliber and weight of the pellet.
Of course it also works the other way, as well. A smaller orifice give less power and more shots. Since the Condor is the most powerful smallbore air rifle you can buy, going down in power is also of interest. I already linked you to my report on the Micro-Meter tank, which takes the power as low as you can go, but what about the Spin-Loc Kit? How low can it go? Well, nobody knows — yet. Let's look at the kit now.
The kit
The $50 Ring-Loc Kit comes with 4 orifices of fixed dimensions:
0.232-inches
0.166-inches
0.145-inches
0.123-inches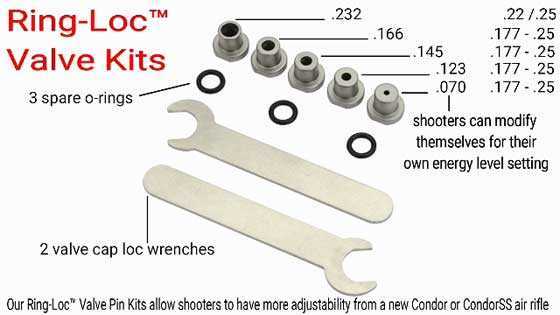 The Ring-Loc Kit comes with all of this.
There is one additional orifice with a hole that's 0.070-inches in diameter that will not even shoot a .177 caliber pellet out of the Condor's 24-inch barrel. That cap is for your own experimentation! Drill it out to whatever size you want and set up your Condor to do what you want.
You also get three replacement o-rings that fit between the valve cap and the ring lock underneath. I will have more to say about them in a future report.
Finally you get two wrenches that you use to adjust and lock down the ring lock valve cap.
AirForce testing
You get the most power from the largest orifice, which is the 0.232-inch one. However, that orifice does not work well with .177 caliber barrels. We aren't very sure how well it works with .20 caliber, either, as tests have been run but more testing is needed.
Obviously as the orifice size decreases, the power does, too. And of course the shot count goes up. For the .177 Condor the 0.123-inch orifice is great, and for getting a lot of shots at consistent velocity the 0.145-inch orifice works quite well in .22 caliber. AirForce has a video on their website that covers the kind of results you will see with the different orifices.
What hasn't been tested thoroughly is the Ring-Loc Kit at lower power. So, that's what I'm going to do. I will first give you a synopsis of the data that's been generated at the higher end of the power spectrum, then we will test the lower end together.
Widest range of power today
We know from my testing in 2008 that a Condor can deliver 12 foot-pounds in .177 caliber when it uses the Micro-Meter tank. AirForce has proven that they can dial a Condor with the Ring-Loc Kit down to around 22 foot-pounds in .177 caliber. That's a 7-grain pellet traveling 1190 f.p.s. What I want to know about is the area in-between 12 foot-pounds and 22 foot pounds. In other words, can the Ring-Loc Kit make a Condor suitable to shoot indoors and still protect the bird feeder? I'm talking 14-18 foot-pounds or so. And, can the Ring Loc Kit make it unnecessary to buy the Micro-Meter air tank, altogether? Wouldn't that be nice?
With all that testing yet to be done, though, we can still say conclusively that the AirForce Condor has the widest range of power available in a smallbore air rifle today — 12 to 105 foot pounds in 4 different calibers and 3 barrel lengths. They are so far out in front that second place is still over the horizon!
So what?
Here's what! Want to get into PCPs and cover the spectrum for as little money as possible? Get a Condor. You can shoot indoors. You can protect the bird feeder and garden, you can hunt woodchucks at long ranges. You get a Lothar Walther barrel that offers great accuracy. One gun has it all, at least from a performance standpoint.
Summary
Don't set up your Corvette with a 3-point Ferguson plow hitch just yet. You may still need your tractor for some jobs around the garden. But, glory be if the Ring-Loc Kit for a Condor and CondorSS isn't something Tony Stark would be proud of!
I have so much more coming! Next time I will get to the results of some tests, plus I'll show you how to install and adjust the orifices. New toys, guys!