by Tom Gaylord
Writing as B.B. Pelletier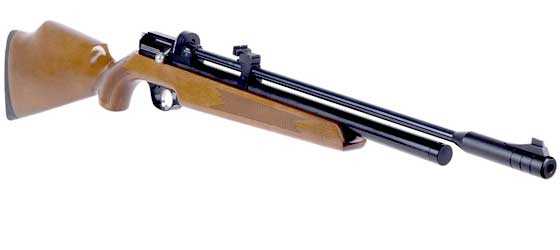 Diana Stormrider precharged pneumatic air rifle.
This report covers:
Rear sight comes off
The test
Crosman Premiers
Next up — JSB Exact Jumbos!
One more pellet
Conclusion
Let's get right to it. Today we learn just how accurate is the .22-caliber Diana Stormrider I'm testing. In Part 3 I probably had difficulty seeing the open sights, but today I have scoped the rifle with a UTG SWAT 3-12X44 sidewheel scope. I have mounted it in BKL 30mm high rings. These are the thin rings with two screws per cap, because the Stormrider receiver doesn't accept rings with a long base.
Rear sight comes off
The rear sight had to be removed for the bell of the scope to clear. The sight base, which is also the barrel band, remained on the rifle — just the adjustable rear notch had to come off.