by Tom Gaylord
Writing as B.B. Pelletier


Artemis PCP air pistol.
This report covers:
Slow regulator
Fill
The test
Sight-in
RWS Superdomes
JSB Exact RS
JSB Hades
H&N Baracudas
Field Target Trophy
JSB Exact Jumbo
Observations
Summary
Today we take our first look at the accuracy of the Artemis PP700S-A PCP pistol. I shot it using the sights that come on the gun.
Slow regulator
I read Part 2 before starting the test, because I knew the regulator on the pistol took a long time to settle down after a shot. From the comments of some readers who own the gun, my experience is typical and goes away as the gun breaks in.
Fill
I also read where I had discovered that the test pistol does not want to be filled to 3,000 psi. It likes a 2800 fill, so both times I filled it that's where I stopped. And again there was owner agreement.
The test
I shot off a sandbag rest at 10 meters. The pistol was rested directly on the bag, so there was little or no motion. I decided to shoot 5-shot groups that would allow me to test more pellets than if I had shot 10 shots. I tried to wait about two minutes between each shot, which we learned in Part 2 is the amount of time it takes the regulator to fill.
Sight-in
When testing a new airgun I never know where the first shot will hit, so I usually start shooting 10-12 feet from the target. But when the gun being tested has open sights I figure the pellet will be pretty close to on, right out of the box. Wrong! The first pellet hit the target 2.75-inches below the aim point and a little to the left. There is no elevation adjustment. I could adjust the rear sight right and left, but I left it alone for now. And that turned out to be fine because pellets went both right and left.
RWS Superdomes
The first pellet to be tested was the RWS Superdome. Though I aimed at the 6 o'clock on the upper bull, 4 of the five shots hit at the very bottom of the bull below it, and one was even lower and off the target paper altogether. Because of that I had to photograph the targets differently this time.
Five Superdomes went into 0.858-inches at 10 meters. Four shots are sort of together in 0.59-inches, which is better. It was the first shot that hit below the paper.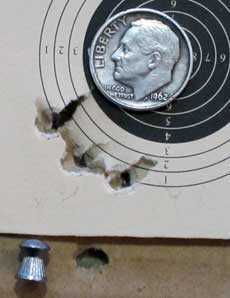 Five RWS Superdomes went into 0.858-inches at 10 meters, with 4 shots going into a tighter 0.59-inches.
JSB Exact RS
Next I tried 5 JSB Exact RS pellets. I thought, given the pistol's lower power, that perhaps lighter pellets were the answer. But I was wrong. This time five went even lower on the target into a group measuring 1.175-inches between centers.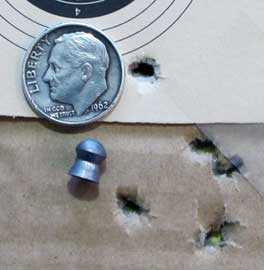 Well, it's clear that JSB Exact RS pellets are not right for this Artemis. Five went into 1.175-inches at 10 meters.
JSB Hades
When I was at the Texas Airgun Show a few weeks ago, a reader gave me a tin of JSB Hades hollowpoint pellets. He told me after testing them he purchased 40 tins immediately. I had already requested a tin and had it on hand for a special test, but after hearing his confidence I knew I had to include them the first chance I got. And this was it.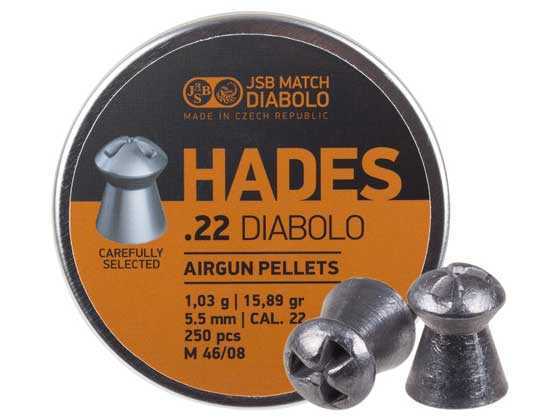 The Hades is a new hollowpoint pellet from JSB.
Five Hades pellets went into 0.716-inches at 10 meters. There are actually two separate groups of three and two pellets, so the potential is for this pellet to stack at this distance! This was the smallest group of the test, which makes it clear why he was so enthusiastic about them!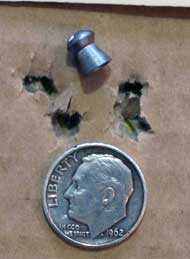 JSB Hades hollowpoints made the smallest group of the test, measuring 0.716-inches between centers. The hole on the right has three pellets in it, which shows what this pellet really wants to do.
H&N Baracudas
The next pellet I tried was the H&N Baracuda with a 5.50mm head. What a tease it was, because 4 of the 5 went into 0.234-inches, but one of the five opened the group to 0.763-inches. I have a feeling this is another pellet to try when the pistol is scoped.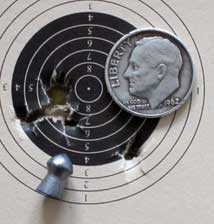 Four Baracuda pellets are in 0.234-inches at 10 meters, but one of the five opened the group to 0.763-inches.
Field Target Trophy
The next pellet I tried was the H&N Field Target Trophy with a 5.53mm head. I have never had much luck with this pellet, though I know many shooters do. You might think that introduces bias into the test, and perhaps it does, but I really did shoot my very best. Five pellets went into 1.443-inches at 10 meters, though four of them are in 0.517-inches. I guess that's better than it looks.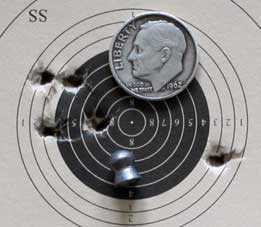 The Artemis put 5 F&N Field Target Trophy pellets into 1.443-inches at 10 meters. That's the largest group of the test, but 4 of those 5 are in 0.517-inches.
JSB Exact Jumbo
The last pellet I tried was the ever-reliable JSB Exact Jumbo. This is usually one of the most accurate pellets in any airgun. But not this time. They dropped a full 4-inches below the aim point and five grouped in 0.844-inches.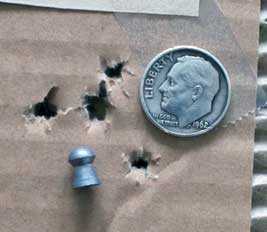 Five JSB Exact Jumbo pellets went into 0.844-inches at 10 meters.
Observations
I found the Artemis pistol easy to hold steady, but with a trigger pull that's too stiff when I'm doing precise work. And the front sight blade is too thin for the width of the rear notch, so I had to guesstimate the sight picture a little.
I got 20 shots on a fill and there were probably 5 more than that. I just didn't want to take any chances with the accuracy.
I tried to wait a full two minutes between shots for the regulator to cycle, but I'm sure I cut it a little short several times. That won't be necessary, once the pistol is broken in.
Summary
The Artemis PP700S-A PCP pistol seems to be well-made and very stable. I don't like the fact that the rear sight doesn't adjust for elevation, but I suppose most shooters will scope it. That's what I will do next time and see what this gun can do at 25 yards.