by Tom Gaylord
Writing as B.B. Pelletier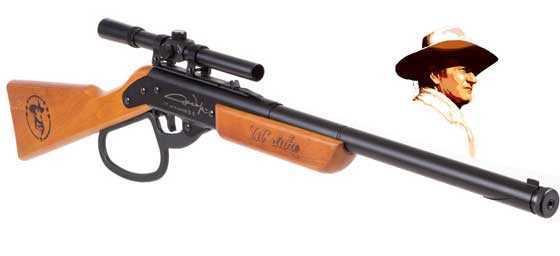 John Wayne Lil' Duke BB gun with scope.
This report covers:
Will it shoot Marksman BBs?
The test
Air Venturi BBs
Hornady Black Diamond
Avanti Match Grade Precision Ground Shot
Discussion
Smart Shot
Old Dust Devils
Dust Devil Mk 2
Summary
Today we look at the accuracy of the John Wayne Lil' Duke BB gun with scope. I will tell you right now that I read some online reviews and was thinking the gun might not be too accurate. The two reviews that are on the Pyramyd Air website don't say much at all. Well, I'm telling you that the gun I have is quite accurate for a conventional BB gun. You just have to use the ammo it likes. Let's get started.
Will it shoot Marksman BBs?
Somewhere online I read where one person was shooting his Lil' Duke with Marksman BBs. He called them Marksman Golden BBs, which to my knowledge Marksman never made, so I wonder if was right about what he was saying. Anyway, I tried dropping a current Marksman BB in the Lil' Duke's bore and it didn't fit.
Now, we know that the current crop of Marksman BBs measure 0.1765-inches in diameter — so they are a true .177 BB, rather than the 0.171-0.173-inches that all other steel BBs measure. That makes them too large for almost all BB guns on this planet.

As you can see, the Lil' Duke bore is too small for the current Marksman BBs.
The test
Today I will shoot the Lil' Duke from 5 meters using the open sights. The gun came with a scope that I will mount and test in a future report, so this isn't the last you will hear of it.
I'm shooting off the UTG Monopod while seated. I'm shooting 5-shot groups today so I can test more BBs.
Air Venturi BBs
Since the Lil' Duke is from Air Venturi, I'll start testing with their BBs — the Air Venturi Steel BB. Theirs that they offer now are zinc-plated but the ones I have are plated with copper. They used to offer them both ways but the copper ones are no longer stocked. I doubt it makes any difference to accuracy.
Five Air Venturi BBs went into 1.644-inches at 5 meters. It's a very horizontal group and none of the shots were called as pulls, so I have to say that this isn't the BB I recommend for this gun. Of course I didn't know that at this point in the test.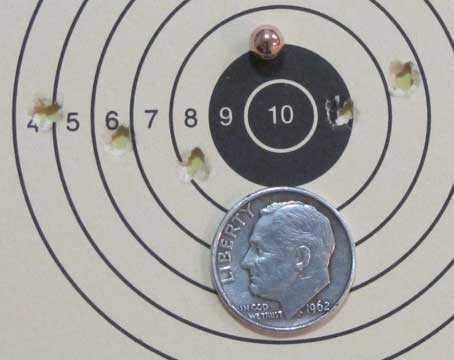 The Lil'Duke put 5 Air Venturi Steel BBs into this horizontal group that measures 1.644-inches between centers at 5 meters.
Hornady Black Diamond
Next I tried 5 Hornady Black Diamonds. They are often the most accurate steel BBs in a test, and the Lil' Duke seems to like them. The more circular 5-shot group measures 1.005-inches between centers.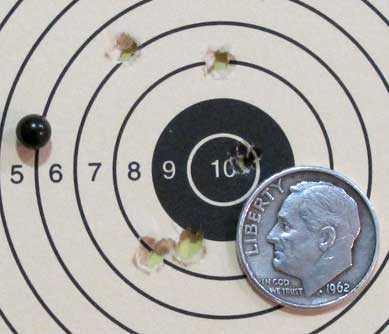 The Lil' Duke put 5 Hornady Black Diamond BBs in 1.005-inches at five meters.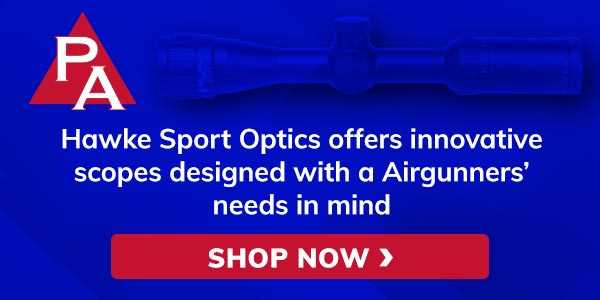 Avanti Match Grade Precision Ground Shot
Now that the standard premium steel BBs had been tested, it was time to try several non-standard BBs. The first was the Avanti Match Grade Precision Ground Shot that is made only for the Daisy 499 — the world's most accurate BB gun. The Lil' Duke did not care for this BB — putting 5 into 1.136-inches at five meters.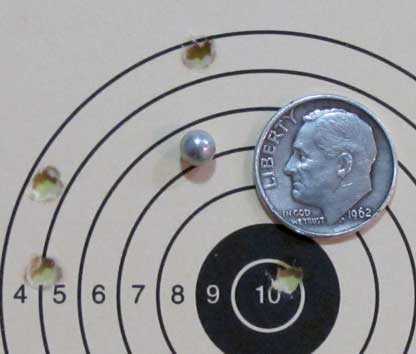 Five Avanti Precision Ground Shot went into 1.136-inches at 5 meters. I know it looks like only 4 holes but there are 5 BBs in this group. I was unable to tell even from the back of the target paper where the other BB went, but it's in there somewhere.
Discussion
With the buildup I gave at the beginning of this report I bet you are wondering where are the targets to support it. The Hornady target was a good one but none of the rest of them have been. Well, here it comes.
Smart Shot
Now it was time for the lead BBs from H&N — the Smart Shot. With the extra power this gun has the heavier Smart Shot are at no disadvantage. And I was unprepared for what they could do. The first two went into the same hole. I guess that shook me up a little because shot three was a called pull that went lower. But not very much lower! Shot four went back through the first two BB holes and shot 5 was a second called pull that went up and to the right. In the end I had a five-meter five-shot group that measured 0.763 inches. Three of those BBs are in 0.119-inches! I know that's a fluke, but even looking at all five shots this is still a great group.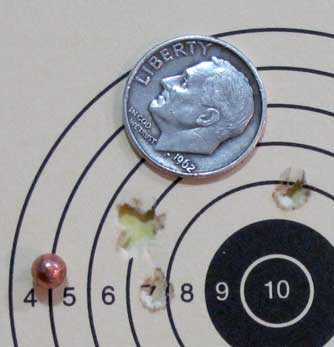 Five Smart Shot went into 0.763-inches at 5 meters, with three of them in 0.119-inches.
Old Dust Devils
Here we go! I told you I was going to test the new Air Venturi Dust Devil BBs in any BB gun I test. I knew that you would also ask me what the old ones did, so I tested them first. Five old Dust Devils went into 1.567-inches at 5 meters. It's not the largest group of this test and yes, I see the three together in the center, but this time I was not as impressed. Maybe I should have been, but those three felt like more of a coincidence than something that was intentional. Perhaps because it was getting toward the end of the test I was relaxing a little more than I should have been.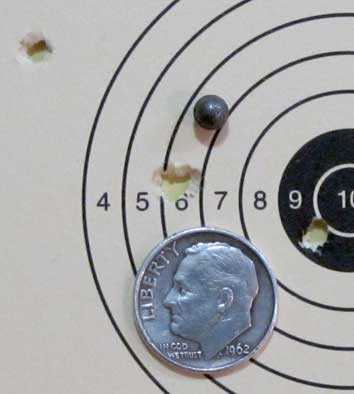 Five of the old Dust Devils went into this group that measures 1.567-inches at 5 meters. It's not the worst group of the test, but it's close!
Dust Devil Mk 2
Now it was time to try the new Dust Devil Mark 2 BBs. Five went into 1.348-inches at 5 meters. That's a little better than the old ones, but with only one group of each it's too soon to say much more. At least we know they work, and in the Lil' Duke they beat at least one premium steel BB.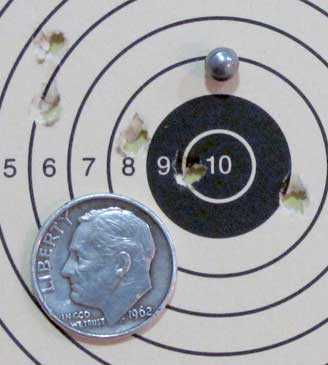 Five new Dust Devil BBs went into 1.348-inches.
Did I try harder with the new Dust Devils than I did with the old? Who can say? That's bias and it's why real tests are structured to eliminate any possibility of it happening.
But one thing I did not do is shoot with the Lil' Duke in a vise. I know many of you think that is the right way to test, but in my experience it isn't. As long as the shooter knows how to shoot, the vise can often be beaten — especially when the gun is a springer. I have done it enough times to know for sure. I even did it when the pneumatic AirForce Edge was being developed.
Besides — the Lil' Duke is gravity feed, so you can't shoot more than one shot in a vise before the muzzle of the gun has to be elevated to feed the next BB. So, there!
Summary
This test did not turn out the way I expected. This Lil' Duke is a small but powerful BB gun that's also quite accurate with certain BBs. And I shot it for this test with open sights. Next time I will mount the scope and try again. Will it do even better? We shall see.