Beeman R10: Part 4
by Tom Gaylord
Writing as B.B. Pelletier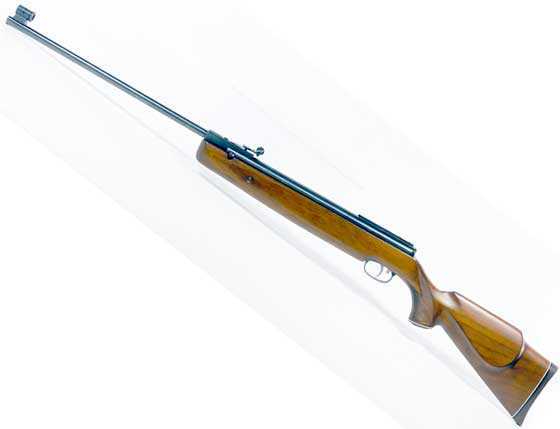 Beeman R10.
This report covers:
The test
Scope
Sight in
JSB Exact RS
JSB Exact
JSB Exact Jumbo
Falcon
10-shot group of Falcons
Shootin' machine
Summary
Welcome to the last report on the Beeman R10 that I tuned. This will be the accuracy test at 25 yards.
The test
I shot the rifle off a sandbag rest at 25 yards. I used an artillery hold with my off hand back by the triggerguard. I shot 5-shot groups to test more pellets and then 10-shot groups when I found a good one.
Scope
I scoped the rifle with a UTG Bug Buster 3-12X32 scope. It fit the R10 quite well, and when you see my groups I think you will agree that the scope worked.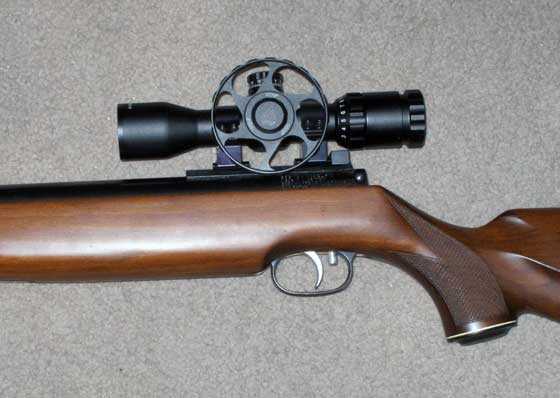 The Bug Buster fit the R10 well.
Sight in
I knew the scope was shimmed to take care of moderate barrel droop so I fired two shots at 12 feet and was immediately able to move back to 25 yards. Shots three and four were used to refine the zero and then I fired the first 5-shot group.
JSB Exact RS
Five JSB Exact RS domes went into 0.45-inches at 25 yards, with the last 4 shots going into a much smaller group measuring 0.108-inches.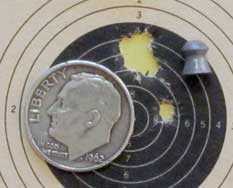 Five JSB Exact RS pellets went into 0.45-inches with the last 4 going in 0.108-inches at 25 yards.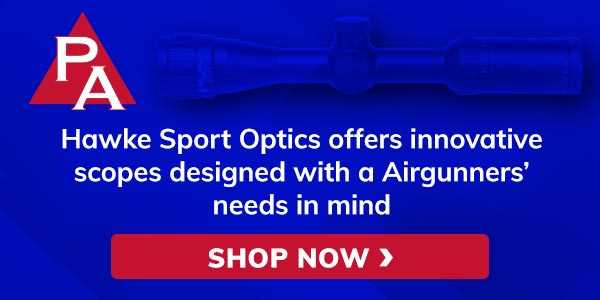 JSB Exact
The second pellet I tried was the 8.44-grain JSB Exact dome. They didn't do so well. Five made an open group measuring 0.622-inches between centers at 25 yards.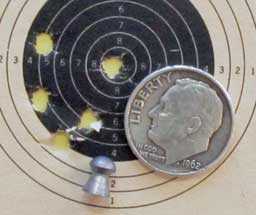 JSB Exacts that weigh 8.44-grains didn't do so well in the R10. Five in 0.622-inches at 25 yards.
JSB Exact Jumbo Heavy
Next, the heavier 10.34-grain JSB Exact Jumbo Heavy pellets did quite well. Five of them went into 0.307-inches at 25 yards.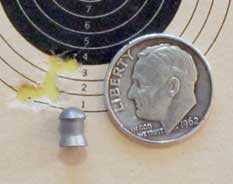 The R10 put 5 JSB Exact Jumbo pellets into a 0.307-inch group at 25 yards.
H&N Baracuda Match with 4.52mm heads
After that came five H&N Baracuda Match pellets with 4.52mm heads. They made a 0.314-inch group at the lower left of the bull.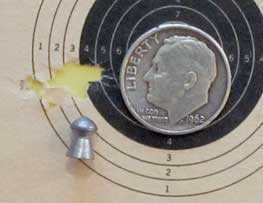 H&N Baracuda Match made this nice 0.314-inch group at 25 yards.
Falcon
The last pellet I tried was the Air Arms Falcon dome. The first shot went just above the 9-ring and then four more went into one hole at the bottom of the bull. The group measures 0.61-inches with 4 in 0.249-inches.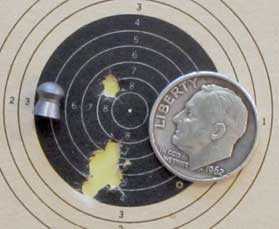 The R10 put 5 Falcons in 0.61-inches with the last 4 in 0.249-inches.
There are five 5-shot groups fired from the R10. Three or four of the five pellets did well enough to warrant further testing, so I decided that since I had just shot Falcons, they would be the pellets I tested further. Because they were low on the bull I raised the scope by 5 clicks.
10-shot group of Falcons
I put up a fresh target and proceeded to shoot 10 Falcons at it. The first shot removed the 10-ring. Shot two was a called pull that hit to the right of that. The other 8 shots all went where the first one did. That's 10 in 0.452 with 9 in 0.205-inches. I don't care who you are — that's a good group for a springer!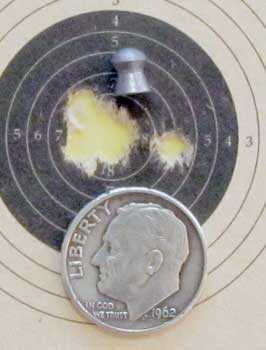 Ten Falcons shot at 25 yards from the R10. The single hole on the right was a called pull. Group measures 0.452-inches with nine in 0.205-inches.
This target was so encouraging that I tried to repeat it, but alas without success. My second 10-shot group of Falcons measures 0.495-inches between centers and I figured that was it for the day.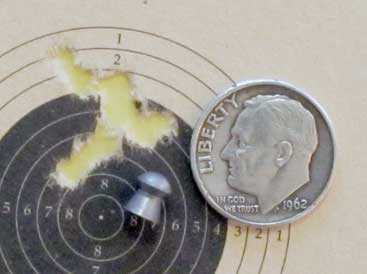 Ten Falcons are in 0.495-inches.
Shootin' machine
No question about it — this R10 is a real shooting' machine! The tune is still dead calm and the trigger is about as perfect as you could hope for. The Bug Buster worked well with the rifle and if it were mine I would think about leaving it on permanently.
Summary
Thanks to a reader we got a good look at a vintage Beeman R10. We also saw how a Vortek PG3 kit installs and performs.
I have always heard that Beeman R10s are buzzy, but the Vortek kit turns them into very well-behaved breakbarrels. This is a rifle to admire and, since the Beeman R9 is virtually the same airgun, the comments carry over to it, as well.
Tom Gaylord is known as The Godfather of Airguns™ and has been an airgunner for over a half-century, but it was the 
Beeman
 company in the 1970s that awoke a serious interest in airguns. Until then, all he knew were the inexpensive American airguns. Through the pages of the Beeman catalog, he learned about adult airguns for the first time. In 1994, Tom started
The Airgun Letter
 with his wife, Edith. This monthly newsletter was designed to bring serious reports about airguns to the American public. The newsletter and
Airgun Revue
, a sister magazine about collectible airguns, was published from 1994 until 2002, when Tom started
Airgun Illustrated
-- the first American newsstand magazine about airguns. Tom worked for three years as technical director at
AirForce Airguns
, the makers of the 
Talon, Condor, and Escape
 precharged air rifles. Today, he writes about airguns and firearms for various publications and websites. He also makes videos, and you'll find short clips embedded in some of his artices on Pyramyd Air's website. Tom is a consultant to Pyramyd Air and writes under the name of B.B. Pelletier.