Umarex Fusion 2 CO2 rifle: Part 4
by Tom Gaylord
Writing as B.B. Pelletier
This report covers:
The test
Scoped
JSB Exact RS
Air Arms Falcon
Magazine problems
RWS Meisterkugeln Rifle
H&N Baracuda Match 4.50mm heads
Discussion
Summary
Today we look at the accuracy of the Umarex Fusion 2 CO2 rifle.
The test
I shot the rifle from a rest at 10 meters. I wanted to give the rifle and scope an easy test, as I was actually looking for the most accurate pellets, in case I move back to shoot at 25 yards. I shot 9-shot groups with each pellet because the magazine holds 9 pellets.
Scoped
The Fusion 2 doesn't have open sights so I scoped it. I mounted a UTG 2-7X44 Scout SWAT scope. I mounted it quickly for today's test with the intention of shimming it at the rear for a longer range test if the Fusion 2 was accurate.
JSB Exact RS
I sighted in with JSB Exact RS domes and then shot a 9-shot group. Nine pellets went into 0.637-inches at 10 meters. That would be okay for 25 yards but it's big for 10 meters.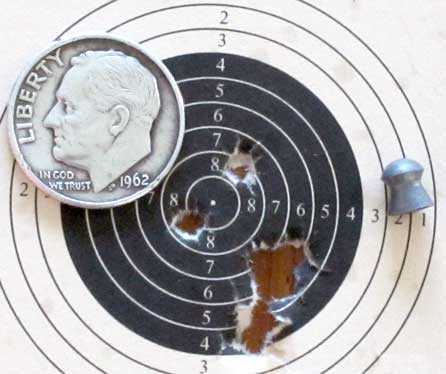 Nine JSB Exact RS pellets went into 0.637-inches at 10 meters.
Air Arms Falcon
Next to be tried were Air Arms Falcon domes. They often surprise me with their accuracy. This time they turned in the smallest group of the test — 9 in 0.592-inches at 10 meters.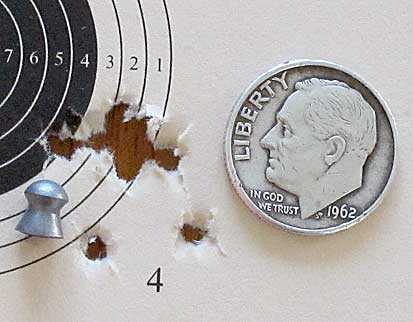 Nine Air Arms Falcons went into 0.592-inches at 10 meters. It was the smallest group of the test.
Falcons also jammed the magazine three times. I spent as much time trying to fix the air rifle when shooting them as I did with all the other pellets tested.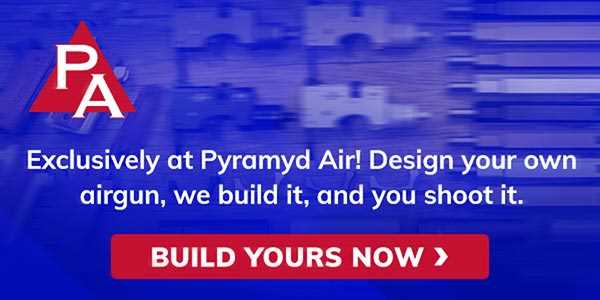 Magazine problems
I had problems with the magazine in previous tests, but I thought they were all solved by holding the rifle level. Nope. Today the mag got jammed in the action three times, requiring me to tap it out with a punch. What happens is a pellet jumps out of the mag as it is loaded into the receiver. Once that happens the mag with neither go all the way into battery, nor can it be removed easily. Hence the drift. When it comes out the damaged pellet that was jamming it can be removed from the action, though I also had to pry pieces of one pellet out of the magazine with a small pen knife.

I had to drive the magazine out of the receiver three times to clear jammed pellets!
The magazine also failed to advance several times, resulting in a blank shot. I resorted to watching it as I cocked the rifle to make certain it advanced.
RWS Meisterkugeln Rifle
I wanted to try a heavier pellet, so the RWS Meisterkugeln Rifle wadcutter was next. Nine of them went into a group that measures 0.549-inches between centers. It's a very round group, but look at it. The pellets didn't want to have anything to do with each other!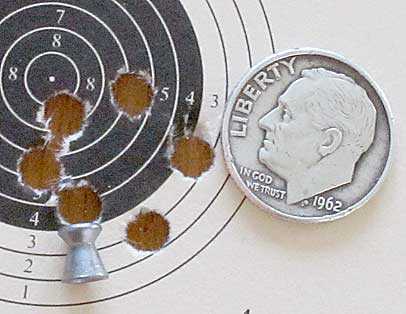 Yes, it looks like only 6 holes but 9 RWS Meisterkugeln Rifle pellets are in this 0.549-inch group.
H&N Baracuda Match 4.50mm heads
Now I wanted to try a really heavy pellet. Sometimes they can be very accurate in lower-powered airguns. Nine H&N Baracuda Match domes with 4.50mm heads made a 1.258-inch group at 10 meters.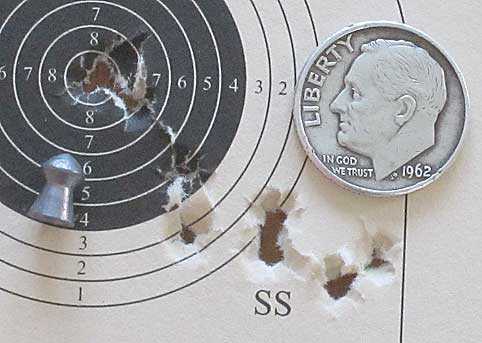 Nine H&N Baracuda Match domes made a 1.258-inch group at 10 meters. It's the largest group of the test.
Discussion
Well — phooey! The rifle doesn't get good gas mileage, it has a defective CO2 reservoir that needs a workaround, it won't accept the 88-gram cylinders it's supposed to, the magazines both jammed the gun and the thing isn't accurate. At least that was my experience with it.
Summary
There are too many air rifles that have a lot going for them for me to recommend the Fusion 2. I had high hopes at the start of this report but the test gun derailed them.
Tags In
Tom Gaylord is known as The Godfather of Airguns™ and has been an airgunner for over a half-century, but it was the 
Beeman
 company in the 1970s that awoke a serious interest in airguns. Until then, all he knew were the inexpensive American airguns. Through the pages of the Beeman catalog, he learned about adult airguns for the first time. In 1994, Tom started
The Airgun Letter
 with his wife, Edith. This monthly newsletter was designed to bring serious reports about airguns to the American public. The newsletter and
Airgun Revue
, a sister magazine about collectible airguns, was published from 1994 until 2002, when Tom started
Airgun Illustrated
-- the first American newsstand magazine about airguns. Tom worked for three years as technical director at
AirForce Airguns
, the makers of the 
Talon, Condor, and Escape
 precharged air rifles. Today, he writes about airguns and firearms for various publications and websites. He also makes videos, and you'll find short clips embedded in some of his artices on Pyramyd Air's website. Tom is a consultant to Pyramyd Air and writes under the name of B.B. Pelletier.