by Tom Gaylord
Writing as B.B. Pelletier


Benjamin Cayden sidelever repeater.
This report covers:
Accuracy
The test
Sight-in
Turned on the lights!
Air Arms 16-grain dome
H&N Baracuda Match with 5.53 mm heads
Air Arms 18-grain domes
JSB Exact Jumbo Heavy
Discussion
Personal note
Summary
Crosman managers — call your people together (except those assembling, of course). Tell them you have a winner in the Benjamin Cayden! What an air rifle! I like the sidelever. I like the magazine. I like that it gets lots of shots on a 3,000 psi fill. I guess I just like the Cayden. Today I will tell everybody more about what I like.
Accuracy
Today is the second accuracy test and I'm moving back to 25 yards. I also boosted the power up as high as it will go, because the Cayden uses air so sparingly.
The test
I'm shooting off a sandbag rest from 25 yards. I decided not to adjust the scope today, as long as the shots land reasonably close to where I'm aiming. I shot 10 shot groups with each of 4 different pellets.
Sight-in
I had not planned to sight in the rifle again because I didn't think it was necessary. But the first two shots hit the target a inch and a quarter above the aim point. They were also loud. Then I remembered — the Cayden is the rifle on which I used the DonnyFL silencer. In fact I bought it for the Cayden! So I stopped shooting and installed the silencer. The next shot dropped by almost an inch and the following shot went through the same hole. That answered several questions in the first 4 shots.
First — the Cayden shoots just as well with the silencer installed — perhaps better. And second, the POI does change when the silencer is on. If I was a rich guy I would just leave it on the Cayden, but this isn't my rifle. It has to go back with its factory muzzle brake, so I don't need to be misplacing that! What I'm telling you is sight in your Cayden with the rifle set up the way you intend shooting it.
Turned on the lights!
Remember in Part 3 I told you that I am using what we discovered to be an obsolete UTG SWAT 4-16 scope? I told you that scope has an etched glass reticle. Well after the first two shots I turned on the reticle and it became much easier to see over the bulls! Etched-glass reticles do not illuminate the interior of the scope tube when they are on. Only the tiny crosshair at the center of the reticle lights up, and that's perfect for precise aiming!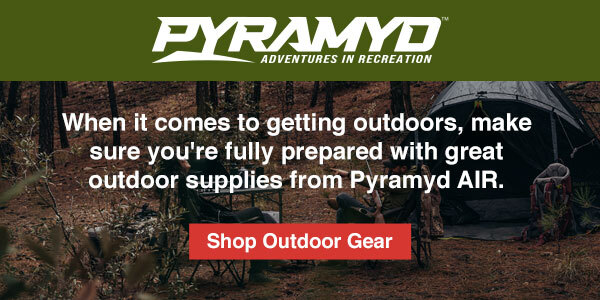 Air Arms 16-grain dome
The first pellet I tested was the Air Arms 16-grain dome that has no other name. I mention that because I am also testing a different Air Arms dome today. I only load 10 pellets into the 12-shot magazine, to keep my groups to 10 shots.
Ten shots went into a somewhat vertical 0.474-inch group at 25 yards. And I did shoot all 10 shots. I reloaded the magazine after the first two shots went high, so I could finish the group.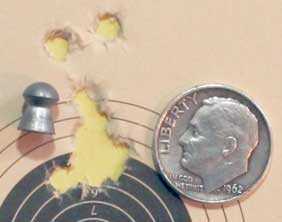 The two shots above the group were shot with the factory muzzle brake on. Then I removed it and installed the DonnyFL silencer and shot the 10-shot group below. It measures 0.474-inches between centers.
H&N Baracuda Match with 5.53 mm heads
Next up was a pellet I didn't shoot at 10 meters — the H&N Baracuda Match with 5.53 mm head. These are heavier, and since I was shooting on full power I figured they would be ones to try.
Ten shots went into 0.438-inches at 25 yards. They landed a little to the left, but still on the bull at which I was aiming.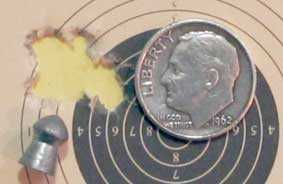 The Cayden put 10 H&N Baracuda Match pellets with 5.53 mm heads into a 0.438-inch group at 25 yards.
Air Arms 18-grain domes
Next up was another pellet I hadn't tried in the Cayden yet — the Air Arms dome that weighs 18 grains. These proved to be phenomenal! Ten of them went into 0.284-inches at 25 yards. It was the best group of the test!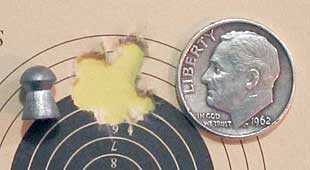 Air Arms 18-grain domes were just the ticket! Ten of them went into 0.284-inches at 25 yards.
JSB Exact Jumbo Heavy
The last pellet I tested was the JSB Exact Jumbo Heavy that weighs 18.13-grains. These did quite well, too. Ten of them went into 0.315-inches between centers at 25 yards.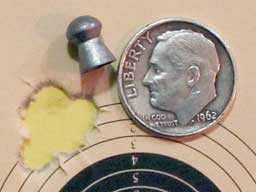 Ten JSB Exact Jumbo pellets went into 0.315-inches at 25 yards.
Discussion
What is not to like? The trigger that I will admit isn't as refined as a Marauder trigger, is still very good. The sidelever works perfectly. The power is quite adjustable and the Cayden gets a lot of shots on a fill. I shot 42 full-power shots in this test and the manometer (onboard pressure gauge) still reads 2300 psi, meaning there is probably another full magazine of 12 shots — all on max power!
The Cayden is stable. It has no barrel issues (moving when bumped). It is attractive, with the Turkish walnut stock, and don't forget that cheekpiece adjusts.
Personal note
I love my job, but some airguns are easier to write about and test than others. The Cayden was easy because it did everything Crosman said it would. That makes it so much easier for me. And, I like shooting accurate airguns!
Summary
I know it sounds like I'm finished, but I'm not. This rifle has earned its way into a 50-yard test! The problem is, there are some other airguns ahead of it and at this time of year getting a 50-yard range without a windstorm isn't that easy. Still, I will push it up in the line because I want to test at least one more of the Benjamin Craftsman Collection — perhaps a .25-caliber Kratos. Wouldn't that be fun?