by Tom Gaylord
Writing as B.B. Pelletier
This report covers:
The beginning
Walther LGR
HOWEVER!
Diana model 10
What is a Diana 10?
The grips
The top spacer
Sights
Trigger
Power
Summary
Today is a special treat. We are going to go back into my distant past and see something that was pivotal in my life. It was, and yet this one wasn't. This is something that made me the airgunner I have become, and I have been telling you about it on this blog for many years. I have and yet I haven't. Read on, Grasshopper.
The beginning
The year was 1976 (I think), and I was walking with my first wife and son through Rothenburg ob der Tauber — a walled medieval town next to the Tauber river in northern Bavaria, Germany. Rothenburg is a tourist town today, because it is so well preserved and colorful. I enjoyed going there with my little family on my time off and just walking around seeing the sites!
One day, however, something different happened. Up a side street I saw the sign for a gun store. Now, ANY gun store in Germany would catch my attention, but one in Rothenburg just had to be special, like everything else in that quaint old town. So, we wandered in and looked around.
Walther LGR
The owner spoke good English, so there was no problem communicating. And he saw right away that I was a gun guy. So all barriers came down. He saw my eyes alight on a Walther LGR target rifle, which he brought down and handed to me. It was the first 10-meter air rifle I had ever seen! I was blown away, and the owner could see it. When he told me how the gun was charged to shoot I was even more flabbergasted. I think he was, too, and he just wanted to show off his special toy. If you want to see what I'm talking about, read this three-part report.
But like I said — I was a family man with a young family. I didn't have the kind of money the LGR was commanding, and although I had a credit card I had learned by that time that the bills always come due. So — looky and even touchy but no takey home.
HOWEVER!
Then I spotted a brown leather briefcase in one of his glass sales cases. Inside, resting in bright yellow foam was an air pistol I had never seen. That one was every bit as exotic as the LGR, plus it had a price tag of less than half that of the rifle! This the family man could do (his wife said).
Diana model 10
That pistol was a .177-caliber Diana model 10 ten-meter target pistol. I didn't know what 10-meter target was at the time, and it was just about a decade from becoming an Olympic sport (rifle in 1984 and pistol in '88). Europeans had their matches going, but I was unaware of them.
The pistol, though, spoke for itself! And today I will let it speak to all of you. What I bought in that German gun store that day was a Diana model 10. But Robert Beeman sold it as the Beeman 900. It was at the top of a line of Dianas that Beeman Precision Arms once sold.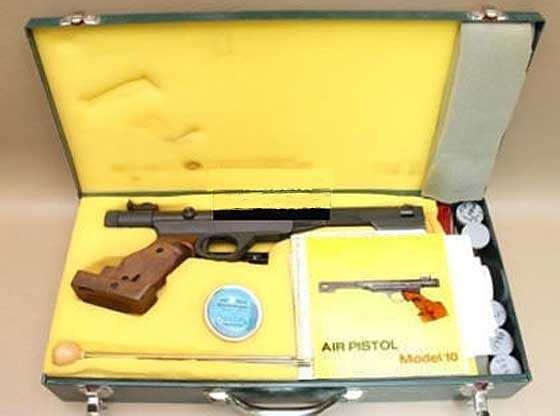 This is what a Diana model 10 pistol looks like in its case.
The gun I recently purchased from an estate and am testing for you now wasn't marked as a Diana model 10. It was marked as a Beeman model 900. And there was no case, no manual and no tools.


This is how the test pistol is marked.
According to the Blue Book of Airguns (the new edition of which will be available again before the end of this year — stocking stuffer), The first model 900s were marked Beeman's Original Model 10. "Original," if you remember your airgun history, is what the German Diana company had to mark their guns for a time after WW II, because Milbro in Scotland was awarded the rights to manufacture airguns using the Diana name.
So, Beeman sold it as a model 900. They also sold the Diana model 6 that was closely related as their model 800 and the 6M target configuration that was even closer as the model 850. But their 900 is a Diana 10, The same as that 10 I bought in Rothenburg.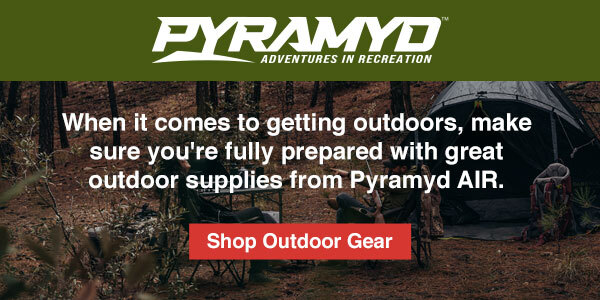 What is a Diana 10?
The Diana model 10 is a 10-meter target pistol from the 1970s. At the time it was in competition with the FWB model 65 and Walther's LP 3. The 10 is a breakbarrel spring-piston target pistol that uses the Giss counter-recoiling pistons to cancel recoil. You feel a pulse of energy with the shot but no movement from the gun. 
This is the air pistol I used to convert my gun-hating father-in-law from California into an airgunner. That story is worth reading if you have the time.
The earliest model 10s had a lump at the muzzle end of a synthetic spring-loaded barrel jacket. The shooter pulled the jacket forward and rotated it 90 degrees until the lump was above the front sight. The lump was your hand's protection when you broke the barrel to cock the pistol. It sounds awkward, but after 10 shots everyone becomes a pro.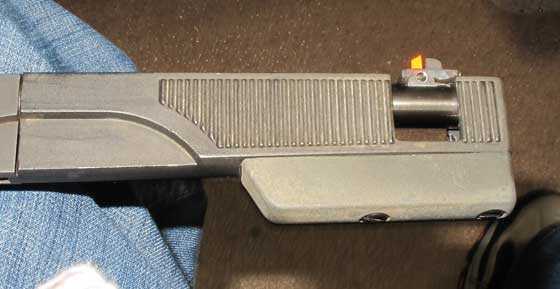 The lump is down most of the time.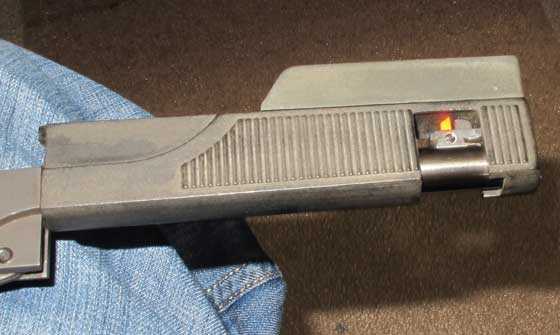 Rotate the lump up to protect your hand when you want to cock the pistol.
The grips
The grips are a set of walnut panels with a palm swell on the right side. The palm shelf at the bottom of the grip slides up to make the grip tight, because 10-meter competition is shot with one hand, only. The shelf can also be tipped up in back to make it even tighter and the Diana 10 grip has a feature I have never seen on another 10-meter pistol. Believe me — I have looked!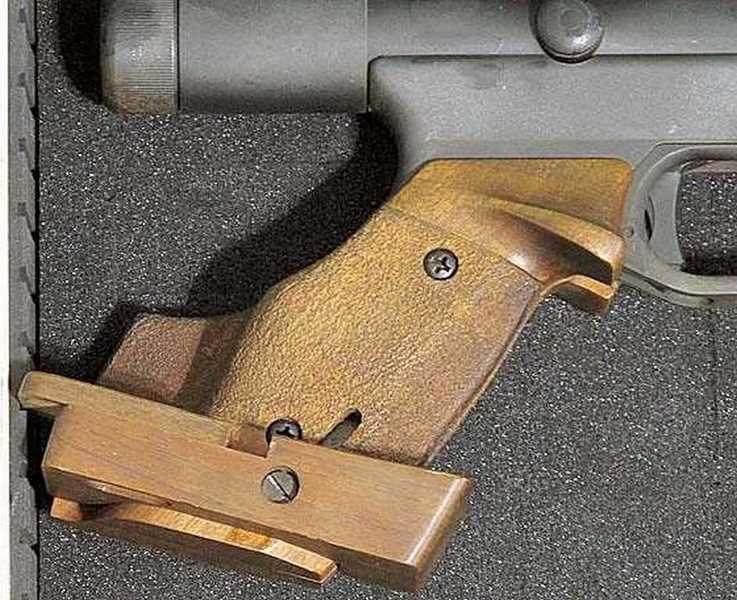 The Diana 10 /Beeman 900 grip is extremely adjustable to grab the shooter's hand and hold it tight!
The top rear of the palm shelf can be slid back just a trifle to wedge into the shooter's wrist joint, making this grip the most positive one I have ever felt. And I'm a 10-meter pistol shooter, so believe me — I have tried a lot of grips! But wait — there's more!
The top spacer
There is also a spacer on top of the grip where the top of the hand touches the spring tube. This spacer pushes down on the top of your hand to make the Diana 10 grip the tightest one ever created! You don't grab this pistol, you put it on. It can actually hurt to hold the gun for a full 60-shot match, but the gun is going nowhere your arm doesn't allow. You don't hold this pistol— it holds you!
The top spacer can be removed from the pistol, for those who can't tolerate it. Or you can just adjust the palm shelf down until the grip is nice and comfy. The little shelf on the rear of the palm shelf doesn't have to be deployed. Heck, you can even hold a model 10 with two hands if you want to blaspheme the sport of 10-meter pistol! But a hand that has to be massaged after a match belongs on a winner! Hoo-rrrrah!
Seriously, guys, 10 meter rifle shooters have an expensive fitted leather jacket and pants that bind them up like sausages. They can't gain more than 5 pounds or this stuff no longer fits. They also have expensive shooting shoes, and a heavy leather shooting glove and kneeling rolls for their legs. All the leather is in "their colors." They bring two cases on wheels to the competition — one for their rifle and the other for all their stuff.
Ten-meter pistol shooters show up in jeans and a tee shirt. That pistol grip is their one interface and believe me, it matters a lot to them!
Sights
Naturally the sights on the model 10 are adjustable. But they adjust in ways most of you have never seen. The front sight adjusts for width! Instead of different inserts, the sight swivels to be wider or narrower within the range of adjustment. Or take it off and there is another lower and skinnier blade waiting.
The pistol also came originally with several different rear sight notches. Install the one you like and then adjust the width of the front post to suit. Unfortunately someone has painted this front blade with orange phosphorescent paint! No doubt it was to see the front post better, but when the target is illuminated correctly in a match, a dark black post is best. I have to do something to fix it.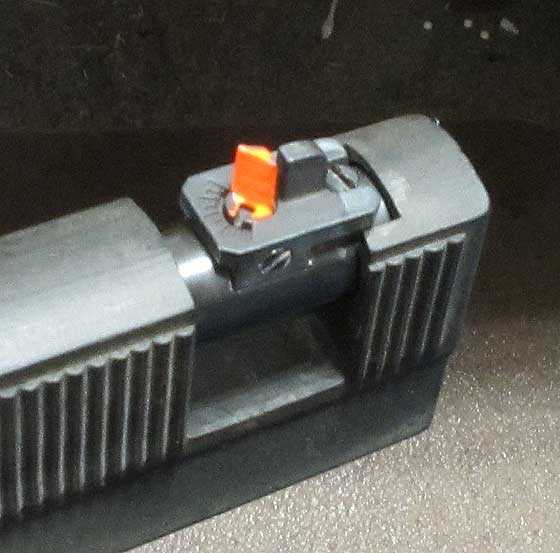 By turning that front blade you change its width in the rear notch. Remove it altogether for a skinny front blade. Gotta get rid of that orange paint though!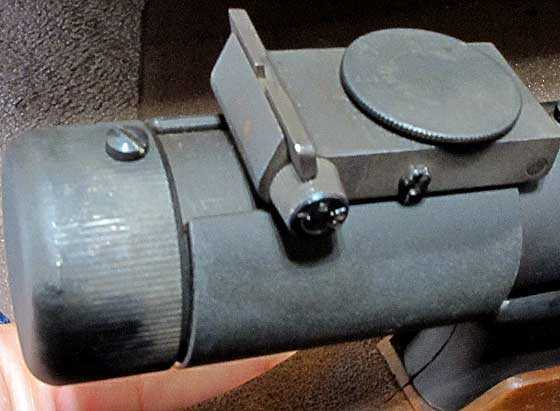 This photo not only shows the rear sight, it also shows the top spacer that puts additional pressure on the hand holding the pistol. I believe it can be removed.
Trigger
I know you want to know about the trigger, but I plan to cover it next time. It adjusts for first stage length, second stage weight and I think overtravel. The front of the blade also cants to the right, because this pistol is made for right-hand shooters. A left-hand grip does exist, so I have to believe the trigger blade face will also cant to the left.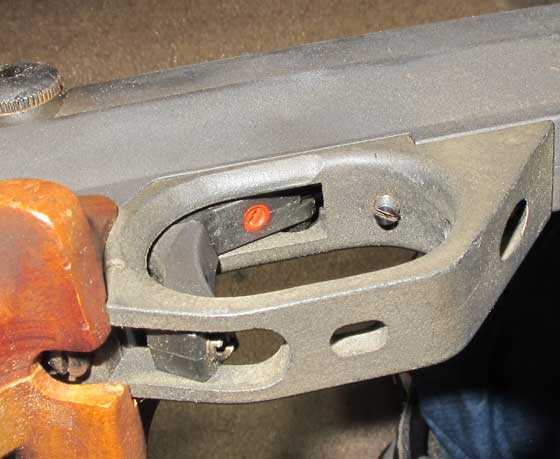 We'll talk about the trigger adjustments next time, but you can see how many there are! I bet you all know what that one with the red sealant on it is! It's the sear engagement! No touchie!
Power
The Diana 10 is a powerhouse among early 10-meter pistols. I remember velocities in the 450-475 f.p.s. range. Unfortunately, Diana put in seals made from a synthetic material that degraded over time and all of them have to be replaced at some point. New seals should last a lifetime.
I was told that this pistol shoots in the 370s with RWS Hobbys, so it may need a reseal. That's an expensive proposition because of timing the Giss system, so I will hold off as long as possible. We will find out more when we test velocity.
Summary
That's it for our first look. There is more to see before we get to velocity, and after that we get to see the accuracy. I can't wait!