by Tom Gaylord
Writing as B.B. Pelletier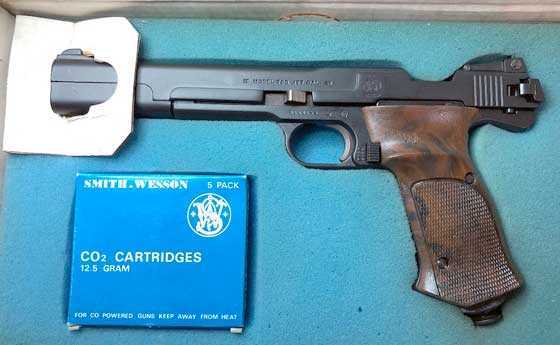 45Bravo stumbled into this treasure! A like-new S&W 79G in the box with everything — and more!
Merry Christmas everyone!
Today's report is another guest blog from reader Ian McKee who writes as 45 Bravo. Today he shows us his latest acquisition — which is a real find!.
If you'd like to write a guest post for this blog, please email me at blogger@pyramydair.com.
Over to you, Ian.
About as new as you can get
Ian McKee
Writing as 45 Bravo
This report covers:
The right place and time
Limit yourself
Exposure drives prices up
A good one?
Back story
A tidbit for everyone
The air pistol
The S&W CO2 cartridges
The S&W pellets
A question
The right place and time
The deals are out there, you just have to be in the right place at the right time. This time I lucked out and stumbled onto a gem!
I have said before I have a standing notification on Gunbroker for any new listing that include 78g, and 79g, and anything with Daisy 780, 790 and 41 in the listing, along with Crosman MK1 or MKII listings. I am always looking for one of these, to pick it up at a good price and reseal it. Then to get it back in circulation.
Limit yourself
I limit myself at about a $125 bid price for one that needs resealing, so I can buy parts, and reseal the gun, and still resell it at a reasonable price. That gives someone else a chance to get addicted to these vintage airguns.
Exposure drives prices up
As you readers know, I have written a lot about this type of air pistol already. This series has apparently sparked a renewed interest in the guns, and inadvertently, has driven up the asking price of the Smith & Wesson air pistols at online auctions, but you also see fewer and fewer that need resealing offered for sale.
I frequent the online airgun classifieds also, but some sites are a haven for scammers, so you have to be careful.
A good one?
I saw a listing on one of the sites for a Smith & Wesson 79G in the box with the box of CO2 cartridges. Asking $110 shipped. The photos were a little fuzzy, but it still looked good.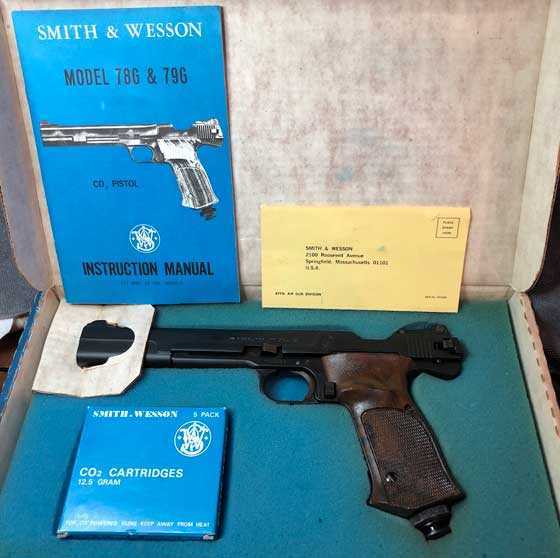 This one came with all the paper and things not normally found.
The seller listed a phone number, so I called him and we talked awhile. I came to the conclusion that I didn't think he was a scammer, so while we were on the phone, I sent him the money.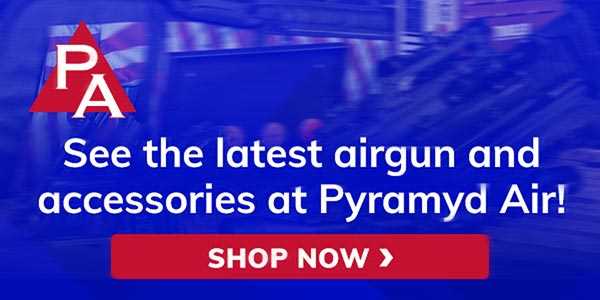 Back story
The back story was he had bought this pistol at an estate sale years ago, for his collection, but had never tried to shoot it. Now, years later, he wanted to pass it on to someone who would use it and enjoy it.
I am now the proud owner of a like new 79G. I did not own one of my own, so I have been using a Phase 2, Daisy 790 that I had resealed and after finding out how well it shot, I upgraded it to an adjustable trigger from a 78G someone was parting out on ebay a few years ago.
This pistol is serial number 104159, so it is later production, late enough to have the German Freimark, denoting a power level of less than 7.5 joules, and the darker grips, and no trigger adjustment. Come to think of it, I have never seen a 79G with an adjustable trigger.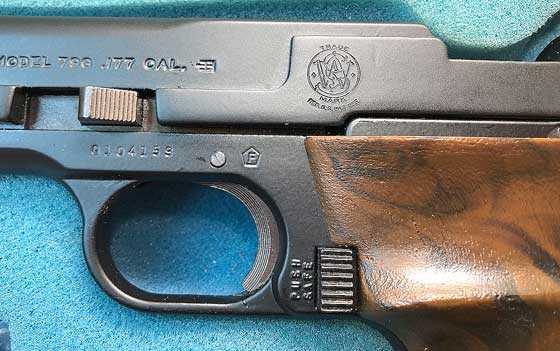 Here you see the serial number and Freimark.
A tidbit for everyone
From what I understand, unlike the UK, that has a hard 6 foot-pound (8.1 joules) limit on their pistols, the Germans have a tolerance built into their system, it has to average less than 7.5 joules, and no single shot over 8.5 joules. [Ed: Now I'm learning things I never knew! If that is true it is a surprisingly enlightened law!]
This pistol came with all of the factory paperwork, and 5 unused CO2 cartridges in the blue Smith & Wesson co2 box, and a pellet sample pack with 3 CO2 cartridges and 150 pellets in a ziplock bag, and the pellets were in a partition of their own. I had never seen this sample packaging before.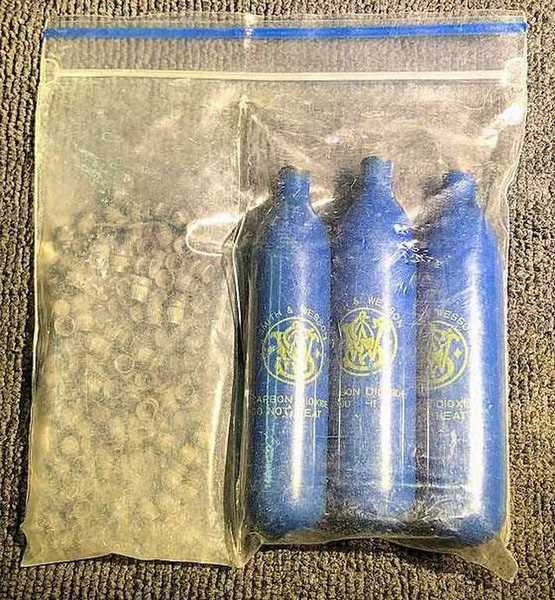 Apparently Smith & Wesson used this packaging near the end of the production cycle to reduce the number of pellets and CO2 cartridges that came with a new pistol.
From searching for parts for the Daisy 41, I have become acquainted with several airgunsmiths around the country who specialize in this series of pistols.
One of them informed me that he had seen the packaging before. It should contain 3 S&W CO2 cartridges, and 150 pellets, which works out to 50 shots per cartridge.
That makes sense if you remember some of the pistols came with a 5 pack of CO2 cartridges and a tin of 250 pellets, that again, is 50 shots per cartridge.
Smith & Wesson saved money by reducing the number of cartridges and pellets included in the kit, and eliminated the cost of CO2 and pellet packaging.
The sample pack did include 2 unused CO2 cartridges and 1 used CO2 cartridge, and 125 pellets.
The air pistol
This air pistol does not have a mark or blemish on it. And, after resealing it, I firmly believe it has only fired 25 pellets in its life!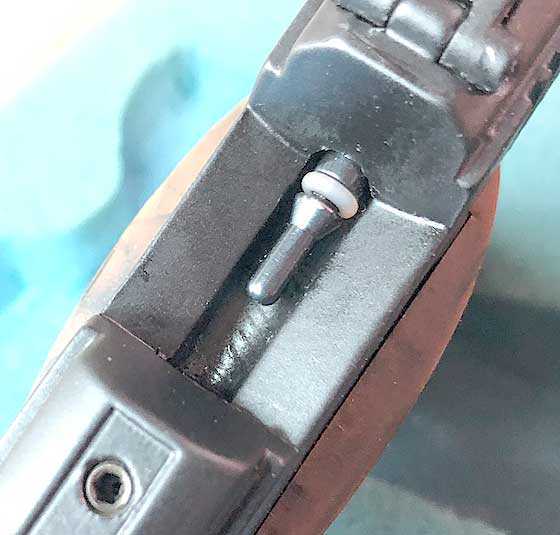 No wear on the loading tray.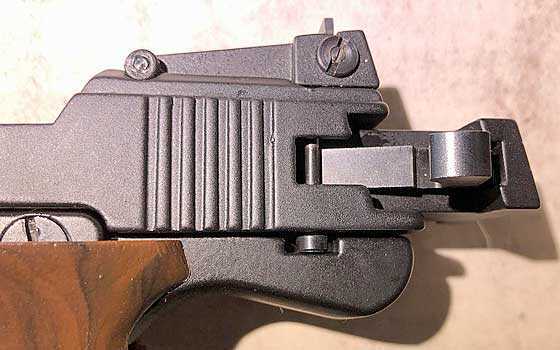 No wear on the bolt release.
I can tell you I had sweats while working on this one trying not to put any marks on it accidentally. I used urethane o-rings, and a rebuilt factory valve stem, it should shoot to factory specs, and be good for another 50 years.
It is now holding gas, but I have not shot it for velocity or accuracy yet.
The S&W CO2 cartridges
I have weighed the CO2 cartridges and compared them to the empty one. The empty one weighs 32.83 grams. The lightest one weighs 42.02 grams, 9.19 grams heavier than the empty one. The heaviest one weighs 44.14 grams, 10.31 grams heavier than the empty one. So I think they are all still holding gas.
The S&W pellets
I have weighed 10 of the pellets, but haven't measured them for head size as I don't have a pellet gauge. Of the 10 pellets I weighed, they ranged from 8.02 grains to 8.33 grains. They look a lot like the Crosman "flying ash cans" from the same era.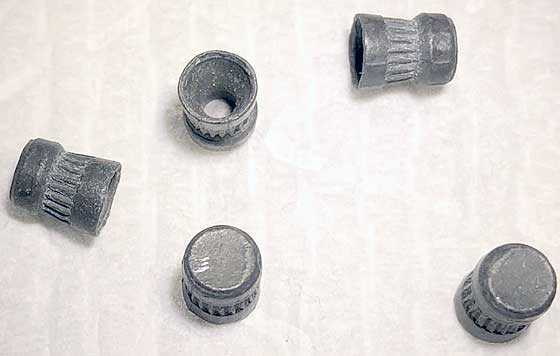 The pellets that came with the pistol look like Crosman "ashcans" to me.
If its accurate, it will probably become my personal gun. However, if it can't out-shoot the Daisy 790 I mentioned, it may get passed on to a collector.
A question
I wanted to ask you, the readers, should I test it with one of the factory Smith & Wesson CO2 cartridges and some of the included pellets?
I don't think Tom has tested one of the guns with the supplied pellets and gas. At least he hasn't printed about testing them. [ED. No, Tom hasn't tested one with the supplied pellets and gas.]
So sound off — should I test it with the factory sample pack? Or should I just save them and test it with modern pellets and CO2?
Cheers and Merry Christmas, Ian.