by Tom Gaylord
Writing as B.B. Pelletier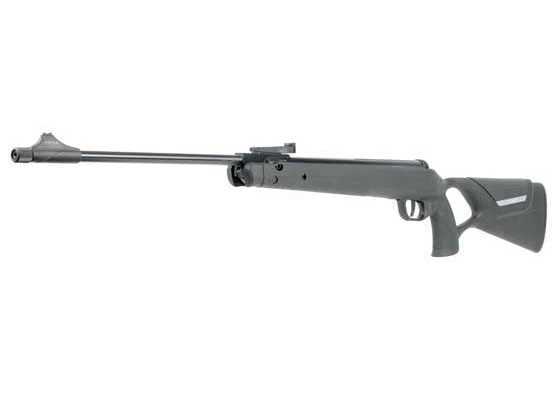 Diana 34 EMS with synthetic stock.
This report covers:
Scope
The test
Pellets
Sight-in
JSB Exact Heavy domes
Crosman Premier Heavy
Trigger
Heavy pellets
H&N Baracuda with 4.50mm head
Evaluation so far
Summary
Okay. Today is the test many have been waiting for — the Diana 34 EMS at 25 yards. How accurate is it?
Scope
I scoped the rifle with an older UTG AccuShot 4-16X50AO scope, mounted in BKL 2-piece double-strap one-inch rings. Since the scope was already shimmed in the rings I figured they would adjust to the point of aim relatively easily.
The test
I shot from 25 yards with the artillery hold and my off hand rested on a sandbag. I will note that with the thumbhole stock I'm testing a true artillery hold isn't possible, but I held the rifle as loosely as possible. My off hand was at the rear of the cocking slot.
I shot 10-shot groups today. I have to say the EMS is easy to cock and you don't have to slap the muzzle to break it open. This is a very well-behaved air rifle.
Pellets
I selected JSB Exact Heavy domes from the test at 10 meters. In that test we learned that the 34 EMS likes heavier pellets that are also larger. So I also selected two heavier pellets that I hadn't tried before. When you see the results I think you'll agree I picked two good ones.
Sight-in
I shot a single JSB Heavy pellet at 12 feet and confirmed that the scope was close enough on for me to back up to 25 yards. Once there it took me three more shots to get on target. Of course I didn't want to hit the center of the bull and destroy my aim point, so all groups will be at the edge of the black.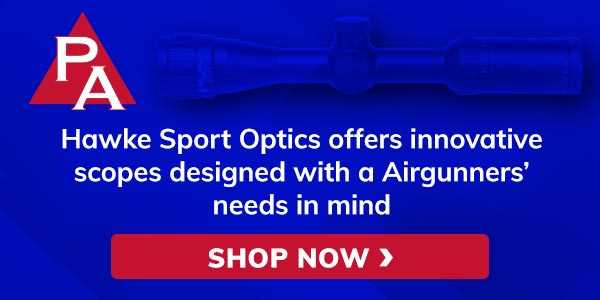 JSB Exact Heavy domes
First up was the sight-in pellet. The first shot landed in the top of the bull and I thought it was perfect, but the next several landed high and outside. When all 10 had been shot I had a somewhat vertical group that measures 0.675-inches between centers. It's a little larger than I would like from this rifle, but there were no shots that were called pulls.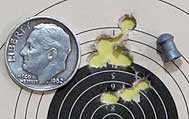 The Diana 34 EMS put 10 JSB Exact Heavy pellets into 0.675-inches at 25 yards.
Crosman Premier heavy
The second pellet I tried was the 10.5-grain Crosman Premier heavy. These pellets are sometimes the best of all, and today was one of those days. The 34 EMS put 10 of them into a tight 0.619-inches at 25 yards.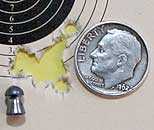 Crosman Premier heavys wanted to stay together when shot from the Diana 34 EMS. Ten went into 0.619-inches at 25 yards.
Trigger
You may recall that the 34 EMS has a different trigger that is not crisp like the Diana T05 or T06. This trigger has a second stage through which the trigger blade moves considerably. It's light enough, but not crisp. I have said that it feels like a single-stage trigger, once you get to stage two. I got used to it in Part 3 and today I was able to do good work with it. I still can't tell when the rifle is about to fire, but pulling the trigger has no adverse effect on the stability of the crosshairs.
Heavy pellets
I think there is something to this thing about heavy pellets and the EMS. It seems to like them a lot. If you get one of these, try it with heavy pellets first.
H&N Baracuda with 4.50mm head
The third pellet I tested was the H&N Baracuda with a 4.50mm head. I just knew this one was going to shoot well and it did. Ten of them went into 0.634-inches at 10 meters.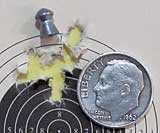 The Diana 34 EMS put 10 H&N Baracudas with 4.50mm heads into a 0.634-inch group at 25 yards.
Evaluation so far
I really like the Diana 34 EMS. It is different than the Diana 34 of the past that we knew, but it is a worthy air rifle in it's own right. Yes, Diana shouldn't have touted the barrel shimming and caliber swaps before they worked out the details, but that marketing blunder has no bearing on the rifle's excellence.
I don't often select spring rifles to shoot at 50 yards, but I'm choosing this one. With luck I'm thinking we could see ten pellets in less than one inch.
Summary
If you have been waiting to see whether the Diana 34 EMS was a worthy air rifle, I think that point has been proved. I would recommend getting the wooden stock just so you can shoot with the full artillery hold, but if money is an object this synthetic thumbhole stock can also shoot. Today demonstrates that.
I just hope Diana makes the gas pistons, barrel shims and different caliber barrels available soon. I would sure like to try them out!