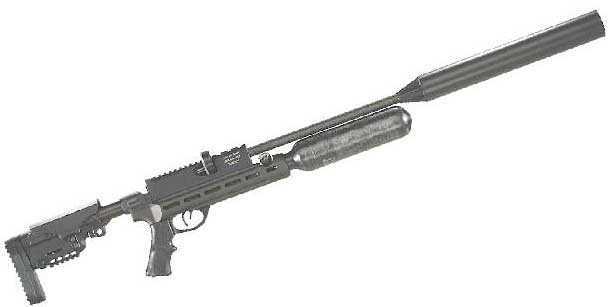 The new RAW HM-1000X chassis system.
Part 1
Part 2
Part 3
Part 4
Part 5
This report covers:
JSB Exact Jumbo Monster Redesigned
Say hello to my little friend
The test
JSB Exact Jumbo Heavy
JSB Exact Monsters
JSB Exact Monster Redesigned
Summary
Well — we got us a real weekend blog today — that's for sure! Today I shoot the RAW HM-1000X Chassis System precharged air rifle for accuracy at 25 yards for the second time. And today I shoot the pellets the rifle was designed to shoot and for which it was intentionally tuned at the factory.
JSB Exact Jumbo Monster Redesigned
Reader Kevin suggested that I not advance in my testing without trying the JSB Exact Monster Redesigned pellet in the rifle. Two days later I had dinner at John McCaslin's house and he said the same thing. He said my first set of groups were not bad, but the rifle could do better. Well, maybe the rifle can, but BB Pelletier is pulling the trigger. Let's consider that, John!
So I went on a search for the Redesigned pellets, pretty much knowing what I'd find. If everybody is hoarding toilet paper it's not the best time to try to buy some, no matter whatcha gotta do. I have been there, done that, got the t-shirt and wore it out.
But there are good people who read this blog and it was time to call in some favors. I asked Tyler Patner at Pyramyd Air if he could loan me a few and I also called Ton Jones at AirForce.
Tyler found me a tin and he also sent a tin of the Monsters that had not been redesigned. And Ton also gave me a tin which I promised to return at the end of my tests. Between those two guys, I am able to test the rifle with the pellet it was factory-tuned to shoot. That would be Monster Redesigned at 950 f.p.s.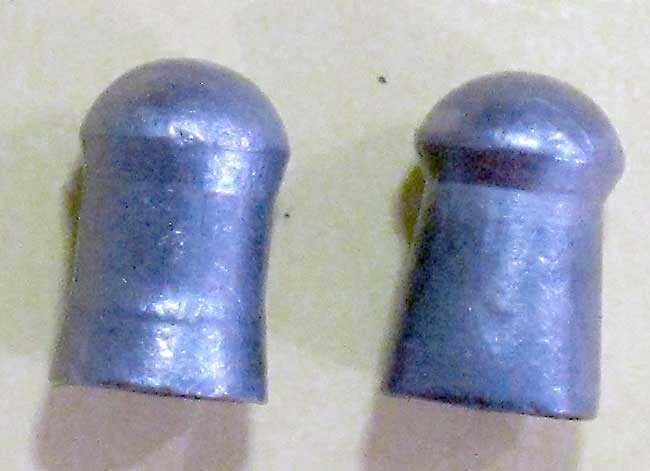 The JSB Monster is on the left, the Monster Redesigned is on the right.
Both pellets weigh an identical 25.39 grains, which means they were both made from the same lead preform. The Redesigned has a long tapered skirt with no pronounced flare at the tail. The head is also more pronounced. Why, it is as if JSB and the engineers at RAW (and other airgun makers besides) got together and decided to make a pellet they knew would work!
Say hello to my little friend
As long time readers know, BB has different coins for group size comparisons. And before you guys in the U.S. and Canada get on your high horse and complain about the ones you don't recognize, let BB tell you that on Nosy Be and in Magnitogorsk the American dime is no less of a mystery than the Trime or gold dollar.
Last time I tested the RAW HM-1000X, I got two groups that were smaller than one-tenth-inch between centers. I use the gold dollar for groups smaller than 0.15-inches, but it dawned on me that groups that are smaller than 0.10 deserve their own coin. Why not? I'm just having fun with this. And I don't get groups that small very often.
I had thought to use a Lepton, which is the biblical widow's mite, but upon investigation I discovered that most of them are not round. They are crudely struck and they have a wide range of sizes, some of which are even larger than the 13 mm gold dollar. I needed a coin that was smaller.
The California gold quarter dollar was possible, but many are counterfeited. A real one costs good money and is encased in a plastic card that, if opened, destroys the value of the coin's grading. So that was out.
I finally found a small silver coin from India. It's a silver Chuckram from the province of Travancore. They are nominally 6 to 7 mm in diameter but I asked for the smallest one the vendor had and it measures less than 6 mm. Compared to my other coins, it is wee teeny.


These are my 4 comparison coins. The dime on the left is 17.91 mm. The silver three-cent piece (Trime) next to it is 14 mm in diameter. The gold dollar is 13 mm and the silver Chuckram on the right is 5.34 mm on the short axis and 5.81 mm on the long one.
What do you reckon? If I'm showing you this tiny coin there must be a reason. Let's see.
The test
I shot off a sandbag rest with the rifle resting directly on the bag. I shot 5-shot groups and I only tested three pellets today.
JSB Exact Jumbo Heavy
The JSB Exact Jumbo Heavy was the pellet I wanted to try last time and just didn't get to it. This time, at 25 yards the HM-1000X put five of them into a group that measures 0.103-inches between centers.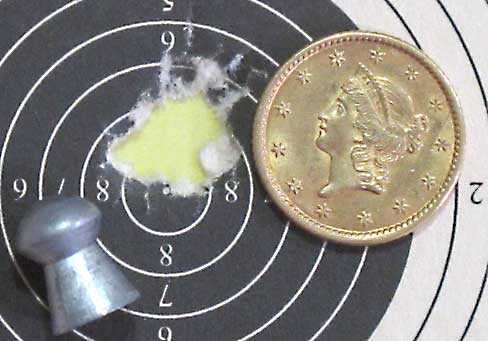 Five JSB Exact Jumbo pellets went into this 0.103-inch group at 25 yards.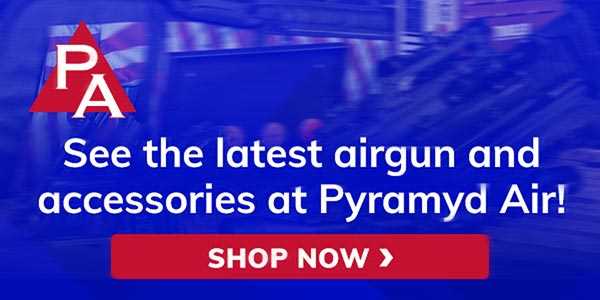 JSB Exact Monsters
Now let's see what the JSB Exact Monsters that are not redesigned can do. The HM-1000X put five of them into a 0.071-inch group. That is worthy of my new teeny-weeny silver Chuckram, but I will keep the gold dollar in the picture so you can compare.

The HM-1000X put five JSB Monsters into 0.071-inches at 25 yards. It wins the soon-to-be-coveted silver Chuckram award!
JSB Exact Monster Redesigned
Okay, it's truth time. John McCaslin told me my groups with the Redesigned pellets should be just about one pellet in diameter when I shoot as close as 25 yards.
Are you guys getting this? I am shooting at 25 yards and getting groups that would be praiseworthy for a 10 meter target rifle. But we are about to step over the threshold and go where no BB has ever gone. Five of the JSB Exact Monster Redesigned pellets went into a group that measures 0.037-inches between centers. That is smaller than any 10-meter rifle group I have ever shot. In fact I think we are looking at the smallest 5-shot group that BB Pelletier has ever shot — in his life!
09-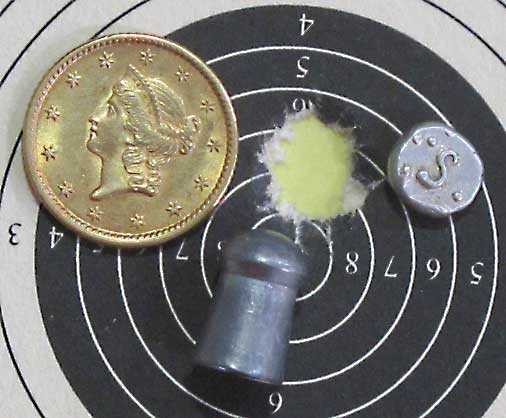 Boy howdy! It doesn't get much better than this. Five JSB Monster Redesigned pellets made a 0.037-inch group at 25 yards.
There is only one way for BB to beat a group like this. Shoot one pellet at the target and the other four somewhere else. Yes, BB has done that to put certain braggarts in their place. But today he shot all five pellets at the same target and the hole never seemed to grow.
Summary
Okay, we got us a RAW HM-1000X that seems to group reasonably well and we got a brand new comparison coin that's as small as an IRS refund — in cold water! There is always more shrinkage in cold water, don't you know. As airguns go, we doin' well.
Poor AirForce! How sad they will be to learn that this rifle fell off the tailgate of my truck, never to be seen again.