SHOT Show 2022 Day Two
This report covers:
Skout
What exists
Technology
The whole story
Air Venturi
Hatsan
PileDriver
Crosman
The Icon
Benjamin Bulldog .457
Benjamin Armada semi-automatic
Summary
Today is my second look at the SHOT Show 2022. I'll begin with the Skout air rifle whose developers claim is "The world's most advanced competition air rifle."
Skout
As I said at the end of the Day One report, with a tagline like that I was spring-loaded to lecture them. But first I wanted to see what they had.
What exists
The Skout, as currently envisioned, doesn't exist. What they showed us at SHOT were two inoperable prototypes — a rifle and a bullpup. They told Rossi Morreale it would be six months to production. My experience is to double that estimate and add some extra months because you just don't know what you don't know, or as Roseanne Rosannadanna taught us, "It's always something."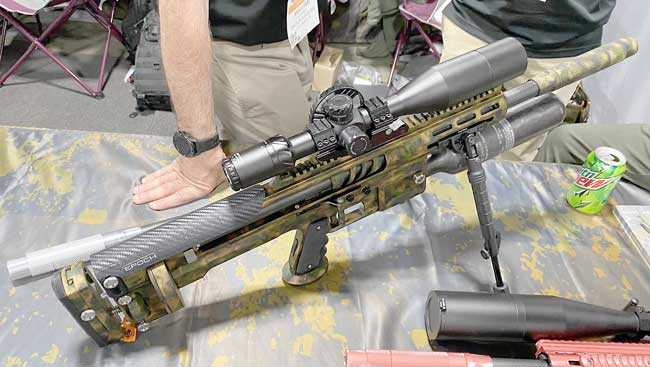 The Skout PCP air rifle.


Skout bullpup. This one shows the optional anodized colors they can provide.
However, the SHOT Show is a trade show — not a "gun show," as some of the locals believe. So showing prototypes is perfectly legitimate. These are wholesale buyers. Keep your checkbook in your pocket.
Technology
The Skout precharged pneumatic air rifle operates on a number of electronic microprocessors. Yes that means a battery. It takes about 40 minutes to charge and lasts for about a year or 200,000 shots — whichever comes first.
Skout is big in the paintball marker market and they have adapted that electronic technology to a long-range benchrest air rifle platform. Their regulated firing chamber completely dumps, which makes it possible for 850 psi to push a .25-caliber pellet to 875 f.p.s. The .177 rifle operates with a firing chamber pressure in the 400+ psi range.
An electronic solenoid operates what functions as the striker/hammer, so the trigger pull is measured in grams. And there is no striker. In its place is that solenoid that pushes open the firing valve with a small puff (125 psi) of air. That reduces recoil significantly.
There is no discernible stage two break to the trigger on the prototype rifle I saw, so you'll have to be a safecracker to fire the gun at will. That means your trigger finger will have to be extra sensitive. They are talking 50-80 grams of resistance. Yes the trigger adjusts. In fact almost everything adjusts.
The magazine is floating and held in place by powerful magnets. In .25 caliber they tell me it holds 25 pellets. And it loads rapidly. That's perfect for long-range benchrest.
With the rifle you get three insert barrels in the caliber you select. One barrel "bites" the pellet the most (is internally the tightest), another is a momma bear barrel and the baby bear barrel is as loose as it goes. So the owner can tune the rifle to the pellet of choice with the insert that does the best. Skout Airguns says they use a proprietary barrel rifling technology, and I discovered that it isn't cut or button rifling. That leaves some kind of impressed rifling, and they claim no hammer forging.
Can the caliber be changed? Yes, but it's more than just a barrel change. The bolt probe also must be changed for each caliber.
The whole story
Guys, this air rifle has been in development for 2-1/2 years. Skout is running their tests on test fixtures for this and that performance objective. From what I was told I don't believe a complete rifle has yet been tested. Once again, this follows proper prototype development, so stay off your high horse. They say 6 months. BB guesses closer to a year.
I was also told they are shooting for a starting retail price of $2,750, give or take. That puts them into the same market as the current leaders in long-range benchrest competition, which by the way, is the competition mentioned in their tagline. As the new guys they have some market inertia to overcome. Have they built in two or three levels of cost indenture so they can sell through dealers? With 30 years in the paintball marker business I have to assume they have. We shall see. Okay, onward and upward.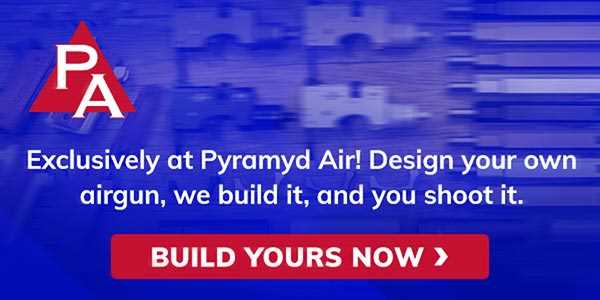 Air Venturi
Long story short. For some reason Air Venturi did not have a booth display this year. I believe the reason was it never arrived, but that may not be the case. At any rate, they were on round banquet tables and very little else.
Cleveland, where they are from, was hit hard with blizzards and flights were cancelled everywhere. So several of their people never even made it to the show.
Okay, Michael, over to you and the Dragonfly Mark 2. There is a big back story to this one that I couldn't make up if I tried. But I did hold, pump and fire a Dragonfly Mark II at the show. It does work just as you assume. It was developed by Bob Moss, the same guy who made the Pump-Assist Benjamin 392 that customers stayed away from in droves (Eeeek! It cost more than a Benjamin 392!!)
A Dragonfly 2 should be waiting for me when I return home from SHOT, so we'll all find out about it together. From what I read in the comments, this is the air rifle you want to know about.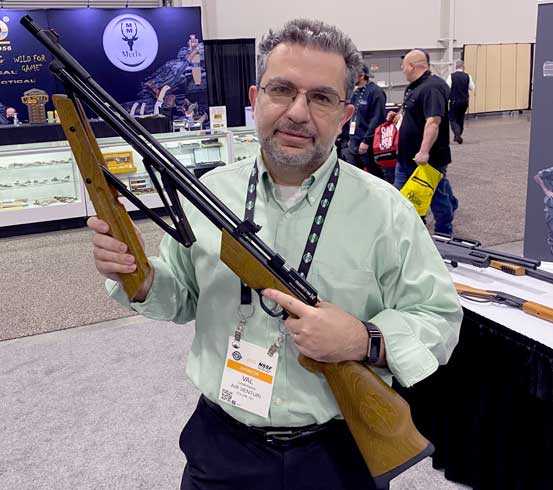 Val Gamerman of Air Venturi holds the Dragonfly 2.
That was all that was new in the Air Venturi booth this year. Let's look at Hatsan.
Hatsan
The big news at Hatsan this year is the Factor RC. It's a repeating precharged pneumatic. It comes in .177, .22 and .25 calibers and has a three power level air transfer port, an externally adjustable hammer, an externally adjustable regulator that adjusts both up and down without damage because the firing chamber can be bled without emptying the reservoir.


Hatsan's new Factor RC PCP rifle.
The rifle comes with a huge magazine (24 in .177, 21 in .22 and 19 in .25 caliber). Power runs from 19.5 foot-pounds in .177 to 33.5 in .25. The 580cc detachable reservoir gives up to 140 shots in .177 and 120 shots in .25
The sidelever that cocking the rifle can be switched to either side of the receiver, making the Factor fully ambidextrous.
PileDriver
The PileDriver is Hatsan's new big bore rifle. They say it's capable of over 800 foot-pounds in .50 caliber and they offer a line of bullets made for the rifle. Their Vortex Supreme bullets come in 180, 295 and 525-grains in .45 caliber and 520 and 550 grains in .50 caliber.


Hatsan PileDriver.


Hatsan will sell their Vortex Supreme bullets — .50s on the left and .45s on the right. Some of the cleanest lead bullets BB has ever seen.
I want to test both the Factor RC that has all the bells and whistles and also the PileDriver for you. This should be a very good year!
Crosman
I trundled over to the Crosman booth, wondering what I would see. Well I knew about the Benjamin Gunnar, and I have one coming for testing, so I won't go into that here. But I also saw something I didn't expect. It seems Crosman has been experiencing a huge sales volume on their full auto BB guns like the DPMS. Well, they are about the launch another one — the ST-1. In their words it's perfect for serious plinking and Alien defense training. In BB's words it's just way cool!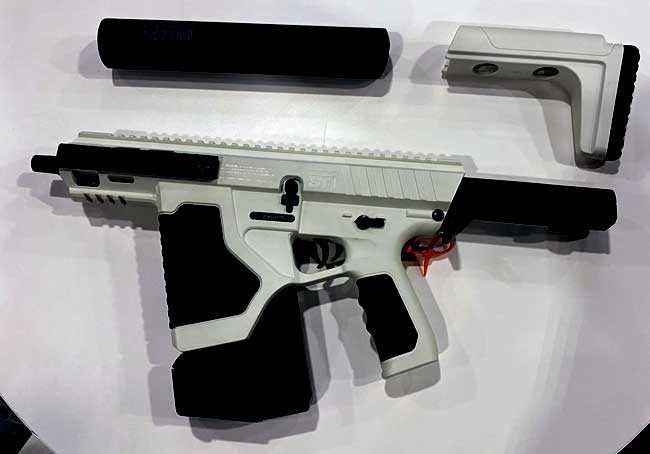 The Crosman ST-1 semi and full auto BB gun comes apart like a tactical pistol. I darkened the image so some details showed. It's actually bright white.


And there it is assembled. A QR code cast into the gun allows for periodic user upgrades.
The Icon
The Icon is a bolt action repeater from Asia with a retail price below $300. It comes in either .177 or .22 and fills to 3,000 psi. The barrel is threaded for a standard airgun silencer. I saw it and held it and I think you guys are going to like it.
Ed Schultz asked me whether you readers knew about the new Crosman 362 multi-pump. BB gushed for five minutes with all the comments he has read! BB has to get one to test!
Okay — BB senses a trend here. The Benjamin Bulldog is coming out in .457 caliber. It's modified from the .357 Bulldog, so caliber swaps aren't possible. Apparently the airgun companies are sensing a growth trend in big bore guns. Ed Schultz told me things at Crosman/Benjamin are moving into hunting in a major way.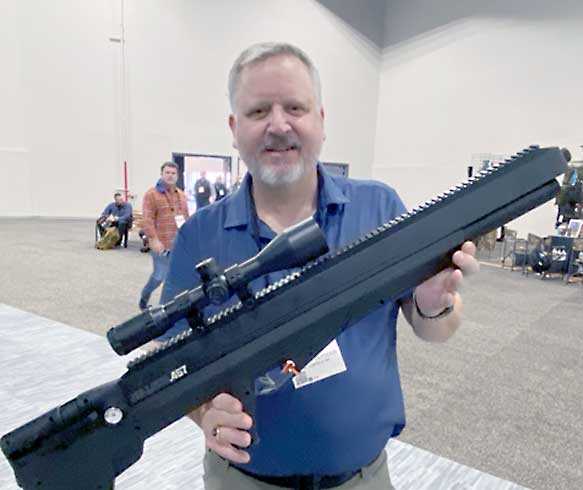 Ed Schultz holds the new Bulldog .457.
Benjamin Armada semi-automatic
The other gun Ed was proud of is the new Armada semi-auto. It's a .22, only and don't confuse it with the bolt action Armada that's still in the lineup. Holy cow! These guys are creating them faster than I can test them!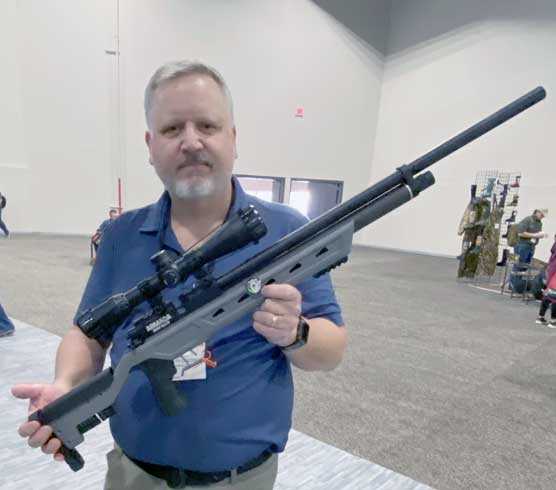 Ed holds the new Armada semi-auto.
Summary
I saw more than what I've shown you today, but I'm crashing against a 9 p.m. publishing deadline, because that's midnight on the east coast, where this blog is published.
With fewer people here I'm able to see more and talk more and for me the show is much better. There's more to come!
Tags In
Tom Gaylord is known as The Godfather of Airguns™ and has been an airgunner for over a half-century, but it was the 
Beeman
 company in the 1970s that awoke a serious interest in airguns. Until then, all he knew were the inexpensive American airguns. Through the pages of the Beeman catalog, he learned about adult airguns for the first time. In 1994, Tom started
The Airgun Letter
 with his wife, Edith. This monthly newsletter was designed to bring serious reports about airguns to the American public. The newsletter and
Airgun Revue
, a sister magazine about collectible airguns, was published from 1994 until 2002, when Tom started
Airgun Illustrated
-- the first American newsstand magazine about airguns. Tom worked for three years as technical director at
AirForce Airguns
, the makers of the 
Talon, Condor, and Escape
 precharged air rifles. Today, he writes about airguns and firearms for various publications and websites. He also makes videos, and you'll find short clips embedded in some of his artices on Pyramyd Air's website. Tom is a consultant to Pyramyd Air and writes under the name of B.B. Pelletier.