by Tom Gaylord
Writing as B.B. Pelletier


The Benjamin 392 pump assist is an interesting side street in the hobby.
This report covers:
Crosman Premier
RWS Superpoint
JSB Exact Jumbo
Whadja get?
Today we look at the accuracy of the .22-caliber Benjamin 392 with pump-assist. I tested the rifle at 10 meters off a rest using the open sights that come with the gun.
Crosman Premier
We will begin with Crosman Premier pellets, that I expect to be one of the most accurate in this rifle. Shot one landed high on the bull at 11 o'clock, so I left the sights where they were.
Ten Premiers made a group measuring 0.577-inches at 10 meters. It's not the best I have ever done at that diostance, but for a 392 it's acceptable.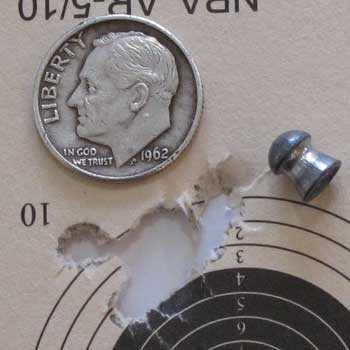 Ten Crosman Premiers went into .0577-inches at 10 meters.
RWS Superpoint
Next up were ten RWS Superpoints. This is a pellet I have not tried in a multi-pump, as far as I can remember, so I didn't know what would happen. Alas — it wasn't that good. Ten Superpoints landed in a group that measured 1.174-inches. The group is scattered all over the place. Obviously this is not the right pellet for this air rifle.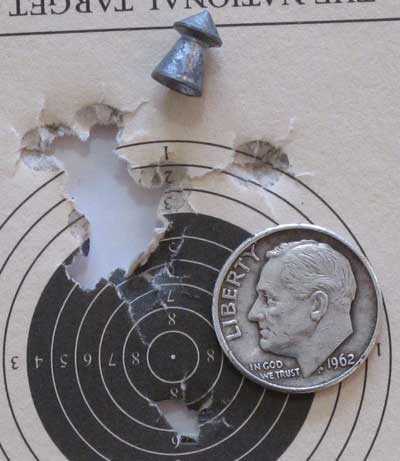 Ten RWS Superpoints made this 1.174-inch group at 10 meters. Not a good pellet for the 392 pump-assist.
JSB Exact Jumbo
The final pellet I tested was a JSB Exact Jumbo. This was the pellet I thought might be the most accurate, though to be so it would have to edge out the Premier. Ten pellets made a 0.748-inch group that is ironically shaped like a frown.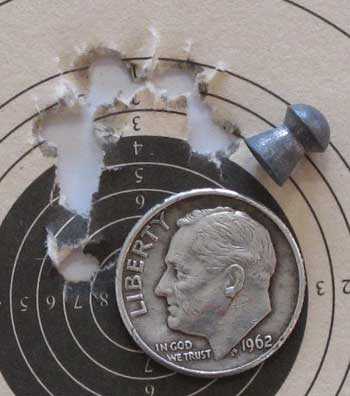 JSB Exact Jumbos did not best Crosman Premiers. Ten made this 0.748-inch group at 10 meters.
Are there other pellets the 392 likes even more? Probably. But accuracy isn't why I own this air rifle. I own it for what it is — a multi-pump that almost was, but never caught a break. A multi-pump that's easy to pump.
Whadja get?
I'd like to hear about your special Christmas gifts today. Not the socks and sweaters — just the good stuff. Or maybe it wasn't a gift you got but onw you gave. Please share.
Today's report is short because I wrote it last Thursday, so I could spend time with my sister who came for Christmas. I still owe you the video of the 392 being pumped, so don't despair!