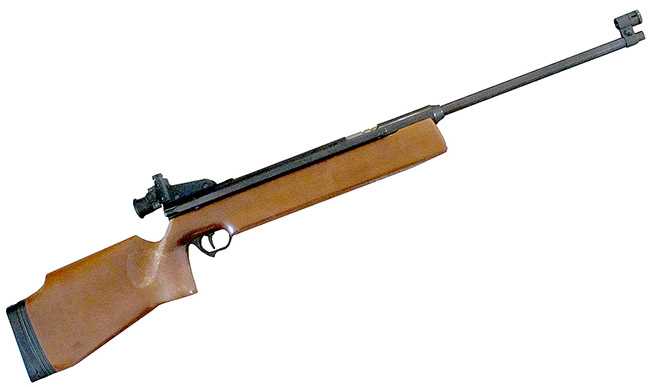 Haenel 312.
This report covers:
April 18
Oiled it
Vibration!
RWS Hobby
Qiang Yuan Training
RWS R10 Match Heavy
Trigger
Fooled with the trigger
Cocking effort
Tighten screws
Summary
April 18
"Listen my children and you shall hear
Of the midnight ride of Paul Revere.
On the 18th of April in Seventy-five;
Hardly a man is now alive
Who remembers that famous day and year."

Today we start learning about the Haenel 312 10-meter target rifle I am testing. I have to admit that I was skeptical about this test. It's been my experience that many of the used spring guns I get are lacking in power. I either have to rebuild them or I have to get them rebuilt. I was quite concerned about this 312 in that respect.
Oiled it
Considering the design is East German and considering it dates back to the 1970s, I thought it might have a leather piston seal. But an online search turned up synthetic replacement seals. I don't know if that's accurate, but in either case I knew oil wouldn't hurt the seal.
I used Crosman Pellgunoil and a lot of it. Then I stood the rifle on it's butt for a week. Today's velocity test was the first time I have seen what this rifle can do. But it wasn't the first time that I shot it.
Vibration!
I shot the rifle right after unpacking it. Of course I did — you would have, too. From the few shots that I took I noticed two things. First, the rifle vibrates a lot when it fires. And second, the barreled action was loose in the stock. Out came the screwdriver for the first of what I'm sure will be many times. This rifle is a candidate for Tune in a Tube.
RWS Hobby
Okay, let's get down to business. The first pellet I tested was the 7-grain RWS Hobby wadcutter. I had read online where at least one person's 312 shoots pellet in the low 600s. I sure hoped mine did.
Instead of showing you and average and the other stuff I'm going to show you the first 13 shots as I recorded them. I also shot two warmup shots before starting the chronograph.
Shot…………Velocity
1……………….791
2……………….757
3……………….685
4……………….833
5……………….617
6……………….633
7……………….638
8……………….656
9……………….635
10………………627
11………………638
12………………621
13………………636
I am not going to average this string, but it does tell us a lot about Hobby pellets in this 312. The real average is probably somewhere in the low 630s. You should be able to look at the shots from 6 through 13 and see that.
The first 4 shots are what happens when a lot of oil is burned on the shot. The rifle didn't detonate, but it smoked a lot. No harm is done when that happens.
Look at shot number 8. It's faster than the others around it and tells me the rifle is still burning some oil. Look at shots number 5 and 12. They indicate Hobbys are probably not that stable in this 312.
I know that's a lot of information to digest, but it's what the chronograph is telling you. My guess is the rifle hasn't settled down yet and will probably still have some higher velocities mixed in with the strings. I want that to settle down, so it doesn't affect accuracy at 10 meters, though that distance to the target is so close that I guess I can accept a lot of variation before accuracy is affected.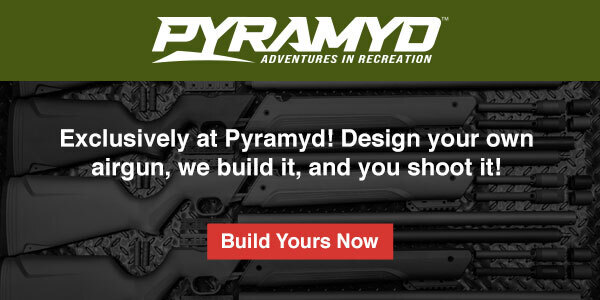 Qiang Yuan Training
Based on the velocities the Hobbys gave, I felt the 312 could stand a heavier pellet, so I selected the Chinese Qiang Yuan Training pellet. They are sometimes very accurate in spring guns. This time they were much closer in velocity, so I will give the usual data.
This 8.2-grain pellet averaged 579 f.p.s. in the 312. The low was 572 and the high was 589, but that high number was just one shot. The next highest velocity was 584 f.p.s. The extreme spread was 17 f.p.s. for 10 shots and 12 f.p.s. for 9. I believe the 589 shot, which was the 10th in the string, was a little more of that oil burning off.
RWS R10 Match Heavy
The last pellet I tested was the 8.2-grain RWS R10 Match Heavy pellet. It weighs the same as the Qiang Yuan Training pellet and it was dumb luck that I chose it to test. Once again I'll show you each shot, because we have some more learning to do.
Shot…………Velocity.
1……………….581
2……………….635
3……………….622
4……………….565
5……………….568
6……………….577
7……………….581
8……………….574
9……………….551
10………………577
Wow — that's quite a spread. From a low of 551 to a high of 635 there are 84 f.p.s. between the high and low shots. I could call this more of the oil burning off, but I think it's more than that. I think this pellet is not suited to this rifle's barrel and that is what's causing all the variation. I don't know that for sure, though, so I will shoot a group with this pellet when I test for accuracy.
Trigger
Okay, what else is there to do? How about the trigger that is currently adjusted to give a long creepy single stage pull that breaks at 11.8 ounces.
Well — it's not a single stage pull, either. Stage one that I could only detect when checking the trigger pull with my electronic gauge, takes 6.1 ounces to complete. It's stage two that's long and creepy. So I fiddled with that adjustment screw located behind the trigger blade. And oh, boy did I open a can of worms! It turns out that trigger isn't so simple after all.
Remember that screw behind the trigger blade — the one that has a hole in the trigger guard to adjust? Well, it's a lot more than just a little screw. I got a long shanked thin-bladed screwdriver to adjust the screw and it didn't want to move. I thought some coach had put Locktie on the threads years ago, but that wasn't the case. It turns out there is a jam nut around the screw to hold it in place. It took me forty-leven tries to photograph it for you, but I got it.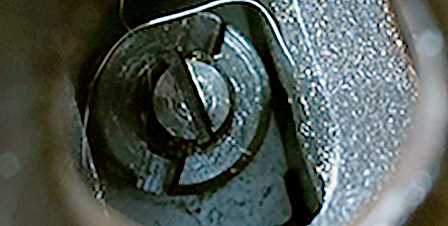 Looking down through the hole in the trigger guard we see the trigger adjustment screw and the jam nut that locks it in position once adjusted. I need to find a way to tighten this jam nut because the trigger adjustment is loose until it is tightened. The adjustment screw stands proud of the locking nut by quite a bit.
Fooled with the trigger
I did fool with the adjustment screw and got it to where stage one was smooth but then the rifle would not fire. When I got it firing again stage one became hard and creepy like before. I think the trigger adjustment is extremely fine and I'm just going to have to play with it. After all that I did stage one is now 4.1 ounces and stage two breaks at 11.1 ounces. The difference is enough to feel and I will say that the trigger is now a bit crisper, but until I tighten that jam nut who knows where it will go?
I'll probably take the barreled action out of the stock to see if I can hold that adjustment screw in place while tightening the jam nut with needle-nosed pliers. We shall see. Maybe I will also put some TIAT on the mainspring if there is access.
Cocking effort
The rifle cocks with a maximum of 32 pounds of effort. For most of the lever's arc it was at 30 pounds. I mentioned in an earlier report that it is harder to cock than an FWB 300. It's also harder to cock than a Diana 75.
Tighten screws
Remember I said in the beginning to keep a screwdriver handy? By the end of the velocity test the butt plate screw was loose and had to be tightened. The stock screws were still tight but the front triggerguard screw was loose, as were both of the rear sight thumbscrews.
Summary
Oh boy! It seems that I have a Haenel 312 is fine shape , so the next test will be accuracy. I will find a way to secure that trigger jam nut and I will show that to you, too.