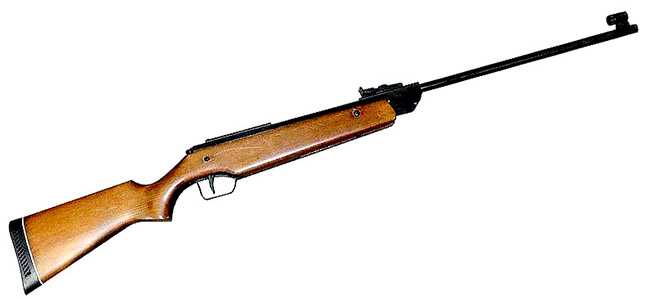 A late Diana 45 from RWS.
This report covers:
The test
Sights
First group — Hobbys
Trigger
H&N Baracuda with 4.50 mm heads
Baracuda group 2
Norma Golden Trophy FT
JSB Exact RS
Shot cycle
Summary
Today I start testing the accuracy of my new/old Diana 45 that I bought (or traded for) at the airgun show in Malvern, Arkansas, last year. Today's test was strange, and you'll soon know why.
The test
I shot from 10 meters off a sandbag rest, using the artillery hold. The 45 moves a lot when it fires and I'm pretty sure the artillery hold is the right way to go, but next time I will test the rifle rested directly on the bag as well. In fact I adjusted my hold as the test progressed and I'll mention that when we get there. I began shooting with the rear of the cocking slot resting on my off hand.
Yes, there will be a second 10-meter accuracy test because of that strangeness I mentioned. I want to test this rifle with more pellets before doing anything else.
I shot 5-shot groups today because this wasn't supposed to be a test of the rifle's accuracy — just a test of the pellets it likes. Famous last words!
Sights
In part Two I mentioned that reader Mike Melick from Flying Dragon Air Rifles had gifted me with a Chinese-made replacement front sight for this rifle. It is actually made stronger and I think better than the German original, and it held tight to the barrel throughout today's test. It has a tapered post insert that I used for today's test.
First group — Hobbys
Since I'm sighting with open sights I expected to be on paper with the first shot, so I started at 10 meters. I first shot two pellets to "warm up" the powerplant. Some springers need that and others don't. I was pleased to see the first two shots go exactly where I aimed from 10-meters away.
The first official RWS Hobby pellet, which was the third one fired, nicked the 9-ring of the 10-meter rifle target, so I left everything where it was and shot another 4 times. As you will see the other 4 pellets went to the left and landed in a vertical string. I don't think this rifle likes Hobbys. This first group measures 0.96-inches between centers — almost a one-inch group. That's no good.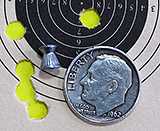 The Diana 45 put five RWS Hobby pellets into a 0.96-inch group at 10 meters. I think it's obvious the rifle doesn't like this pellet.
Trigger
As I mentioned in Part 2, the trigger is two-stage and very nice. I didn't start feeling stage two until the fourth shot of this string, which is 6 shots from the start. I then felt it off and on for the next 10 shots or so. After that I felt it every time. I think that's a combination of the trigger needing to be warmed up through use and BB needing to remember how to squeeze it. Once that second stage kicks in this trigger is marvelous!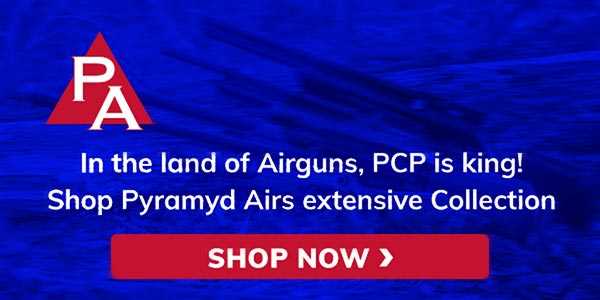 H&N Baracuda with 4.50 mm heads
The next pellet I tested was the H&N Baracuda with a 4.50 mm head. This is where the fun began because my first shot with no sight adjustment and the same artillery hold hit the paper 2-1/2-inches below the aim point. It took me a long time to even find it through my Meopta binoculars. So I now have to sight in my rifle.
Huh? I'm sighting in on the SECOND target of the test? I told you this was a strange report!
I cranked the rear sight up a bunch of clicks (too many to count) and fired again. The second shot rose 1-1/2-inches and went a little to the right, though I called that pull to the right. So, more up elevation until the rear sight started floating, and I had to go down a couple clicks again to put the spring under tension. The Baracudas landed just below the bullseye at which they were aimed.
Then I shot five times and got a group that measures 0.438-inches between centers. That's looking much better, but the strange things were not over. Two pellets later I shot a different pellet at the bullseye below this target and those shots climbed up alongside this group. Fortunately I had spent some time looking at this group and was able to tell which pellets belonged and which did not. I drew a line around the pellets in this Baracuda group.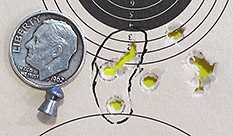 I drew a line around the group of five Baracuda pellets. They measure 0.438-inches between centers and are fortunately separate from the pellets that hit next to them. This is the smallest group of the test.
Baracuda group 2
Because of the tightness of the first Baracuda group I shot a second group at a different target. I did adjust the rear sight two clicks to the right for reasons that escape me now when looking at the result. These five are within 0.594-inches, center-to-center.


The second group of Baracudas is sized 0.594 inches between centers.
Norma Golden Trophy FT
Next I shot 5 Norma Golden Trophy FT pellets. They landed in a 1.09-inch group. It is the largest group of the test. I was told these Norma pellets are very much like RWS pellets, so, like Hobbys, these are pellets to avoid in this rifle.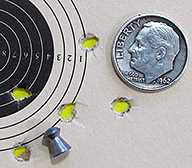 Five Norma Golden Trophy pellets made this 1.09-inch group at 10 meters. It is the largest group of the test.
After this group I slid the rifle back so my off hand was at the end of the cocking slot. The rifle seemed more stable this way.
JSB Exact RS
Next I shot five JSB Exact RS pellets. These are the pellets that hit the target 2-1/2-inches above the aim point and landed right next to the Baracuda pellets you saw earlier. I did not draw a circle around this group that measures 0.462-inches between centers.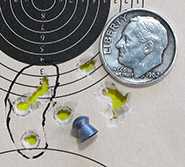 This group is the one outside of the line. It is five JSB Exact RS pellets in 0.462-inches.
That group was so nice that I shot a second group with the same pellet, after adjusting the rear sight three clicks to the left and eight clicks down. This time five pellets hit the target I aimed at and went into 0.637-inches at 10 meters.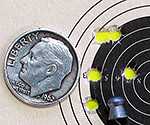 Five JSB Exact RS pellets went into 0.637-inches at 10 meters.
Shot cycle
Because I was using the artillery hold I felt the rifle pulse with every shot, but I didn't feel any vibration. I could hear it, but not feel it.
This 45 is roughly equivalent in accuracy to the other 45 I tuned. I would like to quiet the mechanism, but nothing will stop the movement of the rifle when it fires.
Summary
I now have a good idea of how accurate this rifle is I think I will tune it before proceeding with more accuracy testing. I won't button the piston like I did with the other rifle. I'll let Tune in a Tube do its job and I think I may replace the mainspring. We shall see.