Diana Oktoberfest Gewehr BB rifle: Part Three
This report covers:
Some considerations
The test
Common sense
The deal
H&N Smart Shot
Daisy Avanti Match Grade BBs
4.4mm lead balls for airguns
Why?
Crosman Black Widow
Trigger
Discussion
Summary and moving forward
Before we begin I thank you all for all your good wishes and prayers for me and my sister Nan. Last week was difficult but I made it through, in no small part due to all of you.
Just a reminder that this Thursday is Thanksgiving here in the US. That is one of my four annual holidays and there will be no blog on that day. There will be a blog on Friday, though, and that one should get you through the weekend.
Today is a big day. We start looking at the accuracy of the Diana Oktoberfest Gewehr BB rifle.
Some considerations
My first thought was how to test the Oktoberfest. It's a rifle, so should it be tested from 10 meters? But it's also a gallery rifle, so should it even be tested with paper targets? And finally, the Diana 30 that this rifle is based on is supposed to be supremely accurate. However, BB has owned two Zimmerstutzens that were also supposed to be supremely accurate and he found that they did not stand up against modern 10-meter target air rifles. And don't say that BB didn't try different sized lead balls. He has a dozen different sized lead balls that he tried in his two Zimmers, and they just didn't hold up like a top 10-meter target air rifle. Even though Zimmerstutzens are made to shoot at 15 meters, they are just not in the same class of accuracy as a good 10-meter target air rifle — or target air pistol, for that matter.
So I thought the Daisy 499 might be the standard against which to test. We know what a 499 can do. If you are a long time reader you have seen proof of that. If not, I'll show you an example right now.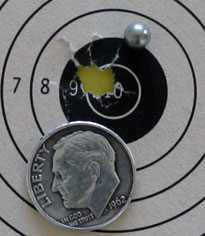 Back in 2018 I put five Daisy Avanti Match BBs into a 0.146-inch group at 5 meters with the Daisy 499B target gun. This is what the Oktoberfest is up against.
The test
I shot from a measured 5 meters and used my MTM shooting bench and a sandbag to steady the Oktoberfest. That is more stable than the monopod I used to steady the Daisy 499 for the group shown above. I wore reading glasses with a +1.25 diopter prescription that allow me to see the front sight sharply.
I shot 10-shot groups. When I loaded each BB into the tubular magazine I counted them carefully to make certain there were exactly 10 and I always checked near the end of the string that there were still BBs in the magazine. I don't want any dry-fires. The magazine has windows near the muzzle for this. And right now I want to say a word about the BBs I used.
I shot both lead and steel BBs. That addresses the issue of what the rifle should shoot — lead or steel. Remember, there were a lot of questions and discussion about this.
Common sense
Reader hihihi translated and posted a comment from a German shooting gallery owner (he sets up at fairs and public events) who has been operating Diana model 30s since the early 1970s. He talked about how rugged the first guns were and how they have slipped in quality over the years. He also talked about how poorly the Oktoberfest was made.
The deal
And here is the deal. This guy lets the public handle and shoot his guns and, according to what he said, some of them don't know they need to elevate the muzzle when they cock the rifle — hence dry-fires occur. Guys, anyone can ruin something through carelessness. In the Army we used to say you could give a soldier a case of C rations and an anvil and put him out in the desert for a week and when you came back the Cs would be gone and the anvil would be broken.
I'm not saying the Oktoberfest will hold up to years of hard use because I don't know that yet, but I do think we should consider whoever is shooting it to be a part of its lifespan equation. Until I have several years of use behind me I won't know the potential lifespan of the Oktoberfest in the hands of a responsible shooter. All I can tell you today is what it has done in my hands at this time. And now, let's look at that.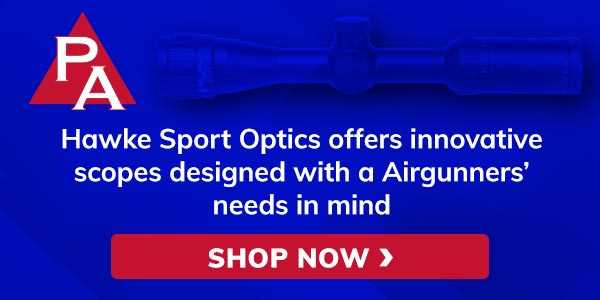 H&N Smart Shot
First to be tested were the Smart Shot lead BBs from Haendler and Natermann. On the tin or bottle these come in they say 4.5mm/.177 caliber, but that's not correct. I measured them for you in Part 2 of this report and we discovered they actually measure 4.34mm or 0.171-inches in diameter. Since they are made from lead, there will be a range of sizes in each package, but they should all be close to this size.
The first shot was a 10 — a perfect bullseye! I thought that was fortuitous, so I took a picture for you.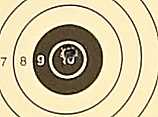 The first shot in the accuracy test was a perfect 10. Great start!
Ten of these BBs made a group that measures 0.911-inches between the centers of the two holes farthest apart. That is both an extremely good group for a BB gun and absolutely no competition for the Daisy 499.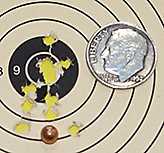 The Oktoberfest put 10 H&N Smart Shot lead BBs into this 0.911-inch group at 5 meters.
Daisy Avanti Match Grade BBs
Next to be tried were 10 Daisy Avanti Match Grade BBs. These are steel BBs that are made specifically for the Daisy 499, so this will be a comparison of steel to lead. They measure 4.37mm in diameter, which is 1.72-inches.
The Oktoberfest put ten of them into a 1.999-inch group at 5 meters. That is not a good group for a BB gun at 5 meters, but I will hold off judging steel BBs until the end of this test.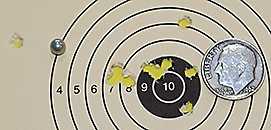 The Oktoberfest put 10 Daisy Avanti Match Grade steel BBs into a 1.999-inch group at 10 meters.
4.4mm lead balls for airguns
Next up were some German-made 4.4mm lead balls that are made for airguns, according to the label on the tin. I bought them to shoot in my Zimmerstutzens, as they do measure 4.4mm. In fact the one I measured in Part 2 of this series measured 4.44mm which is .175-inches in diameter.
Ten of these went into a group that measures 0.803-inches in diameter. But 9 of those shots are in 0.352-inches, and that is almost tight enough to compete with the Daisy 499. Almost.


The Oktoberfest put 10 German 4.4mm lead balls into 0.803-inches with nine in 0.352-inches. That's very good!
Why?
Why is this third group so much smaller than the first two? One reason — ball size. These lead balls fit the Oktoberfest's bore as they should. The H&N Smart Shot is too small, and now I wonder whether the Diana lead BBs made for the Oktoberfest in Germany are really the same as Smart Shot, or are they different? They do say 4.4mm on the tin. If they are different, we now know how important the ball fit to the bore is and Diana should be exporting them to the US. If they are the same as Smart Shot then no problem — keep them in Germany, but American Oktoberfest owners now know they need to get the lead balls of the right size. I found these (the ones in the pink tin) on eBay.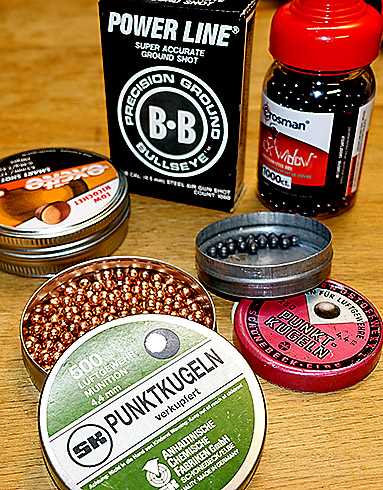 The 4.4mm lead balls in the pink tin are the ones that shot best (so far) in the Oktoberfest.
Crosman Black Widow
The last BBs tested were the Crosman Black Widow steel BBs. They measure 4.37mm or 1.72-inches in diameter. Ten of them went into a 1.053-inch group at 5 meters. It's pretty good but not great.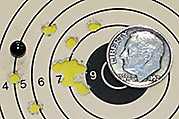 Ten Crosman Black Widow BBs went into 1.053-inches at 5 meters.
Trigger
The trigger has some creep in the movement of the blade. It does seem to be smoothing out as it goes, so perhaps it will settle in as a smooth single-stage trigger can and should.
Discussion
From what I see in today's test, the Oktoberfest wants to shoot 4.4mm lead balls, and it likes them slightly on the large side. It likes them best of all, though Smart Shot lead BBs that are smaller came in second best. Steel BBs were third and fourth and the larger steel BBs did better than the smaller ones. I'm thinking that lead BBs are the way to go. I have other sizes so I will look to see whether I can get one just slightly larger. I don't want it to be too large, though, as I don't want it to stick in the bore.
Next — I hope this little test puts the negative comments to rest. The Diana Oktoberfest is a Chinese-made bolt-action BB repeater that is accurate. It does not compete with Daisy's 499 Champion, nor was it meant to. The Oktoberfest stands on its own merits as an accurate offhand BB rifle for shooters who can shoot with open sights. This BB rifle is built to a price and should therefore be handled with reasonable care.
Summary and moving forward
The Oktoberfest I am testing is a fine air rifle thus far. I don't care what people who have never seen one are saying on the internet. I actually have one in my hands and it works just fine.
I am not finished with my report on the Oktoberfest. I have some reports that I hope will be exciting yet to come, so stay tuned.
Tags In
Tom Gaylord is known as The Godfather of Airguns™ and has been an airgunner for over a half-century, but it was the 
Beeman
 company in the 1970s that awoke a serious interest in airguns. Until then, all he knew were the inexpensive American airguns. Through the pages of the Beeman catalog, he learned about adult airguns for the first time. In 1994, Tom started
The Airgun Letter
 with his wife, Edith. This monthly newsletter was designed to bring serious reports about airguns to the American public. The newsletter and
Airgun Revue
, a sister magazine about collectible airguns, was published from 1994 until 2002, when Tom started
Airgun Illustrated
-- the first American newsstand magazine about airguns. Tom worked for three years as technical director at
AirForce Airguns
, the makers of the 
Talon, Condor, and Escape
 precharged air rifles. Today, he writes about airguns and firearms for various publications and websites. He also makes videos, and you'll find short clips embedded in some of his artices on Pyramyd Air's website. Tom is a consultant to Pyramyd Air and writes under the name of B.B. Pelletier.