This report covers:
The looks
It's a bargain
Walnut stock
Description
Silencer
Flashpup-silencer
Fill
Trigger
Summary
Today we begin looking at the Hatsan Flashpup QE with walnut stock. It comes in .177. .22 and .25. It is powerful so of course most buyers went with .25 caliber, followed by a few .22s that would have been my choice. Perhaps one in a hundred bought the .177. Being an avowed contrarian, BB decided to look at the .177.
The looks
The Flashpup is a love/hate airgun as far as appearance goes. BB doesn't like bullpups of any style so he was prepared to be a hater until he picked it up the first time. It's lighter than it looks and it feels — oh, how it pains me to say this — JUST RIGHT! Yep, this Flashpup feels exactly how it should feel for an air rifle. Now I just hope that feeling transforms into performance!
It's a bargain
Hatsan has always tried to hold down the prices of their airguns but frankly I don't know how they manage to sell this rifle for under $400. Had it existed back in 2006 the Benjamin Discovery would never have been necessary. But maybe that's like saying if the 1964-1/2 Mustang had been available in 1929 nobody would have bought the Model A. 
Walnut stock
In a final burst of contrarian stubbornness, BB asked for the Flashpup in a walnut stock! It also comes in a synthetic stock that I usually go for, but the walnut stock was only $20 more and I wanted to try it. The last time I made such a bold move was with the Air Arms S510XS with Laminate Stock and that little puppy took up permanent residence at Casa BB. Perhaps I do this as a defense mechanism?
Now, Turkish walnut is often gorgeous — so beautiful that it's almost edible. And Hatsan knows how to buy wood. But the walnut on this Flashpup is more of the fence post variety. The grain is dead straight and stained on the darker side of neutral. The only checkering is a reverse pattern on both sides of the pistol grip. The pistol grip is somewhat flat on both sides with a flared bottom. It feels great.
I keep picking this thing up! Hatsan is gonna have a restraining order filed against me. Every time I pick it up it feels light and perfect. Oh, please don't also be hyper-accurate! BB's becoming a hoarder of airguns.
Description
The Flashpup with walnut stock weighs 6.1 pounds (7 pounds in synthetic). See, I told you it felt light! In the .177 I'm testing it is a 14-shot repeater. In .22 the mag holds 12 and in .25 it holds 10.
The non-wood parts of the rifle are metal. Yes, even the trigger blade. The finish is an even matte with the steel and aluminum matching very well.
There is a softer rubber buttpad that grips your clothes when the rifle is mounted. And did I mention that it's lightweight and feels just right?
The barrel is 19.4 inches long, which seems long for a rifle that's only 32 inches overall, but that is the beauty of a bullpup, whose action is back at the shooter's shoulder. In centerfire firearms this places the face too close to where 50,000+ psi pressures are developed in the opinion of many shooters, but with an air rifle that runs at 2900 psi, who cares?
The Flashpup is bolt action. It comes to you with a cool soft rubber knob over the end of the bolt and BB thought for a few moments that it might be part of the bolt. But no, it's just a protector.
Two circular magazines and a single-shot adaptor come with the rifle, and I will test it both ways. Oh, and I just picked up the rifle again. Did I mention how light it is and that it fits me just right?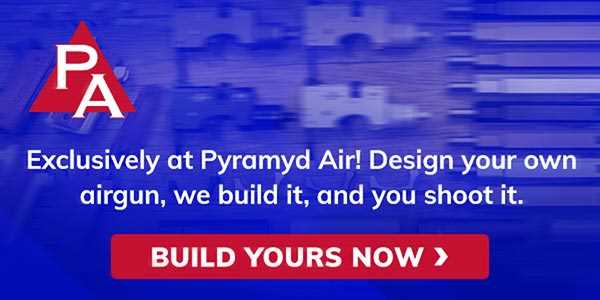 Sights
There are no open sights on the Flashpup. The receiver has a raised Picatinny scope rail with 11mm dovetails on top. The cheekpiece also adjusts up and down to align your sighting eye with the scope.
This rifle is so lightweight that it screams for a smaller scope. Come on, Leapers! Please bring out your Integrix line!
Silencer
The barrel ends with a silencer that's permanently built in. The muzzle cap is threaded for an adaptor that will accept a DonnyFL silencer, but at present there is confusion regarding the legality of external silencers that attach to airguns. Not that airguns can't have silencers; they can and do. But if a silencer can also be attached to a firearm and reduce the muzzle report by even one decibel, it's considered a firearm silencer and must be serial numbered as a firearm and registered with the federal government as a silencer.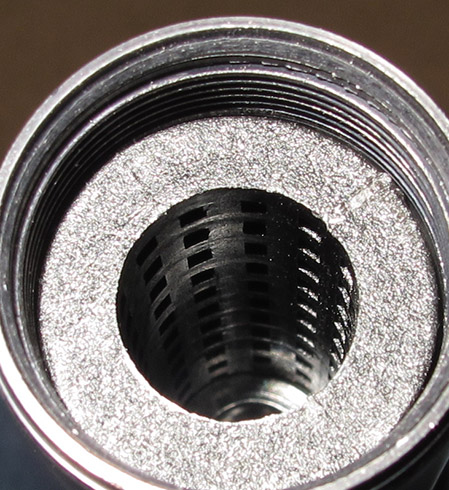 The Flashpup doesn't exactly have baffles, but those holes in the side of the can do the same thing.
People call them moderators, lead dust collectors and decibel reduction devices in hopes the ATF won't notice, but those guys are more aware of what's going on than most shooters. I will test the Flashpup's muzzle report for you exactly as the rifle comes from the factory.
Fill
The Flashpup has a 2900 psi fill pressure. YES! Hatsan gets it. You don't need to fill to 3,600 psi and higher to get velocity. Design the valve properly and you get great power at this pressure level.
How-so-very-ever — a fill PROBE??? Shades of the 1980s! And, if it has to be a probe, why not a Foster connection on the other end? At least there is a synthetic plug in the fill port to keep it clean between fills.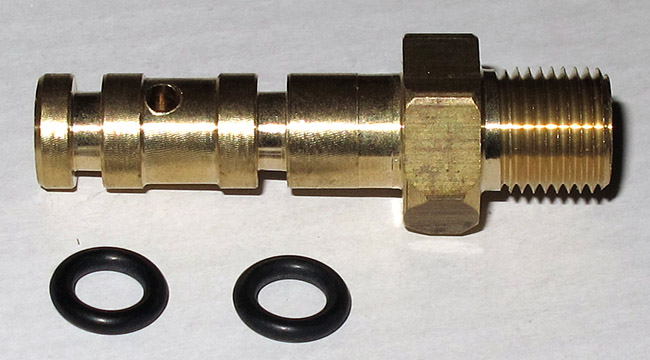 Really? No Foster connector AND I have to install the o-rings?
The manual tells you there need to be o-rings on the probe (Section VII — Quick Fill Nozzle O-Rings Replacement), but nowhere does it mention you putting them on to begin with. Guys, I used to work at AirForce Airguns as the techie and I know the calls that must be coming in from this. You'll have a 5-minute conversation before you realize the owner hasn't installed the o-rings on the probe. Hatsan devotes an entire page of the manual to loading and installing the circular magazine. How about two sentences on this?
Pyramyd Air says to expect 35 shots per fill for the .177, with the .22 and .25 getting more. Hatsan says to expect more like 48. Guys, BB doesn't need any more than 35 shots on a fill! Of course this will be tested for you.
Trigger
There are two things that I need to focus on with regards to the trigger. First, this is a bullpup, which means the trigger blade is separated several inches from the sear. That can introduce some slop in the trigger pull, so it's item number one. Second, this is a Quattro trigger. I have yet to see a Quattro trigger that I felt was light, smooth and crisp. That's item number two.
The two-stage trigger is adjustable for pull weight, length of travel of stage one and for the weight of stage one. I plan to spend some time adjusting this trigger so I can make a full report.
However — I just couldn't wait. I cocked the rifle and squeezed the trigger. This may well be the first Quattro trigger I have felt that actually felt good! And did I mention that the rifle is light and feels great? Enable, enable…
Summary
Let's see; what have I forgotten? Oh yeah, the Flashpup in the walnut stock is lightweight and feels great. We gonna have some fun with this one and BB needs to start storing his airguns on the ceiling!