This report covers:
B-I-L
Discovery
Success!
Offhand rifle shooting
The egg shot
Summary
Shooting standing up! Wow! What a novel concept. And yet that is what handguns and long guns were made for. We only shoot them off the bench to find out how accurate they are and perhaps to find the best pellet. Or, do we? Today we look at shooting the way it is supposed to be.
B-I-L
My brother-in-law Bob came up from Huston yesterday, just to say hi and visit for a while. We talked about many things and guns was one of them. He told me that his rifles are all quite accurate but his Predom Lucznik air pistol wobbles around when he tries to shoot it — even when he holds it with both hands!
Welcome to the club, Bob. Wobbling pistols is what being a human is all about. That's what we try to cancel when we shoot. In fact that's what I talked about when I wrote about holding a pistol while shooting in the series Teach me to shoot. As I wrote there, Lieutenant Colonel Bonsall, who was my squadron commander (in cavalry, the same as a battalion) was a holder of the Distinguished Pistol Shot medal — a marksmanship honor that's rarer than the Medal of Honor. Holders of that medal are automatically included in the final shoot-off for the Olympic pistol team.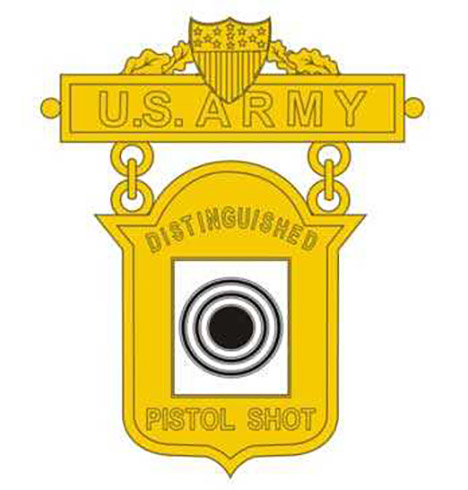 Distinguished Shooter-Medal.
Colonel Bonsall taught me how to hold a 1911A1 pistol after which my groups shrank incredibly. Because of his training I bought a 10 meter target pistol when I later served in Germany and eventually I became a nationally ranked 10-meter target air pistol shooter. And it was what I discovered that made all the difference.
Discovery
My discovery is that there are ways to reduce the wobble to very low levels. We can never get rid of it entirely, but we can get it so low that there are people who can shoot a pistol and hit the period at the end of this sentence from 33 feet away, nine times or more out of ten!
The secret is the body's skeleton. If you read the report I linked to above you will discover that holding the pistol the same way and standing the same way (that's in 10-meter pistol shooting — Part 1) all the time is 90 percent of the answer. The remaining 10 percent is in the rest of the hold to include the arm, the elbow, the wrist and rolling the arm to stretch and relax the muscles of the shooting arm plus breathing and the raising and lowering of the pistol. But a full 90 percent is in the hold and stance. In fact, Once the shooter gets into position the feet should not be moved again for the rest of the match.
Success!
I once demonstrated this in the most difficult way in the report titled, Converting an anti-gunner AND teaching a person to shoot 10-meter pistol. Though I don't talk about the placement of the feet in that report, you can bet that I used that technique to teach the guy how to shoot.
Offhand rifle shooting
Bob was responsible for today's report, but I was looking for a way to include the next thing in a report anyway. He just made it easier.
I recently wrote about my difficulties shooting the Hatsan Flashpup — and every other bullpup on the planet! Yesterday I wrote about stock design, good versus bad. And before that I wrote about trick shots. I guess I was heading towards a "shooting offhand" report all along. My plan was to use one of my vintage Diana spring piston rifles. Yes, Yogi, my vintage Diana breakbarrels are lightweight, convenient to hold and shoot and reasonable accurate. So fat old BB was going to stand on his hind legs and shoot like a man for you.
And then I wrote the Trick Shots report. In so doing I discovered Kirsten Joy Weiss, a young, attractive and extremely talented trick shooter. I put her splitting the playing card trick video in the Trick Shots report, but the very next video was a long range shot that I had to watch. Well, I didn't have to — I wanted to.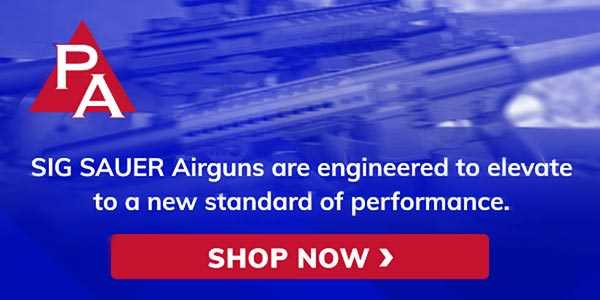 The egg shot
In that video she breaks an egg at 300 yards shooting a semiautomatic .22 rimfire offhand! Guys, I have to tell you the only way BB can break eggs at 300 yards is if he shoots down a 300-yard deep well with a pile of eggs lining the bottom. Even then he would need luck on his side.
But this woman is one of the best natural shots I have ever seen. Remember that I admitted some years ago that Crystal Ackley out-shot me on American Airgunner the first time she tried shooting the Makarov BB pistol that I was supposed to be showing her. I forget how that clip was edited but if it shows anything other than me getting embarrassed it was done in editing.
Let's now all watch Kirsten Joy Weiss break an egg at 300 yards, shooting offhand with a .22.
Summary
So guys, rifles and pistols are made to shoot, and not just on the bench!