Part 1
Part 2
Part 3
Integrix 2-12X36 FFP scope: Part 1
Part 4
This report covers:
Integrix to the rescue!
The test
RWS Superdomes
RWS R10 Match Pistol
HOWEVER
JSB Exact Heavy
What causes group separation
The Integrix
JSB Exact RS
What to do?
Second group
Is the Omnia ZRS rifle accurate?
Re-run the test
Summary
Today I have a test for you where almost everything with the Norica Omnia ZRS rifle went bad, and yet the results were wonderful! Intrigued? Read on. In a rush? Skip to the last two targets and see what can happen. If you want to know how I got there and what it took you have to read this report.
After yesterday you probably aren't ready for another bad report, are you? I know I sure wasn't. And, for the first half of today's test, it looked like it would turn out that way. Have I lost it? Is BB Pelletier no longer able to shoot? Oh, my! Whatever shall we do? Get out my walker. Edith, I'm comin' home!
Integrix to the rescue!
This is a day that was saved by the Integrix 2-12X36 FFP scope. Yes, it really was. Read on to find out how. I'm not saying that any other scope couldn't have done the same but the Integrix I'm testing has some capability that other scopes (that I have tested) cannot match. Read on to learn what.
The test
Today was supposed to be a test of the accuracy of the Omnia breakbarrel at 25 yards. That's pretty straightforward, no? And in Part 4 I both sighted it in and pre-selected four different pellets to test.
I shot 10-shot groups today, except for one pellet. I shot the rested rifle from 25 yards. The rifle rested directly on the sandbag, because, the way the Omnia anti-recoil mechanism works, you can do that. Let's get started.
RWS Superdomes
In Part 4 I shot five RWS Superdomes at 10 meters and got a strange group. It was large for 10 meters, but the last three shots were in a very tight group that was worthy of the gold dollar comparison coin — five were in 0.493 with three in 0.108-inches.
I made a note to myself in Part 4 to shoot three Superdomes next time (that would be today) before starting to shoot a group, because it seemed like that pellet needed to "season" the bore. Well, what I expected didn't happen. The first shot went wide to the left of the bullseye and high. Shot two dropped. Shot three dropped again and I thought the rest of the shots would group with shot three. But they didn't, so I shot twice more. Shot four went into the bull where I initially expected all these pellets to go, but then shot five went left again and dropped even farther down below shot three! Five are in 1.17-inches at 25 yards. Ouch!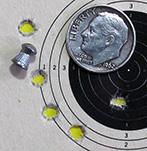 Superdomes refused to group! After five shots with the Omnia I gave up! These five are in 1.17-inches at 25 yards.
Okay, this was no problem. I had just discovered that the Omnia does not like Superdomes. What does it like? The three pellets that came next all gave good indications in Part 4 at 10 meters that the rifle would do well with them. Let's see!
RWS R10 Match Pistol
The RWS R10 Match Pistol wadcutter did really well in Part 4. In fact the first two pellets went through the same hole and I showed that to you. I figured this was a pellet that would also perform at 25 yards. And, when the first two pellets shot from 25 yards went into the same hole, I figured I was right. HOWEVER…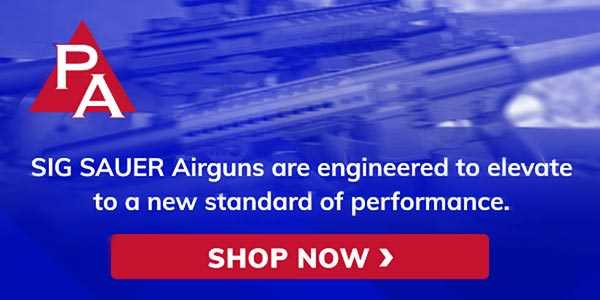 HOWEVER
The remainder of the R10s spread out. I finished the group because it was smaller than the Superdome group until the end, when the final pellet went low and left. I ended with 10 pellets in 1.438-inches between centers.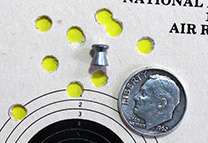 The Norica Omnia ZRS put 10 RWS R10 Match Pistol pellets into a 1.438-inch group at 25 yards.
This doesn't look very good, does it? Read on.
JSB Exact Heavy
The next pellet I tried was the 10.34-grain JSB Exact Heavy. They are JSBs! Surely these were the ones. But no. And, well — you know.
Ten pellets are in a group that measures 1.651-inches between centers. Hey! These groups are getting larger, BB! Yes, but this group is the one that turned the day around. Notice that there are two groups here — one on the right and a separate one with many more shots on the left. Now, listen to BB Pelletier and learn something.
The group of seven holes on the left measures 0.562-inches between centers. Yes it's not all the shots with this pellet, but you can clearly see the tendency of the rifle to shoot to two different places.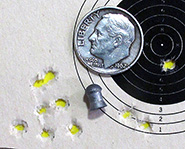 Ten JSB Heavy pellets are in 1.651-inches between centers, but the seven on the left are in 0.562-inches.
When I shot my AR-15 several years ago I noticed that it wanted to group in two different places. The space between the "groups" was less than a half inch, but since that rifle could put ten bullets through 3/8-inches (0.375-inches or 9.525mm) at 100 yards, it was noticeable. And what caused it?
What causes group separation
Cheek weld causes group separation. I know that because the AR-15, like most tacticool rifles, doesn't fit me. In fact, from what I have seen with tactical stocks — one size fits none. And the Norica Omnia ZRS has a tacticool stock. I commented on it in Part 1. I said, "The tactical-style buttstock feels exactly like it looks. The straight line of the butt puts BB's fat face too high to acquire the rear sight comfortably. I have to roll my cheek to acquire the rear sight — otherwise the front sight is too high in the notch — even with the adjustable cheekpiece down as far as it will go. I may try it with the cheekpiece removed."
Now that I saw this I knew (or thought I knew) what had to happen. I had to get the same cheek weld (location of my face on the stock, which determines the location of my sighting eye) for every shot. Yes, this is a fundamental fact of marksmanship, but the Omnia stock fits me so poorly that I was in the adaptive mode. In other words, I was doing whatever it took to shoot the rifle. How am I going to get this fencepost stock to fit me? Enter the Integrix!
The Integrix
The Integrix scope has optics so precise they help (or force) you to position your sighting eye in the same place every time. Let's move on and I will tell you how.
JSB Exact RS
The final pellet I shot is the JSB Exact RS dome that made the smallest five-shot group at 10 meters in Part 4 (0.299-inches). It was small, but I now wonder how much smaller it could have been.
Today I put ten RS pellets into a 0.805-inch group at 25 yards. That's certainly the smallest group shot so far but look at it carefully. You will see on the left side under the pellet there is a hole that has had seven pellets pass through it. It looks like just two pellets went through but it was really seven. That "group" measures 0.093-inches between centers! And THAT, my friends, is a group at 25 yards! How did I do it? And that's actually me, the rifle, the scope and the pellet together.


That small hole under the pellet on the left is where seven pellets passed through. Ten are in 0.805-inches with seven in 0.093-inches.
What to do?
I had noticed that the Integrix scope was positioned too high on the rifle and too far back for my eye to see the image full-sized when I held the stock somewhat comfortably. I saw that as I placed my head farther forward a dark circle would form around the image in the Integrix lens. So, when shooting this group I tried to position my head to always get the same amount of darkness in the image — and to center the visible image inside the dark ring as well. Now, doing that is about as coordinated as running a hundred-yard dash while carrying a glassful of water and trying not to spill any. But you can see the results above. And those three stray shots are when I didn't get it right.
If this approach really works I thought I should be able to shoot all ten shots a second time and get similar results. I must tell you that it takes a LOT of concentration! You're not only holding the crosshairs on the center of the bull, you're also trying to create the same size circle of darkness around the image of the target, plus keep that image centered in the scope. It's a headache waiting to happen but if we can learn something from it it's worth it.
Second group
I shot a second group with the same pellet while using this technique. The pellets went to the same place as the tight group of seven in the last group, more or less. And this group of ten grew very slowly. This is ten JSB Exact RS pellets in 0.657-inches at 25 yards. It's the smallest 10-shot group of today's test. It may not be wonderful, but I think it proves my point.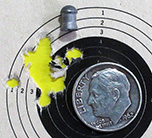 The Omnia put 10 JSB Exact RS pellets into 0.657-inches at 25 yards.
Is the Omnia ZRS rifle accurate?
We don't know for sure that the Omnia ZRS rifle is accurate. But today we have learned a powerful truth — that the placement of the face on the stock to locate the aiming eye the same every time is extremely important to accuracy. That's not a new lesson. It's not something we didn't already know. But today the precision of the Integrix scope, coupled with the straight buttstock of the Omnia ZRS rifle, made this fact crystal clear.
Based on what I see in the last three targets I believe the Omnia ZRS is a very accurate air rifle. But I need to make it fit me better so I can shoot it accurately.
Re-run the test
I believe I need to run this test again. That will allow us to see how all four pellets respond when the rifle does its best. We will learn several things.
1. Is the Omnia ZRS rifle accurate?
2. I the Omnia rifle pellet picky?
3. How much does cheek weld/eye placement matter?
4. Is the precision of the Integrix scope a big factor in achieving accuracy?
Summary
Like I said up front, today was a bad day that turned out great. I would always rather learn things that help me be more accurate than just shoot little groups. Maybe today meant more to me than to you guys but I bet some of you have learned something.