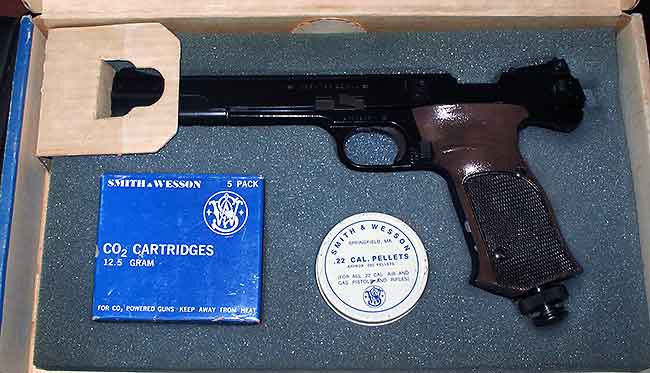 Smith & Wesson 78G.
Webley Senior spring-piston air pistol Part 8
Testing new pellets
This report covers:
The back story
Stand-alone test
The test
H&N Baracuda 15
H&N Baracuda 18
H&N Baracuda Hunter Extreme
JTS Dead Center
H&N Slug HP
Discussion
Summary
Today we continue to look at the accuracy of certain newer .22-caliber pellets. We've done this with two air rifles in the report titled, Testing new pellets and also with the Webley Senior pistol in Part 8 of that series. That's why I gave you links to those reports above. Today we expand our look at these pellets to an American classic air pistol — the CO2-powered S&W 78G.
I think we have discovered some things about these newer pellets, plus we have learned a few things about the various airguns used in the tests. Today should be quite interesting!
The back story
This isn't the only 78G I own. This one came to me in a trade with reader 45Bravo, otherwise known as Ian McKee. He found it in pristine condition. It's one of the very early models with the adjustable trigger. When Ian resealed it he worried about damaging the finish, so he offered it up to me. It is the pistol shown above and I last reported on it in 2020. Unfortunately I see that the paint has started to flake and you can see that in the picture above.
My other 78G was hot-rodded many years ago. It shoots pellets about 100-150 f.p.s. faster than a standard 78G and you read about it in 2010. It's a great air pistol but for today's test I wanted a stock gun and this one is that. The hot-rodded 78G shoots Crosman Premiers at an average 494 f.p.s. This stock one I'm shooting today averages 355 f.p.s. That's just for comparison.
Stand-alone test
What I want to do today is see what kind of accuracy these new pellets deliver in a stock 78G. I doubt I will also test them in the hot-rodded 78G, but I do plan to test them in the Crosman Mark I.
The test
I shot from 10 meters with the butt of the pistol resting on a sandbag. I shot 5-shot groups to keep this test in line with the test of the Webley Senior. I wore my reading glasses with 1.25 diopter correction to see the front sight as clearly as possible.
H&N Baracuda 15
The first pellet tested was the H&N Baracuda 15. The first pellet scored a 9 that was to the left of the 10-ring on the 10-meter air pistol target, so I knew the pistol sights were where they should be. I didn't look at the target again until I went downrange to change it. This pellet gave a vertical group at 10 meters that measures 1.351-inches between centers. I had hoped for a little better — especially after seeing that first shot.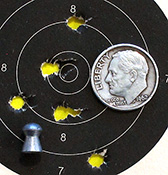 The 78G put five H&N Baracuda 15 pellets into a 1.351-inch group at 10 meters.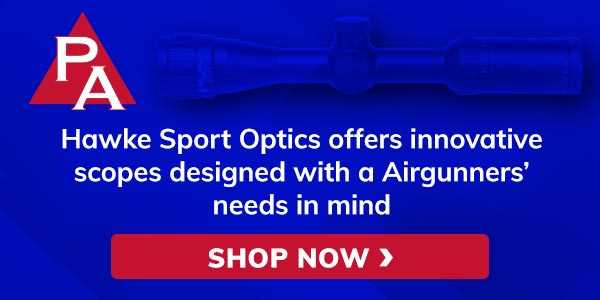 H&N Baracuda 18
The second pellet I tried was the 18.13-grain Baracuda 18. This one has also proven accurate in some airguns. But not in the 78G. At 10 meters five pellets went into 1.46-inches at 10 meters. It's another vertical group and it made me wonder whether or not I was off my game this day. I was resting the pistol and the trigger broke cleanly so I didn't think that was the case, but then I saw the results.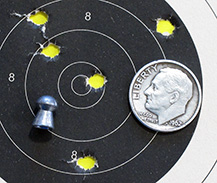 Five Baracuda 18s made a 1.46-inch group at 10 meters.
At this point in the test I was getting discouraged. I know I'm a better pistol shot than this and I think the Smith & Wesson 78G can also be an accurate pellet pistol. These results aren't horrible, but they sure aren't wonderful, either.
H&N Baracuda Hunter Extreme
The next pellet I tested was the 18.52-grain H&N Baracuda Hunter Extreme. Unlike the other pellets this one isn't that new. It's just a pellet I haven't done much with in the past. But now that I've started testing them I've discovered they are often quite accurate.
In the 78G five Hunter Extremes went into 0.722-inches at 10 meters. That's not just a good group; it's a great one — the best of today's test! This pistol can shoot and, apparently, so can I.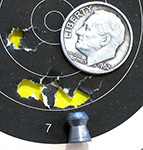 The 78G put five H&N Baracuda Hunter Extremes into a 0.722-inch group at 10 meters.
Now I was cookin'! That nice group set me back on track.
JTS Dead Center
Next up was the Dead Center dome from JTS. These pellets have performed marvelously for us since I brought them home from the SHOT Show this year. In the 78G five of them went into a group that measures 0.922-inches between centers. This is another good pellet for this pistol!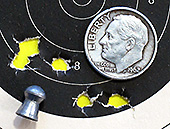 Five JTS Dead Center pellets went into 0.922-inches at 10 meters.
At this point I was satisfied that this S&W 78G is an accurate airgun. It holds gas perfectly and has a great trigger that is two stage and very positive with a crisp stage two break. If you read the full report about this airgun you'll see that I adjusted the trigger in 2020, and I got it right. Today is a good day!
H&N Slug HP
The last pellet I tested was the 0.218-inch diameter H&N Slug HP. I didn't think they would be accurate in this pistol and they weren't. They've got to be going too slow to stabilize. Five made a 3.006-inch group at 10 meters. Not only is it the largest group of the test; it's also way out of proportion with the other groups. You can see that most of the pellet holes in the target are torn out at the right, indicating that the pellet was not flying nose-on. Oddly, in the Webley Senior this slug grouped much better. And that is why we test.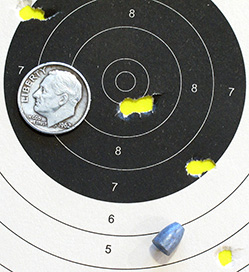 The H&N Slug sized 0.218-inches put five into 3.006-inches at 10 meters.
Discussion
I was pleasantly surprised by how accurate this stock S&W 78G pistol is. With the right pellets it's formidable.
We will move on to the Crosman Mark I pistol for the next test of new pellets. I can't wait to see what happens!
Summary
Ian, you done good when you resealed this pistol! It's a very pleasant shooter. All things considered I like it very much!