Today Ian McKee whose blog name is 45Bravo tells us about a tour and fun shoot that AirForce Airguns and Firebird targets held near Ft. Worth a couple weeks ago. I was also at both events, and I will add my remarks and photos to his. I'll begin each of my remarks with the intro — Editor.
This is just Part One of Ian's report. He attended both days of the fun shoot, while I could not go on Day two..
If you'd like to write a guest post for this blog, please email me at blogger@pyramydair.com.
Take it away, Ian
Fun with AirForce and Firebird
by Ian McKee
Recently I was privileged to be among a small group of people who were given an opportunity to tour the AirForce Airguns factory, and attend a Fun Shoot sponsored by AirForce Airguns and Firebird Targets.
I would like to start by thanking John McCaslin, Yvette Hicks, Ton Jones and airgun trick shooter Rick Rehm, who is Shooter1721 on YouTube. Dan Meeker and his staff from Firebird targets were also hosts of the shooting event. I thank everyone for their hard work in organizing and making this weekend happen.
I think the regular readers here are familiar with AirForce Airguns, as BB has written about them many times over the years. If this is your first time here, AirForce Airguns is an American airgun company based out of the Dallas Ft. Worth area. They have been in operation since the late 1990's and they produce airguns ranging from .177 caliber 10 meter target rifles to a monster .51 caliber suppressed hunting rifle.
Airforce makes single-shot precharged pneumatic (PCP) airguns, and they also manufacture the RAW (Rapid Air Worx) airguns that are magazine-fed repeating precharged air rifles.
The tour
John McCaslin and Yvette Hicks gave us a tour of the facility, answered our questions, and showed us their manufacturing process from raw materials entering the building, to the finished airguns ready for shipping, giving us an inside look into the manufacturing world of airguns.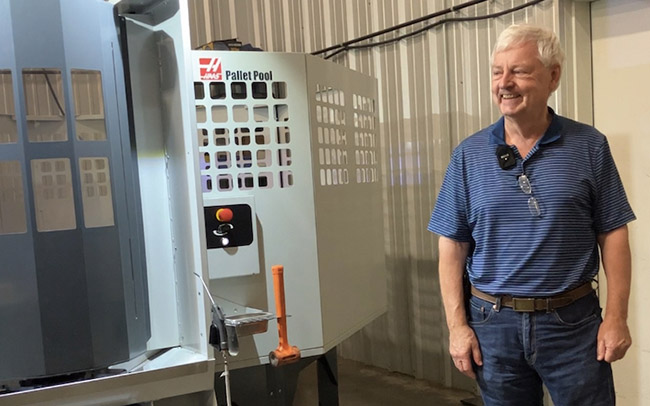 John demonstrating one of the many CNC machines.
He demonstrated some of the automated machines that performed the same task over and over with micrometer precision, and the meticulous hand assembly and testing of each rifle before shipping.
Editor: I invited four guys from my church to attend both the tour and day one of the shooting event. They increased the crowd to about 20 people. And one of them is the guy who hit the pellet on top of the post without hitting the post.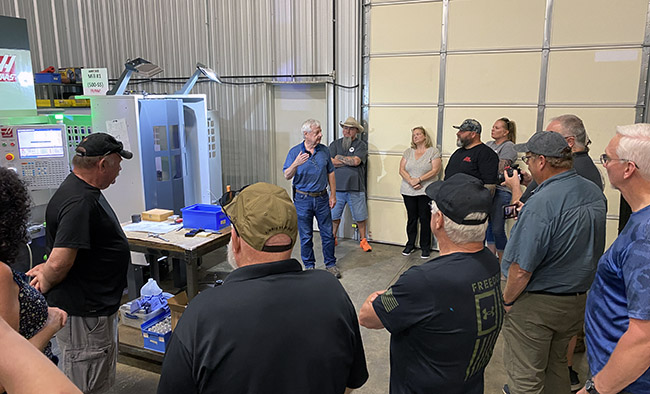 The AirForce tour crowd.
We were also shown some things AirForce is working on that will soon stand the airgun world on its ear. It's a great time to be an airgunner!
Editor: I purposely DID NOT take a picture of the project that Ian just mentioned, because after seeing it an airgun designer would get important clues to its design. I assure you Ian is correct about the impact it will have. You will have to wait for the project to be brought to market before I tell you why I didn't photograph it. I hope it is soon!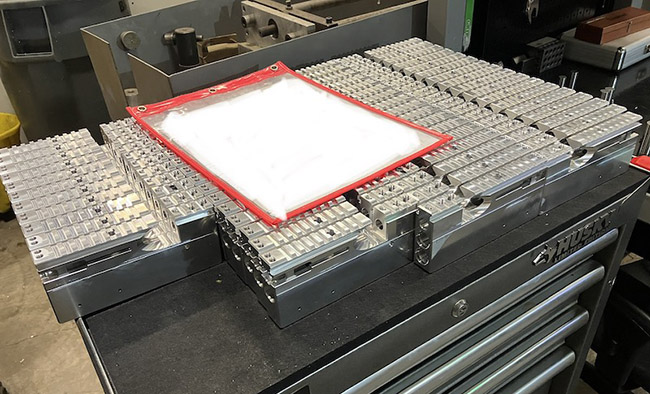 RAW receivers as they come from the machine.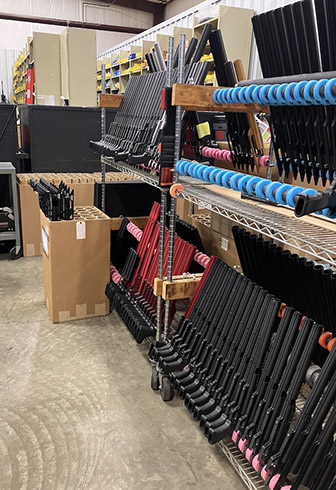 A few of the AirForce airguns in the assembly area. RAW airguns are assembled in a different part of the shop.
Firebird shoot day one
The next day everyone met at Firebird Targets. They manufacture exploding targets that work with airguns, archery equipment and firearms.
Firebird Targets are biodegradable, non-binary reactive targets. They don't need mixing and are safe to transport. Firebird's proprietary mixture and self-contained shell make it a safer alternative to Tannerite® and other binary compounds. Firebird Targets also don't contain ammonium nitrate and are not classified as a high explosive. Best of all, Firebird Targets are easy to use without the need to measure, mix, and fill targets. Just peel the tab off the sticky patch on the back, stick and shoot!
The Firebird facility has a small range where they test each batch of their targets, and a larger area where they can have distances out to well over 200 yards if desired. Dan Meeker and his crew showed us a fantastic time while at their facility.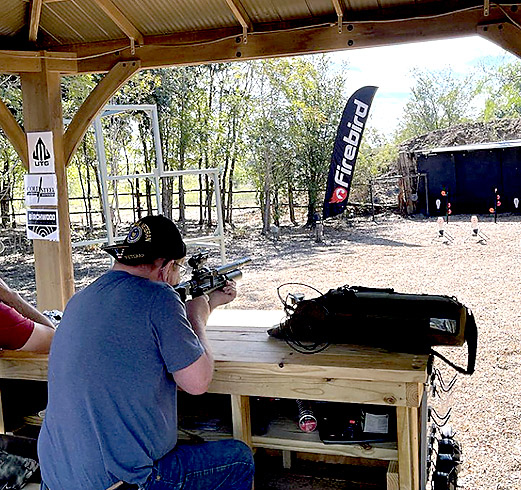 BB's neighbor Denny having fun with the RAW MicroHunter in .22 caliber.

Ton Jones holds the RAW MicroHunter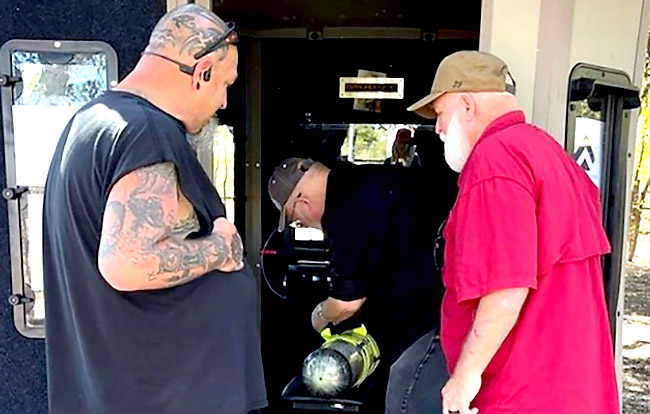 BB fills a MicroHunter for Santa Claus (right), BB's friend from church, Steve. He's the guy who shot a pellet off a post without touching the post
.
The crews from AirForce and Firebird fed us, entertained us and invited us to shoot several of the amazing RAW MicroHunter air rifles in .22 caliber. Each rifle mounted a different offering from Lucid Optics. BB has started a blog series of the Lucid P8, and I will soon be giving you the rundown of the Lucid L5 5-25×56 as well.
Day one of the shoot that I'm showing today was practice, in the morning it was plinking at shorter ranges, engaging multiple targets at different distances, the targets were steel spinners, my kind of shooting! The emphasis was on building your speed, while still hitting the targets.
All of the rifles fired hundreds of rounds each with not a single hiccup, the only casualty was a fill pressure gauge on one rifle. Someone cranked the 4500 psi fill bottle wide open and it killed the gauge. But while the gauge no longer functioned, the gun kept working for the entire weekend and suffered no damage.
The skill level of the shooters ranged from some that had never fired an airgun before to some very serious competitors with many years of airgunning under their belt, for the rifles to take such abuse is testament to their durability.
Editor: The guys from my church had the least airgun experience of those at the shoot. I stayed with them and helped them with the MicroHunters.
After a BBQ lunch break and time to get to know the other competitors and Youtube celebrities, everyone moved down to the longer range and shot .25 caliber RAW rifles at metal targets out to over 100 yards and well beyond! As an indicator that you hit the steel target, each was fitted with a Firebird target that exploded in a loud bang, and a huge plume of white smoke when hit, letting everyone on the range know you connected with that long range target.
The Firebird targets are unique in that if you hit them with a solid center hit, it is an instantaneous explosion, if you hit the target close to the edge, it has a delayed, less forceful detonation, and if you hit hit the steel plate close to the target instead of the Firebird itself and the splatter of the projectile hit it, it gives a small PFFFT and some slight smoke, or none at all.
Also at the longer range was an Airforce Texan in .45 caliber, this one had the carbon fiber tank, and is capable of producing over 620 ft lbs of energy at the muzzle. I shot it at a full size dueling tree at over 100 yards. I was surprised at the recoil it generated, but I can say it smacks the steel plates with great authority, and flips them to the other side of the dueling tree with ease. It was big bore plinking at its finest!
In the evening we were treated to another fine meal, and a demonstration of the Firebird targets being attached to pumpkins, the semi soft surface of the pumpkin prevented the targets from detonating showing exactly how safe and stable they actually are, but with some "applied engineering" we were able to make them detonate when hit.
Today was just an overview of the weekend, in the next part we will cover the actual "competition" part of the fun shoot.
Shoot Safe, Have FUN!
Ian