Today reader Roamin' Greco tells us about the HW Barakuda that I am now testing for you. This sets the stage for what is about to come in my reports on the rifle, so I will link back to this report in the future. Let's sit back and let him tell us about it.
If you'd like to write a guest post for this blog, please email me at blogger@pyramydair.com.
Take it away, Roamin'.
Roamin' Greco's Impressions of the Weihrauch Barakuda Model EL 54
by Roamin' Greco
This report covers:
Second guest blog
Shipping is expensive
Arrival!
It's big
Trigger
Sights
Cocking
Injection system
Firing cycle
Backwards
Velocity
Ether?
Not for me
Second guest blog
I am back with my second guest blog! As you all know, currently I'm interested in, among other things, vintage springers. So, when reader Frank Balistreri mentioned on the blog a little while ago that he had a Weihrauch Model EL 54 Barakuda that wasn't getting a lot of trigger time, I had to make him a pitch. If he would agree to let me borrow it and shoot it for a while, I would pay for shipping both ways. Well, he had already agreed to sell it to another fellow — none other than the man himself, B.B. Pelletier, a/k/a Tom Gaylord, the Godfather of Airguns! However, Frank arranged to send it to me first with the understanding that I would eventually send it to B.B. What a deal! A win-win-win! All I had to do was pay the shipping, and I could experience this unique airgun without having to buy it.
Shipping is expensive
By the way, shipping any kind of long gun has become insanely expensive lately.  I recently bid on an auction for several hard gun cases, and I won one for 24 Bucks!  But the shipping was $42.  For an empty rifle case!  Shipping the Barakuda was over $90.  So much for that borrowing concept.
As I eagerly waited for the package to arrive, I busied myself reading B.B.'s report about the Barakuda, and because the Barakuda is a modified Weihrauch HW 35, I read a couple of blog entries about that airgun as well [here] and [here].  Actually, an advanced Google search for "HW 35" limited to this blog's website yielded about 124 results, including comments, so it is a relatively well-known model. 
Arrival!
Finally, the package from Fred arrived.  With the sounds of raunchy guitar riffs and big block engines revving in my head (after all, the EL 54 is like a HW 35 "turbo"), I began opening the shipping box.  A beautiful walnut stock emerged from the bubble wrap. It had a rear sling swivel but nothing forward.  There was a small spot on the top edge of the forearm where the finish was missing, but otherwise, it was a gorgeous piece of hardwood.  Digging further, I found a piece of lightly-colored beech that looked like a baby beaver had cut its teeth on it.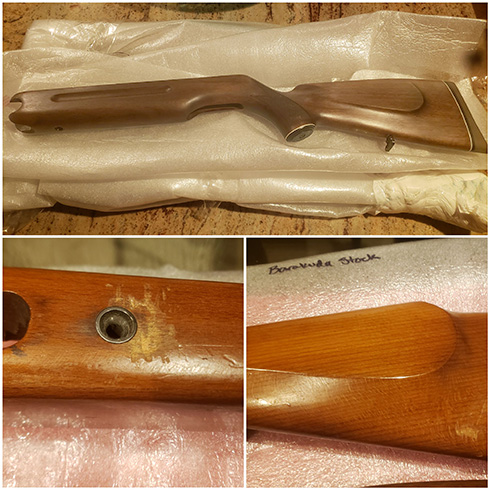 The Weihrauch Model EL 54 Barakuda's walnut finery and her beech baby beaver chew toy.
Finally, I unwrapped the barreled action with the curious ether injection mechanism. After a thorough wipe-down with Ballistol and a clean cotton rag, I immediately decided to put the walnut stock back into its protective bubble wrap cocoon. This was not a stock I wanted to add any dings or scratches to. I installed the action into the beech stock for testing.
It's big
This large, heavy .22 caliber rifle tipped the scales at 9 pounds (4.1 kg). The articulated cocking link allowed for a lot of solid wood in the forearm, which was flattened on the bottom, begging to be nestled into a sandbag on a benchrest.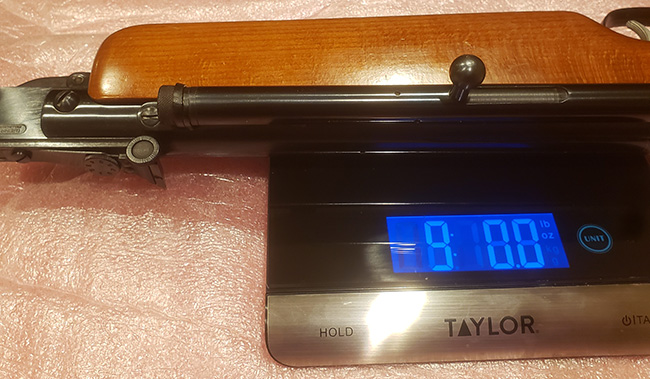 You know you are holding something substantial.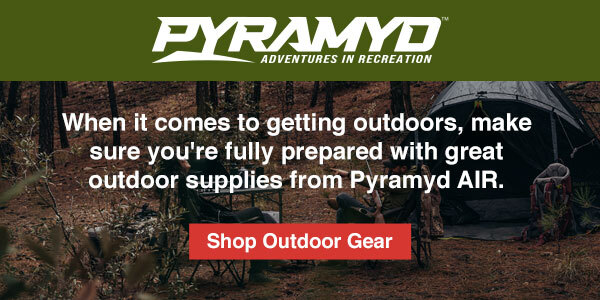 Trigger
The trigger blade was very wobbly left to right, like a loose tooth hanging by a thread. I wondered if it had been damaged in transit, but with the trigger guard in place and all the bubble wrap, I couldn't figure out how that could have happened. Thanks to B.B.'s report [here], we all now know what happened, but the how remains a mystery, for now, although B.B. has a theory [here].
Sights
There was a globe front sight that took replaceable inserts, but this rifle only came with a tapered post insert that was painted white on one side. There was also a standard-looking Weihrauch rear sight with a single "U" shaped notch, adjustable for windage and elevation. The rear sight had a few dings along the top edge of the blade. There was no rotating selector for different notches as in other rear sights I have seen.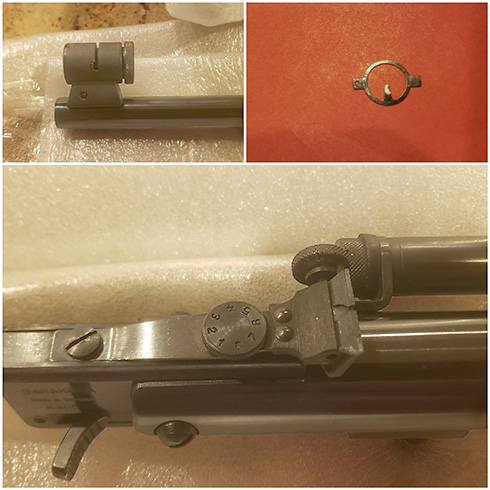 Classic target sights front and rear.
Cocking
The barrel had the locking mechanism of an HW 35. Pushing the release forward, while giving the lady a slight dip, allowed inertia to pull the barrel down a bit and out of battery. From there, it cocked like a standard break barrel springer. A large spring-loaded ball bearing interfaced against a chisel-shaped detent.The breech seal looked intact. Later, the tissue paper test proved that it did not leak.
Once the rifle was cocked, the barrel did not stay at any given angle, but I think it was a bit loose on purpose to allow for unlocking the barrel with one hand. Perhaps tightening that up might have improved accuracy, but with the barrel lock, I doubted it would have much effect, so why risk marring the screws?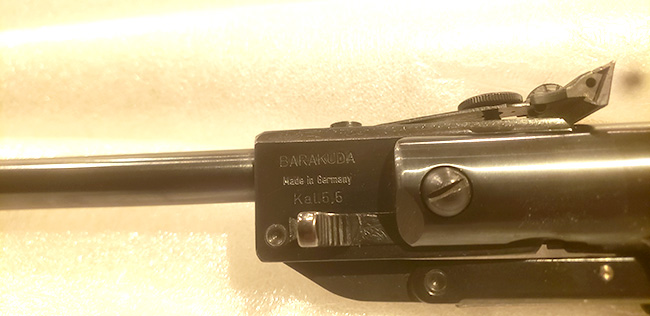 Proof that the Barakuda EL 54 is a hot-rodded HW 35 "turbo": the barrel lock.
Cocking was not too difficult, especially since the barrel is relatively long, providing plenty of leverage.  It felt like it took more muscle than my Beeman R7 (HW 30S), but it seemed a bit easier than my Beeman R9 (HW 95).  It was way easier than my Diana 350 Magnum.  As I pulled the barrel down, there was a muffled click from the articulated cocking link, then a louder click when the gun cocked.  The rifle closed like a standard break barrel, except for the massive locking lug with the evil-looking point that engaged the barrel-lock release.  Despite this, the action effortlessly snicked into place like a bank vault. 
I hate to nerd-out in front of all of you, but closing the action was my favorite part of the experience with this rifle.  All I heard was the whisper of the barrel block rotating on the hinge pins.  There was hardly any sound when the barrel locks back up into place.  The barrel simply stops moving and freezes in place.  It feels incredibly solid (I would love to compare this to an HW 55 with a locking lever, hint, hint).
Injection system
The ether injection system consists of a metal cylinder that is simply bolted onto the right side of the spring tube, with a thick, black seal where the cylinder joined the spring tube and another under a cap. A spring-loaded bolt sticks out of a slot in the side of the cylinder. You pull the bolt back, and it springs forward. I was not sure if this was for breaking the ether ampule or for injecting a shot of ether into the spring tube, or both. I was tempted to take the whole thing apart to see how it works, but I chickened out, fearful of damaging the seals between the steel components. What if I damaged a seal and could not find a suitable replacement? Again, not my gun, and I certainly didn't want to damage B.B.'s newest toy. Not this guy.
After a few preliminary shots, I was having trouble focusing on the tapered front sight against the bottoms of the black bullseyes of my 10-meter targets, so I temporarily replaced the tapered post insert for a square one from my Beeman R9. I also tried to mount a peep sight, but the dovetail turned out to be significantly wider than normal—12.68mm (about 1/2 inch). I could not get any of my peep sights to fit. Perhaps my Williams peep sight would, but then the aperture would would have been too far away and too large for the greatest precision. I could not even get my AirForce peep sight with the spreader screw to fit, so I stayed with the stock rear sight.
Firing cycle
The firing cycle was unlike any of my other springers. As I mentioned, the trigger was quite wobbly left to right. However, once I settled into shooting position and started squeezing, I didn't really notice it. The trigger had a long, very light first stage, but a short, crisp second stage. Just how I liked it. Despite the rifle's considerable weight, the Barakuda's heavy piston really moved the rifle at the shot, although thankfully there was no twisting or buzzing, just a pronounced pulse into my shoulder. After the shot, all I had to do was slide my hand forward on the forearm until my left thumb found the barrel lock release. A little push forward while lifting the rifle off the sandbag was usually all it took to disengage the barrel. If simply lifting the rifle with the release pushed in was not enough to take the gun out of battery, a slight dip was all that was needed.
Backwards
I did things a bit backwards from B.B.'s usual testing regimen—I couldn't help myself. First, I shot a bunch of different pellets, and then I tested a few of those through the chronograph. Unfortunately, the Barakuda did not show me impressive accuracy at 10 yards. Ten RWS Meisterkugeln .22s yielded a 0.463-inches (11.76 mm) group using the artillery hold (left hand on sandbag, front of forearm near the abbreviated cocking slot in my open palm with a light hold on the pistol grip. Laying the gun directly on the sandbag resulted in a 0.439-inches (11.14 mm) group of ten shots with the same pellet. The rest of my tests were shot directly off the sandbag.


Ten RWS Meisterkugeln .22s grouped in 0.463-inches at 10 yards with the artillery hold; but shooting directly on the sandbag yielded slightly better groups at 0.439-inches.
H&N Baracuda 15s turned in a satisfyingly round group, and it was 0.422-inches (10.71 mm) after 10 shots, one of the best groups.

Ten H&N Baracuda 15s grouped in 0.422-inches.
I thought to try a lighter pellet, and the RWS Hobby pellets at 11.9 grains were among the lightest pellets tested. They turned in a triangular-shaped group measuring 0.534-inches (13.57 mm). The first shot of this group was a pinwheel, taking the center of the bullseye out. That is always fun to see. The rest of the group, not so much.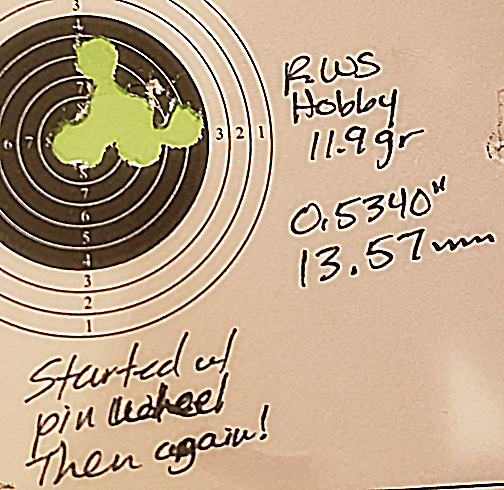 Ten RWS Hobby pellets grouped in 0.534-inches.
The best group of all was when 8 of the cheapest .22 pellets, H&N's Excite Plinking pellets grouped into 0.233-inches (5.92 mm)! However, the group of 10 that it was a part of was 0.677-inches" (17.18mm). Hopefully, B.B. can do better with her.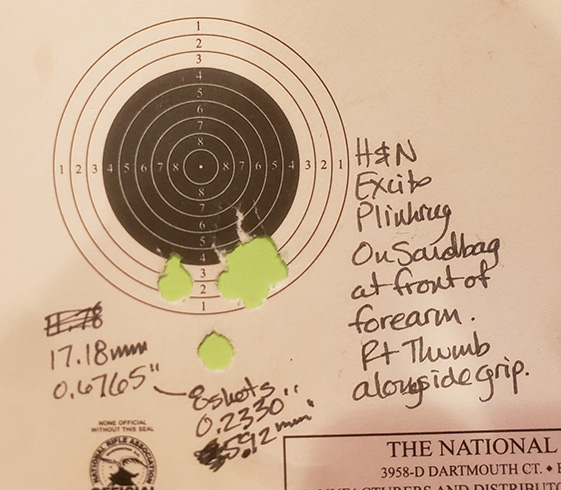 Ten H&N Excite Plinking pellets grouped in 0.677", but look at where 8 of those shots went.
Velocity
Velocity testing showed more promise. The 14.0 grain RWS Meisterkugeln pellet produced a 10-shot string with a high velocity of 549.2 fps (167.39 mps), and a low of 530.2 fps (161.6 mps), for an extreme spread of 18.76 fps (5.72 mps) and an average of 542.8 fps (165.44 mps). The standard deviation was. 5.56 fps (1.69 mps). Curiously, the shot with the lowest velocity produced a surprisingly loud report. It made me think to perhaps oil the piston seal. However, I am not sure if the gun has a leather or a synthetic piston seal, so that will also have to wait for the new owner to address.
RWS Hobby pellets were lighter at 11.0 grains, and the velocities were commensurately faster: high – 606.3 fps, low – 586.5 fps, extreme spread – 19.71 fps, and an average of 594.1 fps. Interestingly, although the extreme spread was larger than the Meisterkugelns, the standard deviation was a bit less at 5.09 fps.
The H&N Baracuda 15s performed better for the chronograph than on target: high – 514.8 fps, low – 504.9 fps, extreme spread – 9.88 fps, and average – 509.3 fps. The standard deviation was only 3.31 fps. Are you all sensing a trend?
It just so happened that I had received an order of the newer JTS Dead Center pellets around this time. Although I had not tested them for accuracy, I put them through the chronograph on a whim and got an intriguing result: high-467.1 fps, low – 460.5, extreme spread – 6.59 fps (wow), average – 463.5 fps, and standard deviation 2.00 fps (WOW). That is certainly a pellet to try in this gun, even though it may not be beating my Daisy 835c in a footrace.
The average muzzle energy of each of the above pellets ranged from 9.33 FPE for the Hobby pellets to 8.64 FPE for the JTS Deadcenter pellets.
Ether?
All of you who have not fallen asleep yet are probably waiting with bated breath in eager anticipation and excitement for me to break out the can of ether starting fluid and get this lady rockin' and a rolling. I have to say that Frank Balistreri did encourage me to just spray 10 seconds' worth of high concentration ether-based starter fluid (used for starting cars that have carburetors) into the tube and then quickly replace the cap. Apparently, the ether enters the spring cylinder ahead of the cocked piston when the bolt on the ether tube is pulled back.
But I have to confess that I am going to disappoint you. I simply chickened out at the hardware store with my hand on a can of starter fluid spray. If I were the cause of damaging this rare gem, I could not forgive myself. And since I'm still rather new to this sport, I have no confidence that I could repair any damage to the gun (let along any damage to me). So, with B.B.'s warnings against intentional detonations at the forefront of my thoughts, I packed the gun for its trip to its rightful owner. Perhaps he will regale us with tales of FPS and FPE that I can only imagine. I would encourage him to try the JTS pellets, and also the H&N Field Target Trophy pellets in various sizes. The cheap H&N Excite Plinking wadcutters also did surprisingly well, at least, 8 out of 10 of them did.
Not for me
Would I buy my own Barakuda EL 54? Probably not. Remember what B.B. had to say about this rifle: "Forced dieseling is NOT SAFE!… Dieseling destroys spring-piston airguns…. This is not a road to go down. If you do, a lot is known about what will happen, and none of it is pleasant." However, other than the nostalgia and curiosity factor, it seems airgun technology has eclipsed this rifle. I have to say, however, the barrel locking mechanism is really cool (for right-handed folks, at least). But there are so many very accurate guns that work perfectly well with a simple ball bearing detent and no locking mechanism.
Similarly, would I get an HW 35? Probably not, unless a really unique one dropped into my lap for a price I could not pass up. Although it has a place in airgun history as the longest continually-produced airgun, it is very large and heavy relative to its power for hunting, and it does not seem all that accurate for target shooting, either, if this Barakuda is any indication. When guns such as the HW 50 or HW 95 are readily available, I don't see the niche for the HW 35. My refurbished .22 caliber Beeman R9 (HW 95) is more accurate and more powerful with H&N Field Target Trophy pellets with the 5.53 mm heads, as is my .22 caliber Diana 350 Magnum. The walnut stock was really nice, though….