by Tom Gaylord
Writing as B.B. Pelletier


HW35 Luxus.
This report covers:
Barrel droop
First pellet
Next pellets
Bottom line
Before I begin, I must tell you that my wife, Edith, passed away yesterday, Sunday, July 26 at 10 a.m., Central. She was under sedation and unaware of what was happening.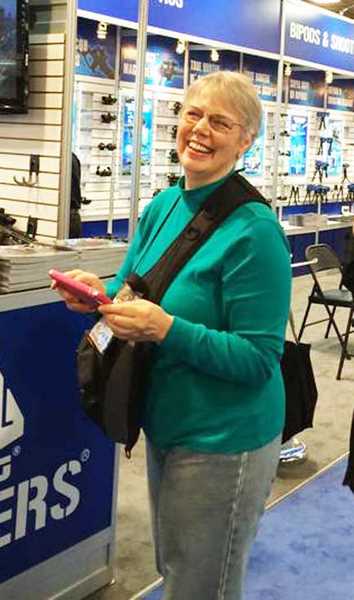 Edith Gaylord will be missed.
Edith wanted me to tell you what happened. We actually talked about it last week. I am not in a frame of mind to write much these days, but I promised her the blog would carry on. Those of you who visit my socnets could help me by posting a comment regarding this, because I haven't got the time to go there.
I said I would come back to this rifle and mount a scope because so many of you asked me to. Today is the day.
Barrel droop
If you remember, my HW35 Luxus has severe barrel droop, so mounting a scope is a challenge. I used a prototype UTG drooper scope base and mounted an AirForce 4-16X50 scope in 2-piece UTG Max Strength high rings. That put the scope too high for comfort, but it was the only mount I had at the time. I had to rest my chin on the comb to see through the scope.The HW35 Luxus has visible barrel droop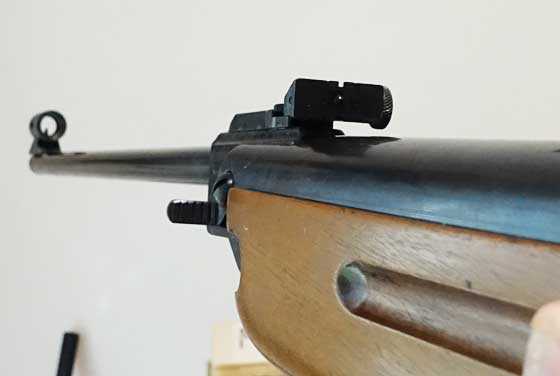 The HW35 Luxus has visible barrel droop.
First pellet
The first pellet I tried was the one that did best in the test with open sights — the Qiang Yuan Training pellet. With open sights I was able to shoot 10 into 0.986-inches and 0.898-inches at 25 yards.
With the scope mounted I put 10 into 1.574-inches, but 7 of them are in 0.724-inches. From this target I learned 2 things. First, the rifle shoots the same with a scope and with open sights. And second, it is very sensitive to how it is held. If I played with the hold I am sure I could tighten the group up to equal the best group with open sights.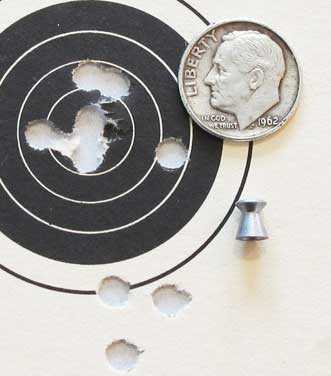 Ten pellets in 1.574 inches, but 7 of them are in 0.724 inches. The placement of the hand with the artillery hold is critical.
Next pellets
I tried Air Arms Falcon pellets, but after 7 shots the group grew to 2.148 inches and I stopped shooting. I also tried Crosman Premier light pellets with 4.55mm heads, but they scattered everywhere. The same pellet with a 4.54mm head landed 10 in 1.982-inches. That's not a good group, but it does show the difference the head sizes can make.

Ten Premier lites with 4.54mm heads went into 1.982 inches at 25 yards
Bottom line
My HW35 Luxus is very hold-sensitive! I'm sure I can make it shoot tighter, but I don't think I want to try. This is a perfect gun for open sights and that's how I will keep it from now on. And this is the last test I will do with this rifle.