by Tom Gaylord, a.k.a. B.B. Pelletier
Part 1
Part 2
Part 3
Part 4
Part 5
Part 6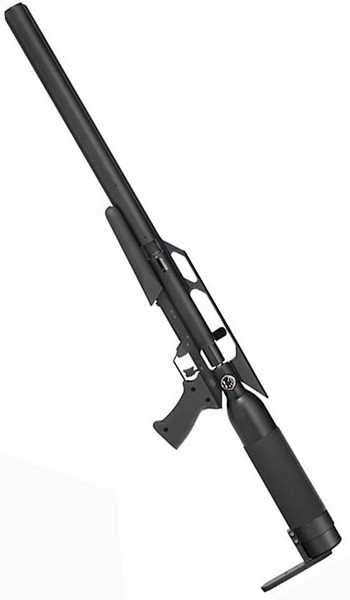 AirForce Condor SS with Spin-Loc tank.
I bet some of you thought we were finished with the AirForce Condor SS rifle with Spin-Loc tank. Well, we are…in a way. I'm removing the Hi-Flo Spin-Loc tank and replacing it with a standard AirForce tank. Instead of the Hi-Flo valve that gets 20-25 shots per fill, this tank has the standard valve that gives 35-40 good shots per fill. Of course, the power is lower, but it's still a powerful airgun.
Blog reader Gunfun1 recently asked me to test the Talon SS rifle with all three barrel lengths so he could see the power and velocity increase that the longer barrels bring. I will do that in a future series, but today's test is different. What we're testing today is how a Condor powerplant and a .22-caliber 18-inch Lothar Walther barrel performs with the standard tank. The Condor and Condor SS share a common powerplant and air tank — only the barrel lengths differ.