by Tom Gaylord, a.k.a. B.B. Pelletier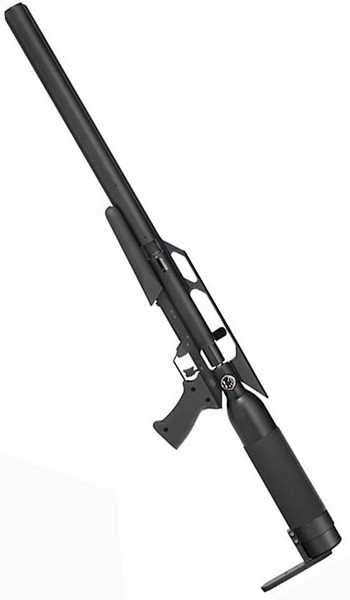 AirForce Condor SS with Spin-Loc tank. The buttpad is shown flipped down.
Before we start today's report, many of you requested to see the Condor SS next to a regular Condor and a Talon SS for size comparison. The photo below shows that.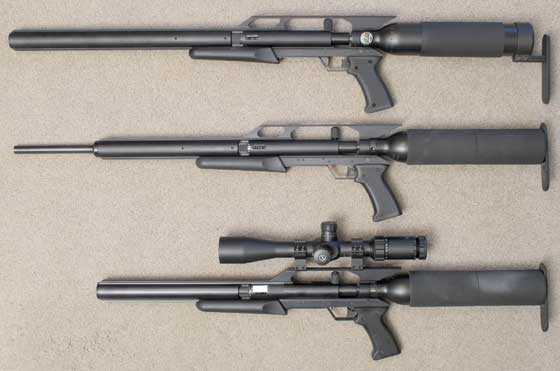 Condor SS on top, Condor in the middle and Talon SS on the bottom.
Today, we'll begin the accuracy test of the new .22-caliber AirForce Condor SS rifle with Spin-Loc tank. This was shot indoors at 25 yards and was the first time I've shot this rifle for accuracy.
I mounted a Bushnell Banner 6-18X50 AO scope in a one-piece BKL mount with 1-inch rings. The scope was clear and bright at 25 yards. I've used it in the past, so I know it's a good one.
One shot from 12 feet confirmed that the rifle would be on target at 25 yards, so I backed up and shot one more. The vertical adjustment had to be adjusted up about 8 clicks, and I was centered on the target. Now, the shooting could begin.
For this test, the rifle was set on power setting 2, as that had delivered good velocity with all the pellets I would be testing. I didn't want to waste air; and I was shooting indoors, so there were no breezes to contend with.
Beeman Kodiaks
The first pellet I tried was the Beeman Kodiak that weighs 21.14 grains. The first shot almost destroyed the aim point, but the rest of the shots drifted to the left a little. After 10 shots, I had a 2-hole group that measured a maximum of 0.626 inches between centers. It's okay, but not what I was hoping for.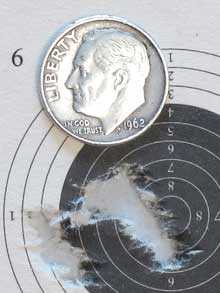 Ten Beeman Kodiaks made this group at 25 yards. At 0.626 inches between centers, it's okay but not what I'd hoped to get from the Condor SS.
JSB Exact Jumbo
After the Kodiaks, I shot 10 JSB Exact Jumbo pellets. They weigh 18.1 grains and are perfectly suited to the power of this rifle. They did give a better, more rounded group; but at 0.613 inches, it wasn't much smaller than the Kodiak group. I felt the Condor SS should be capable of even better accuracy.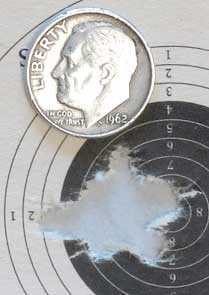 Ten JSB Exact Jumbo pellets did better, at 0.613 inches between centers, but I was still hoping for better from this rifle.
Air Arms Field Heavy
The next pellet I tried was one I'd not shot before. The Air Arms Field Heavy looks a lot like the JSB Exact Jumbo; and at 18 grains, it weighs about the same. But this pellet did much better in the test rifle. Ten of them made a group that measures just 0.328 inches between centers. This very round group was what I was looking for from the Condor SS. It tells me the rifle wants to shoot — I just had to find the right pellet.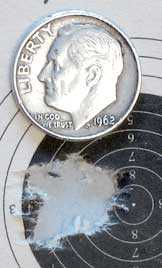 Bingo! This is the group I was looking for. Ten Air Arms Field Heavy pellets went into a nice round group measuring just 0.328 inches between centers.
Eun Jin
The last pellet I tested was the Eun Jin 28.4-grain dome. AirForce barrel breeches are specially cut to allow Eun Jin pellets to be loaded more easily than in other PCP rifles, though they still do take a push to seat. But no tools are needed and your thumb doesn't get sore. And they're the kind of pellet to use when going after medium-sized game such as woodchucks and raccoons. They made a pleasing 0.577-inch group that's good for a heavy hunting pellet. It's a round group, too, so this pellet doesn't seem to be disturbed on its flight in any way.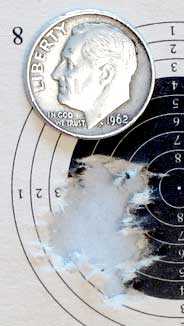 Ten Eun Jin domes made this well-rounded group, which measures 0.577 inches between centers.
What's it like to shoot?
Now that the shooting is done, don't you want to know what the Condor SS is like? I tested the new trigger and safety last year, but that was on a regular Condor. This is the first Condor SS I've had a chance to shoot.
The trigger is light and crisp, but I can hear one of the internal springs tensioning as I take up the slack. That became a sound I heard on every shot. It's neither good nor bad, just different.
The safety goes off like a stick of butter on a hot pan. There's almost no resistance. It may look similar to a Garand safety blade, but it's much smoother and lighter.
The rifle recoils with the shot. Even on power setting 2, there's a rocket-push to the rear with each shot you fire. It's not as much as a .22 rimfire, but enough that you know something has happened. I think I like the sensation in a hunting rifle.
What's next?
Next, we take the Condor SS out to 50 yards and try its accuracy there. We now know the best pellet. Let's see if that remains the case when the distance doubles.
After that, I plan on installing the standard tank and rerunning the entire test — velocity and accuracy at 25 and 50 yards. With the standard tank, we should see Talon power (greater than the Talon SS) and quiet operation, too. We shall see.