by Tom Gaylord, a.k.a. B.B. Pelletier
Part 1
Part 2
Part 3
Part 4
Part 5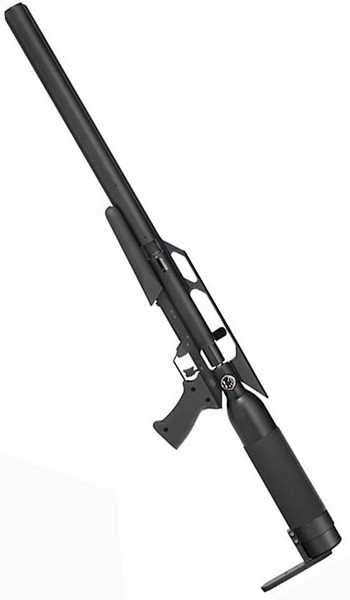 AirForce Condor SS with Spin-Loc tank. The buttpad is shown flipped down.
Yesterday, I shot the AirForce Condor SS rifle with Spin-Loc tank at 50 yards. I'm also going to show you that one surprising group I got last week when I tried shooting the rifle in windy weather. That is a pellet I need to try more often!
The day was not perfect for shooting airguns at 50 yards, but it was calm enough to get the best results. I proved that by shooting some groups when the wind wasn't calm and they didn't open at all. We're talking about a 5 m.p.h. head-on breeze that occasionally dropped to 1 m.p.h. at the lowest, so it wasn't as bad as it sounds. But when the target is 50 yards away, any breeze can affect the pellets.
I'm going to cut right to the chase in this report. I did try Beeman Kodiak pellets, as well as .22-caliber Crosman Premiers, and neither pellet was worth pursuing. Then, I tried the Air Arms Field Heavy pellet, and knew I'd found the right one. I got good 10-shot groups that had superior smaller groups inside them, but there were always a couple fliers. The power was set to 6 on the power window, and the discharge sound was quite loud, especially considering I was at a rifle range (with my ear protectors off, so I could hear what was really happening).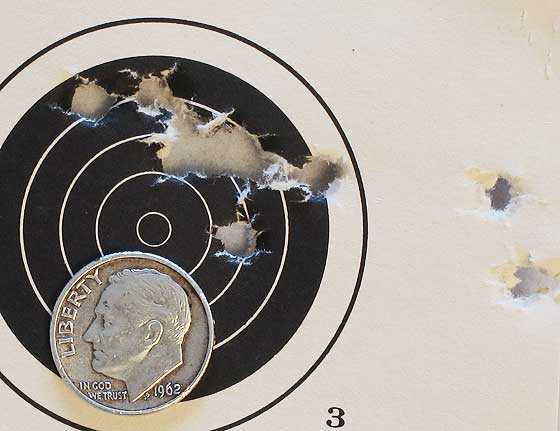 Ten Air Arms Field Heavy pellets went into 1.968 inches on power setting 6, but 8 of them went into 1.046 inches. That's good, but why were there fliers?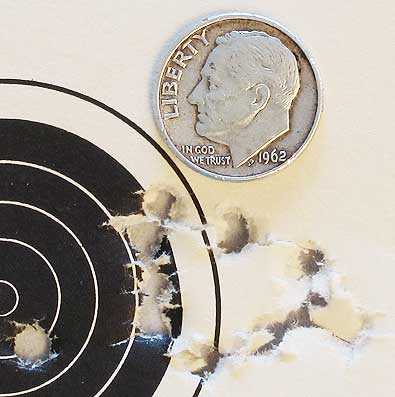 This best group of 10 Air Arms pellets on power setting 6 went into 1.254 inches, but 9 of them are in 0.906 inches. Once again, we have a flier.
By this time, I had fired about 40 shots and was starting to understand how this rifle behaves. It seemed to be using too much air at power setting 6 with this pellet, so I dialed it back to power setting 4, and that's where the magic started. The groups tightened up dramatically, and the fliers stopped altogether. Power setting 4 is where this rifle wants to be with this Air Arms Field Heavy pellet.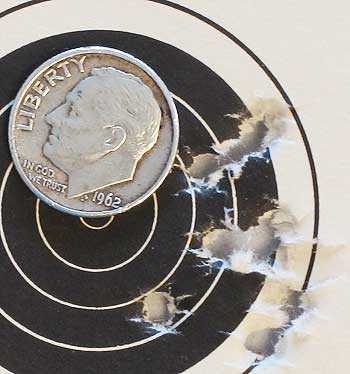 This best group of 10 Air Arms pellets went into 0.873 inches. This was on power setting 4, which seems to be the best setting for this pellet.
Not only did I get better groups at power setting 4, but I also got an astounding 40 good shots per fill. The last 10 shots (shots 31 to 40) did open up just a bit, but even then the group was just 1.172 inches between centers, which is still very good for 10 shots at 50 yards.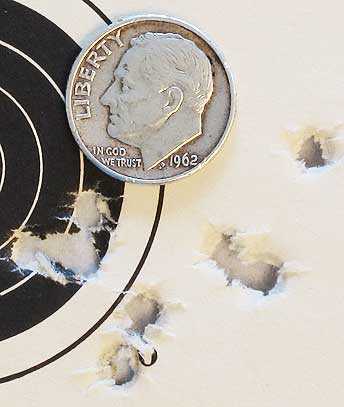 Shots 31-40 on power setting 4 did open up a bit; but these 10 pellets are still in 1.172 inches, and I got 40 shots from one fill.
I've a thought about what's happening. I understand the Talon SS rifle and its 12-inch barrel quite well, and I also understand the Condor and its 24-inch barrel. What I do not yet have is much experience with a Condor valve and tank and an 18-inch barrel. I need more experience with this combination before I'll be comfortable with the power settings and pellets that work the best. For now, though, the 18-grain Air Arms pellet on power setting 4 is the best in my test rifle.
A wind-bucking pellet
Now, for that pellet that seems to buck the wind better than the rest. It's a Skenco New Boy Senior 28.6-grain dome. I shot it last week when the wind was higher and it bucked the wind when every other pellet was getting thrown around. My 10-shot group size was a bit large, at 1.704 inches, but 8 of those 10 pellets are in a tight 0.789 inches, and this was in considerable wind! I didn't have any more of them for today's test, but I'll be ordering more for the future, I can assure you.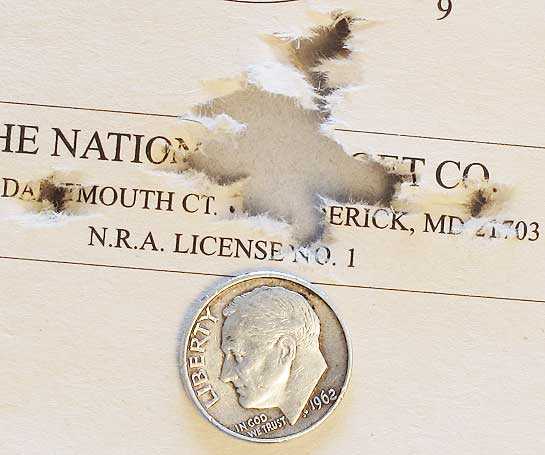 On a windy day, 10 Skenco New Boy Senior pellets made a 1.704-inch group, but 8 of them landed in 0.789 inches. This is worth pursuing.
All things considered, the Condor SS performed flawlessly this day. I like the new trigger a lot, and the new safety is the best. I can't wait to try out this rifle in some novel ways!
We aren't done with the Condor SS yet. Next, I'm going to switch the Spin-Loc Hi-Flo tank with a standard tank, and we'll look at the velocity, shot count, noise signature and accuracy at both 25 and 50 yards. By the time I'm finished, you all should know quite a lot about this new air rifle from AirForce.