by B.B. Pelletier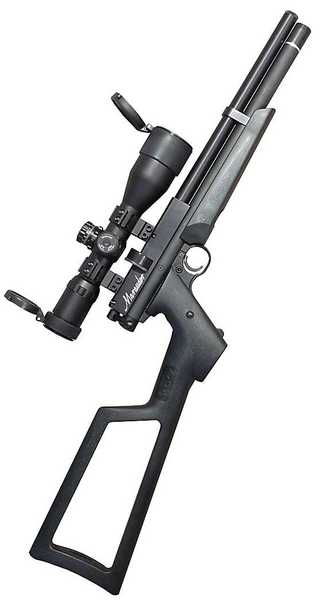 With the 30mm Compact Centerpoint scope mounted, the Benjamin Marauder is set up for hunting small game.
This is the test I promised at the end of Part 3 of the .22-caliber Benjamin Marauder air pistol report back in December. You'll remember that I didn't think the scope I used for accuracy testing in Part 3 was doing all it could for the gun. I said I would try it again with the 30mm Centerpoint scope Crosman had sent with the gun, once I had a set of rings to mount it.
If you're just learning about the Benjamin Marauder pistol for the first time with this report, you need to know that this pistol has taken the airgun world by storm. Just as the Benjamin Marauder rifle holds its own with European PCPs costing two to three times as much, the Marauder pistol does the same when compared to the high-priced PCPs coming from the same European companies. It's a red-hot seller that offers unprecedented power and accuracy at an affordable price.