by B.B. Pelletier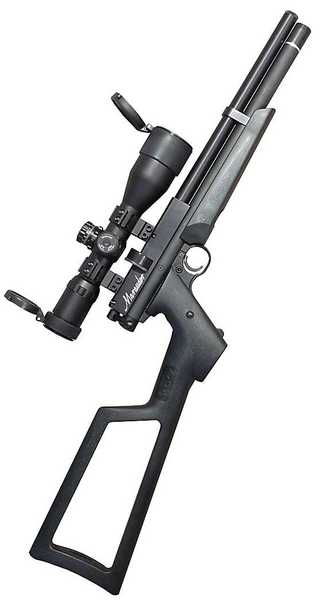 With the 30mm Compact Centerpoint scope mounted, the Benjamin Marauder is set up for hunting small game.
This is the test I promised at the end of Part 3 of the .22-caliber Benjamin Marauder air pistol report back in December. You'll remember that I didn't think the scope I used for accuracy testing in Part 3 was doing all it could for the gun. I said I would try it again with the 30mm Centerpoint scope Crosman had sent with the gun, once I had a set of rings to mount it.
If you're just learning about the Benjamin Marauder pistol for the first time with this report, you need to know that this pistol has taken the airgun world by storm. Just as the Benjamin Marauder rifle holds its own with European PCPs costing two to three times as much, the Marauder pistol does the same when compared to the high-priced PCPs coming from the same European companies. It's a red-hot seller that offers unprecedented power and accuracy at an affordable price.
It has a choked Crosman barrel that stands equal to tubes from Anschütz and Lothar Walther. The reputation hasn't been built yet, but the performance is undeniable. The trigger is very sweet and fully adjustable, and of course the pistol is shrouded. When fired, it sounds like a Daisy Red Ryder instead of the 15 foot-pound hunting airgun that it is.
I wasn't satisfied that I'd seen all the accuracy the pistol had to offer in the last accuracy test, so this additional test was added to give us a second look. What I learned this time was remarkable and worthy of note, but I'll get to that later.
For this test, I mounted Centerpoint's 3-12×44 Power Class scope with mil-dot reticle and sidewheel AO in a set of two-piece Centerpoint 30mm high rings that Crosman provided. The high rings raised the scope up so high that I had to rest my chin on the comb of the detachable shoulder stock to see a clear image. If this were my pistol I would attach about an inch of firm foam padding to the top of the shoulder stock comb to bring my eye comfortably up to the right height.
This scope is sufficiently clear and bright enough that it enhanced the sight picture rather than detracting like the last scope did. Although the reticle lines are not thin, I was able to see the intersection of both the horizontal and vertical lines clearly inside the 10-ring of the bull, so aiming was more precise than it had been during the test in Part 3.
Which pellet to use?
Normally, when testing the accuracy of any airgun, I select four to six different pellets that I think will work, given the power and potential accuracy of the test gun. Then, we'll see how they actually do on the range. Picking pellets for accuracy testing is fairly straightforward and based on the past performance of those pellets in similar guns. But not this time. I tried five different types of .22 caliber pellets, in addition to two other pellets that were used in Part 3 (Beeman Kodiaks were reused in this test because they did so well the first time around). However, nothing I tried wanted to group — except the Kodiaks. Kodiaks grouped so well that the pistol is an undeniable tackdriver. But, I'm getting ahead of myself.
Unfortunately, I didn't pick Kodiaks from the start to sight-in the new scope, therefore I stumbled around with two other pellets for quite a while before realizing what was happening. They were RWS Superdomes and 15.9-grain JSB Exact domes. Both gave mediocre groups of about one inch at 25 yards in the test pistol, which made sighting-in very difficult. Then, I just gave up and defaulted to the Kodiaks that had done so well in the last accuracy test I delivered in Part 3. That's when the gun started to perform.
In fact, the first "group" of Kodiaks was just for kicks to see where 8 pellets would land. Eight instead of 10, because that's how many the magazine holds.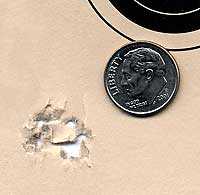 The first group of Kodiaks at 25 yards was this one. Eight pellets went into this 0.405-inch group. Though shot just for fun, it turned out to be the best group of the test.
After that, I shot group after group, and they were all similar. After several tight groups had built up my confidence in the gun, I was reminded of my old Hakim rifle that used to lob them into a similar round group at 10 meters. I would get so mesmerized by how accurate that rifle was that I couldn't stop shooting. The sight of each new tight group when I went downrange to change targets was a turn-on. In the case of the Marauder pistol, I could watch through the scope as shot after shot went into the same ragged hole, only not at 10 meters but 25 yards. Thinking about my old Hakim also reminded me that the most accurate pellet in that rifle was the RWS Superpoint, which is now called the Superpoint Extra.
So, I got a tin of those and tried them in the pistol. Wrong! The groups opened up to almost one inch once more. So I wondered whether the heavy 18.1-grain JSB Exact Jumbos would perform more like the Kodiaks. After all, they are within a couple grains of the Kodiak's weight and they are made by JSB. But I might as well have been shooting a shotgun, for all the good they did. No, this pistol wants to shoot Beeman Kodiaks, and nothing else!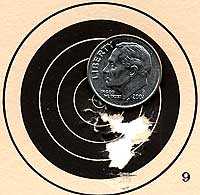 I know this photo looks fishy, like I'm hiding a pellet hole under the coin, but I'm not. It's just difficult to position a dime next to a target on a scanner. This group of eight Kodiaks measures 0.529 inches between centers. The top and bottom holes have closed, making the group appear smaller than it really is. This group is about the average size of all the Kodiak groups I fired.
Then, I had a thought. What about those new copperplated Kodiaks? Would they do just as well as the regular Kodiaks? If I didn't try them, someone would bring it to my attention. I didn't think the copperplated ones would perform the same as pure lead Kodiaks, but the only way to know for sure is to shoot them. I loaded a magazine and gave them a try. Much to my surprise, they did just as good as the all-lead Kodiaks.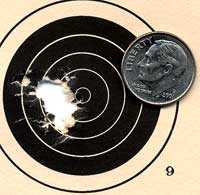 Eight Kodiak copperplated pellets went into this group, which measures 0.458 inches c-t-c. Remarkable performance!
Summary
That's my report on the Marauder pistol. Some will read it and grouse about the pistol not doing well with a wide range of pellets, but the black powder cartridge shooter in me says that as long as there's one bullet or pellet that shines, the gun is alright. Once I find that one best pellet, I never mess with the others anyway. In the test pistol, Beeman Kodiak pellets are the clear winner. I would continue to try other pellets from time to time, but Kodiaks would remain my standard ammo until displaced by something even better.
The Benjamin Marauder pistol is every bit as stunning as the Marauder rifle, by reason of accuracy, power, trigger and quiet operation. As long as you use the shoulder stock that comes with the gun and as long as you mount a good-quality scope, this pistol is a real shooter. If you're looking for a stealthy hunting air pistol, give this one serious consideration.