by B.B. Pelletier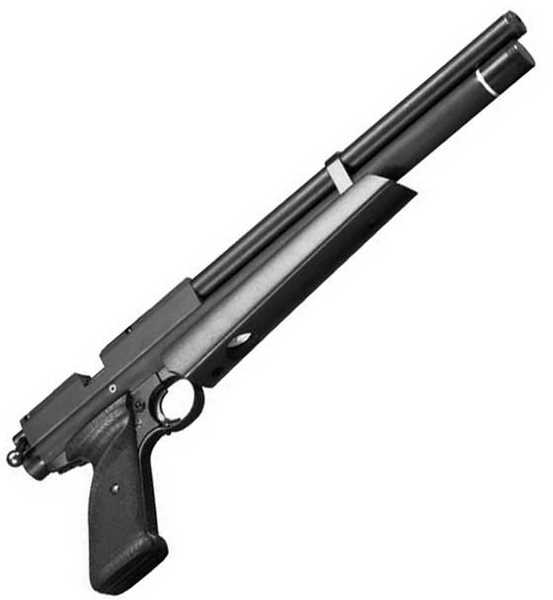 Benjamin's new Marauder air pistol is a large, powerful precharged air pistol. It will be among the very few legitimate hunting air pistols.
Man, there was strong interest in this new pistol when Part 1 was published. It's riding the coattails of its rifle siblings, but I see that many people feel this smaller format will be just right for them.
First things first
I promised Kevin that I would try to run the drawing of the pistol's trigger, so he could get some sense of how it works. So, we'll do that right now.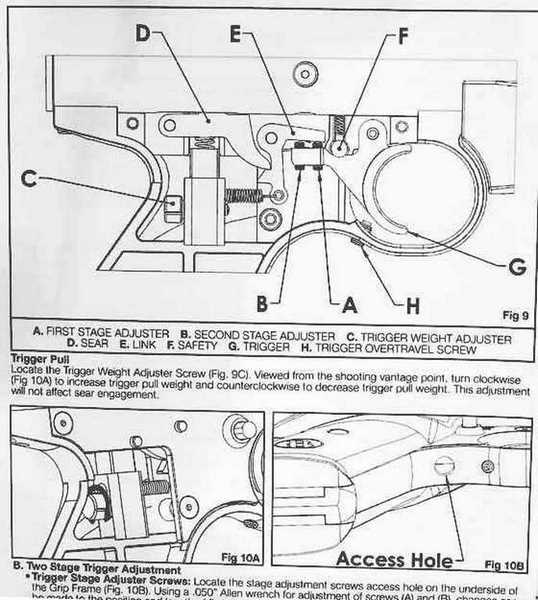 I'm concentrating on the top image, though, I included all three. That is how the Marauder pistol trigger works.
I doubt that loading the 8-shot magazine could be any easier than it already is. A counter window faces the shooter, informing him which pellet's on. But, when the last pellet is fired, the gun cannot be shot again until the mag is removed. The mag rotates to block the bolt from going forward so there's no doubt that you're out.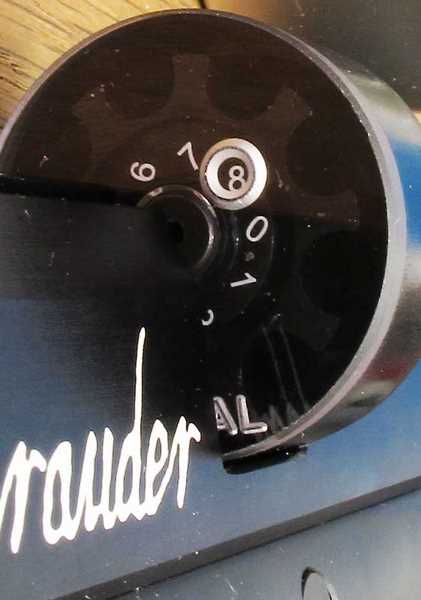 The counter window on the Marauder magazine tells at a glance where you are with respect to expended pellets. If you just cocked the pistol and loaded a pellet, the counter tells you it's the last one.
When you insert the magazine back into the receiver on the right side, there will be a sharp click to tell you the mag has gone home. Then, simply cock the bolt which loads a pellet, and you're ready to shoot.
Shooting the Marauder pistol
There's noticeable recoil when the pistol fires. Not as sharp as a rimfire cartridge — it feels more like a rocket push. But the gun definitely moves.
The trigger breaks too cleanly to feel, in light of the recoil and noise of the discharge. And, speaking of the noise, the Marauder pistol makes less noise than a silenced Ruger Mark II shooting CB caps. That's about equal to a Talon SS with a 24-inch barrel and an Airhog bloop tube. Read this report. You'llmake more noise clapping your hands.
I filled the gun to the recommended 2,900 psi and was surprised to note that the gauge on the gun and on the tank were in complete agreement. That doesn't happen too often. I can't guarantee you'll have the same experience, but I liked it! Time to shoot.
Crosman Premiers
The first pellet I tried was the 14.3-grain Crosman Premier. The first string of 10 averaged 655 f.p.s., with a spread of 25 f.p.s. They ranged from 638 to 663 f.p.s. The average muzzle energy of 13.63 f.p.s. They dropped into the magazine with great ease and there were no feeding problems.
Because they were the first pellet and because they're Crosman pellets, I continued to shoot until the power was on the way down. How many shots do you think I got? One magazine? Two? Before I started the test I guessed there would be as many as 20 good shots in the pistol from a single fill, but that was way off. I shot four full 8-shot magazines, plus one extra shot, for a total of 33 shots from the initial fill. Shot one registered 638 f.p.s. and shot 33 registered 639 f.p.s. The fastest pellet went 677 f.p.s., and there were three that went that fast. The average velocity for all 33 shots was 663 f.p.s. and the gun pressure had dropped just below 1,600 psi. In case you aren't a precharged buff, that's some impressive performance! And looking from that perspective, the gun generated 13.96 foot-pounds.
RWS Superdomes
Next, I tried RWS Superdomes. They weigh 14.5 grains in .22 caliber and averaged 665 f.p.s. in the test gun. The spread went from 649 to 671, which is a 22 foot-second spread. The average muzzle energy was 14.24 foot-pounds. From a pistol! Yes, they're a little heavier, but they're also made from a nearly pure lead alloy, so they're self-lubricating. Also, they have a thinner skirt, which helps seal the bore behind the pellet.
Beeman Kodiaks
The last pellet I tried was the tried-and-true Beeman Kodiak. If you've got a .22 caliber PCP, you've got to try it with Kodiaks. It's a heavy pellet, but it's made of pure lead and therefore a little faster than if it were harder, because there's not quite as much resistance when it goes down the bore.
But with Kodiaks, I noticed two additional things. The Marauder made half as much noise with Kodiaks as it did with either of the other two pellets. And, perhaps because it was quieter, it seemed to whack the target harder than either of the other two pellets. The quiet pellet trap actually moved when hit by Kodiaks.
Kodiaks averaged 584 f.p.s., with a 9 foot-second velocity spread from 578 to 587 f.p.s. The average muzzle energy came out to 16.01 foot-pounds. So, the Marauder pistol I'm testing is a 16 foot-pound gun. Pretty impressive for an air pistol, don't you think?
I have to tell you that I'm lovin' this pistol so far. If it turns out to be accurate, as well, I might have to buy it, rather than send it back.