by B.B. Pelletier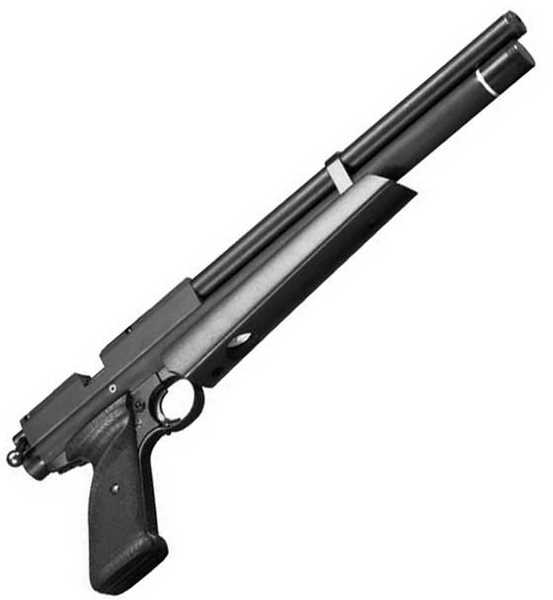 Benjamin's new Marauder air pistol is a large, powerful precharged air pistol. It will be among the very few legitimate hunting air pistols.
Before we start, I'd like to wish a Merry Christmas to all our readers. I hope this holiday brings you all that you hoped for and more. And, let's not forget the real present that was presented to all mankind on this day several thousand years ago.
This is Part 3, but there's going to be a Part 4 coming. I'll explain why in this report.
Mounted the scope
Crosman sent me a special one-piece cantilever scope mount and a CenterPoint Optics 4-12×44 compact scope with an adjustable objective (AO). There's just one problem. The mount had one-inch rings and the scope has a 30mm tube. As I had only a brief time to run the test because of other pressing things, I replaced the scope with a Leapers 6x32AO compact scope with an illuminated reticle.
I cannot say for sure that the scope is a Leapers, for no brand name appears on it anywhere, but it certainly resembles one in all other aspects. The small scope size is perfect for a carbine, but the optics were not as sharp as I would have liked them to be. I want to go back with the same pellets and see how much better the pistol can do with the CenterPoint Crosman sent.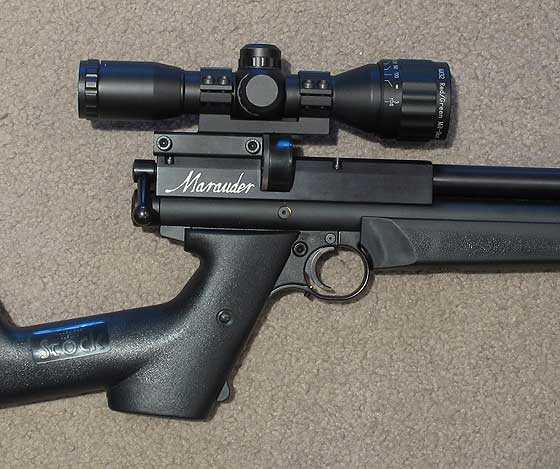 The 6x compact scope looks great on the Marauder pistol, but I don't feel it gives enough precision to the aiming.
The test
The test was 10 shots from a rest at 25 yards. I swapped the two grip panels for the detachable buttstock to make shooting easier. And, I rested the gun across a shooting bag. After I got it sighted in, I started shooting for the record.
The first pellet I tried was the Beeman Kodiak. I was surprised by how loud the gun is when shooting this pellet. It's like a Sheridan Blue Streak on 8 pumps of air, which is quite a bit louder than what I told you in part 2. The first magazine failed during this part of the test. It allowed me to shoot down to four pellets remaining, and then it stopped feeding. Fortunately, Crosman had sent a spare mag that got me back in the game in no time.
I wish you could have seen the gun shoot! It lobbed pellet after pellet through the same hole, enlarging it only slightly as the shot count grew. At the end, I was looking at a vertical group that measures 0.61 inches. I thought about that vertical stringing until the next group stretched horizontally. So, it wasn't the pellet or the gun. It was me. I was unable to precisely place the scope's fat reticle against the small target time after time.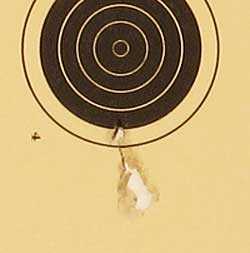 They just kept going through the same hole. The hole got larger, but nothing landed outside it. Ten Beeman Kodiaks went into six-tenths of an inch at 25 yards.
The last time I watched a rifle shoot like this, I was shooting an Egyptian Hakim military trainer. At 10 meters, it made groups of about the same size. That built my confidence in the gun tremendously.
Satisfied that the pistol could shoot, I switched over to Predator pellets — the ones with the red polymer tip. One of our readers touted these to the skies, so I thought I'd check them out. On shot No. 1, there was a marked difference in the muzzle blast. It now sounded like a silenced airgun. So, I didn't imagine anything in Part 2. This pistol really is quiet!
But better than that, the Predators are accurate pellets, too. Not quite as tight as the Kodiaks, but accurate enough to land 10 in a group measuring 0.745 inches. Like the Kodiaks, I got groups that were both vertical and horizontal, so we know it's the aim point that needs refining.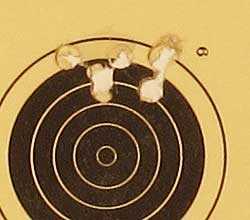 Predators were accurate, too. This group of 10 measures 0.745 inches.
Crosman Premiers
The Marauder has a choked Crosman barrel, so it should perform well with Crosman Premier pellets. But, on this day, it wasn't up to the standards of the other two pellets I tried. Again, I blame the lack of aiming precision, except in this case it really looks like the Premiers came in third out of the three pellets tried. They fit into just less than one inch at 0.961 inches.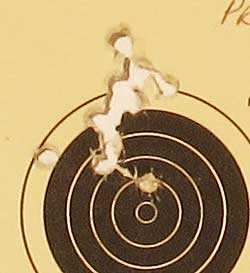 Premiers opened up to just less than an inch. These 10 went into 0.961 inches.
The Premiers are on the loud side, as well. I think what the Marauder wants are pellets with thin, soft skirts. In the next accuracy test, I'll try some new pellets, as well.
I think we have a clear winner in the Marauder pistol. This is one to write home about, but I think there's more than we've discovered. That's what I'll put in Part 4.