Posts Tagged 'RWS LP8 pistol'
by Tom Gaylord, a.k.a. B.B. Pelletier
This topic was received well last week, so I'm doing the second list today. Several readers have reminded me of other gifts I should mention, and some of them will make today's list. If I don't list something you suggested, there's a reason. These are the things I recommend without question.
Stocking stuffers/small, neat gifts
Gifts in this category don't cost a lot but will have great meaning to airgunners. Some of them are things that shooters won't buy for themselves.
Air Venturi Pellet Pen and Seater
Someone suggested the Air Venturi Pellet Pen and Seater, and I have to agree. This is a great gift, and it's one that a lot of shooters won't buy for themselves.
EyePal Peep Sight Master Kit
The EyePal Peep Sight Master Kit is another gift that people may not think about; but when they have one, they'll love it. I chose the Master Kit so you can use it with both rifles and pistols (and bows if you're an archer, too). Even if you don't wear prescription glasses, the EyePal is a great aid for your safety glasses to sharpen your vision and make that front sight clear!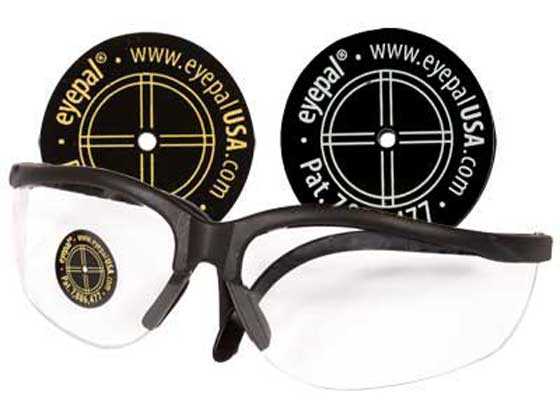 The EyePal makes the front sight appear razor sharp. Use it on prescription glasses and non-prescription safety glasses, alike.
Pellet selection
Here's a gift I'm putting in this section, although it will cost you some money. Pyramyd Air offers 4 tins of pellets for the price of 3. Your favorite airgunner has pellets he or she really likes, but they don't buy them all the time because they may cost too much.
Consider this gift similar to one of those fancy boxes of candies or Christmas smoked meats that are given this time of year. Nearly everybody likes them, but we don't spend money on them for ourselves. So, this is an opportunity to buy something your airgunner wants but will never buy himself. The one problem you have is finding out which pellets to buy. Rather than try and guess what your airgunner wants, I'm going to leave this up to you. You need to do a little investigation, maybe look at the pellets that he has on the shelf, or just talk to him and find out what he really wants but hasn't bought.
Gifts under $50
Crosman 357
For a pistol shooter the Crosman 357W is a great idea. It's a revolver, so you get multiple shots per loading; and for the money, it's an accurate little air pistol.
Walther Multi-Tac tactical knife
If your airgunner is a gadget junkie, you can't do much better than a Walther Multi-Tac tactical knife. It's a tool kit for your pocket. And it has a 440C stainless steel blade to cut whatever you need.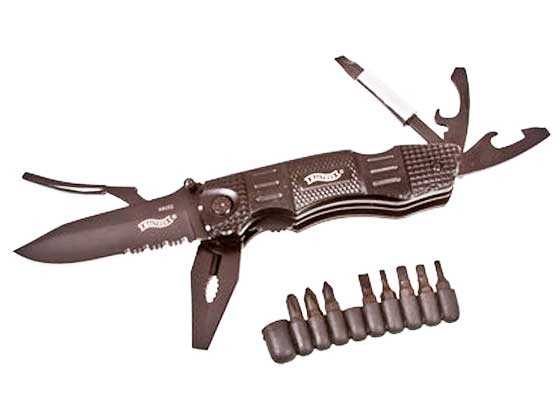 Walther's Multi-Tac knife is a toolkit in your pocket!
Walther Xenon Tactical flashlight
Can't have too many flashlights! Not when you need one! The Walther Xenon Tactical flashlight uses two CR123A batteries to cast a 60-lumen light. That means you get both good battery life and a powerful light.
Gifts under $100
Some of these gifts are just over the $50 mark, so look at them carefully. This category holds some of the most surprising values in airguns.
Legends Makarov
The Makarov from Umarex is a wonderful BB pistol that I just can't stop talking about. I bought one for myself after testing it! It's extremely accurate for a BB pistol, which means you really can use it for target practice. It runs on CO2, so don't forget to get some CO2 cartridges if you give this gun as a gift.
Simply one of the best BB pistols you can buy at the price, the Legends Makarov is accurate, well-made and inexpensive.
Crosman 2240
Another fine CO2 pistol is the single-shot Crosman 2240. It's a .22-caliber, bolt-action pistol that's powerful and accurate, plus it serves as the basis for many aftermarket modifications.
Ruger Mark I
The Ruger Mark I air pistol is powered by a spring-piston. It isn't very powerful, but it's a great companion for the handgun shooter who only wants to poke holes in targets and plink with a pistol that's easy to cock and accurate.
Stoeger X5 air rifle
The Stoeger X5 air rifle is a wonderful, youth-sized, spring-piston rifle that has enough quality to make my list. The trigger is a little stiff, but the accuracy is there. It reminds me of the Hämmerli 490 that is, sadly, no longer available.
Gifts a little over $100
I created this category for those items that are a few dollars over $100 but are still within the realm of economy. Sometimes, the things you want are just over the line — no matter where you arbitrarily draw it.
Shooting Chrony Alpha chronograph.
The Shooting Chrony Alpha chronograph is the instrument I use to document 98 percent of the work I do. I use it because it's small, portable and very reliable. Sure, there are reasons to use my Oehler 35P chrono, sometimes; but most of the time, this is my choice.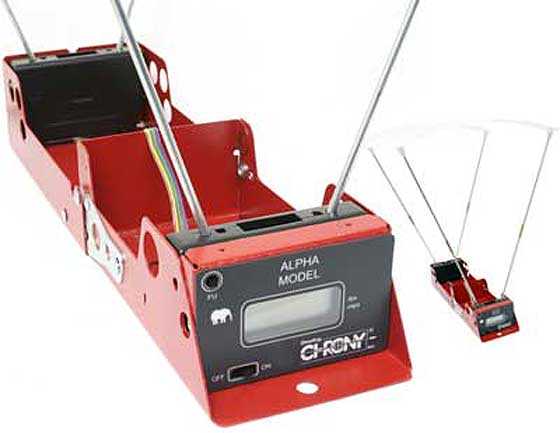 Though it's just $10 over a hundred, the Shooting Chrony Alpha has everything you need!
Daisy Avanti Champion 499 BB gun
I have to recommend the Daisy Avanti Champion 499 BB gun because it is the target shooter's dream. Where other BB guns will put 10 shots into three-quarter of an inch at 16 feet when all is right, this one will put 10 into a quarter-inch at the same distance. This is a shooter's tool, not a hunting gun or bragging-rights gun. Be sure to stock up on the special Avanti Precision Ground Shot if you get this gun because it definitely adds accuracy! And order some special 5-meter BB targets that are sized right for this gun!
IZH 60 air rifle
I am also going to put the IZH 60 air rifle on my list this year. Though the accuracy slipped when the gun's design was changed several years ago, this is still a delightful youth rifle that's easy enough for even smaller kids to cock. It has reasonable accuracy, and the sidelever design means that fingers can't be pinched in the mechanism like they would on guns having sliding compression chambers. I recommend the single-shot over the repeater for reasons of safety.
Daisy 953 TargetPro
I normally don't recommend combo guns, but I'll make an exception for the Daisy 953 TargetPro. It's a pellet rifle with enough accuracy to get you into the game without spending a bundle.
Gifts under $300
Gifts in this category start to take on the aura of personal taste. My recommendations may not be what your airgunner wants, so you need to find out if they are before you buy anything.
Benjamin 392 pump
This one is very personal. You airgunner will either like it or not. So, check first. The Benjamin 392 pump is the best multi-pump rifle going, these days. Its heritage dates back to the late 19th century, so there's a lot of history there. I also chose the .22-caliber 392 for its power; but if your airgunner only wants to shoot at targets, then the 397 is the same rifle and shoots cheaper .177 pellets.
Daisy Avanti 853
The Daisy 853 is right at $300, but its a great buy even at that price. It features a Lothar Walther barrel and has been used by millions of kids for competition in the decades it's been around. The trigger is rough, but there are several websites that tell you how to fix it. To get anything with better accuracy, you're going to need to spend several hundred dollars more.
Diana RWS LP8
Want an air pistol that shoots like a rifle? The Diana RWS LP8 is the one to get. It just may be the best value in a really good air pistol these days. It has plenty of power and is very accurate. The breakbarrel cocking is on the heavy side, but an adult male shouldn't have a problem.

For the price, the Diana RWS LP8 air pistol can't be beat.
Gifts without limit
Now, we can spread our wings a little. This is where many of the better airguns live.
HW 30S
Let's start with the HW 30S. You know this rifle as the Beeman R7 when it's in a different stock, but airgunners know the HW 30S has the same powerplant and the same adjustable Rekord trigger as the R7. If your airgunner likes the styling of the HW 30S, it's less expensive; but if he wants an R7, it's also a wonderful spring-piston air rifle.
Diana RWS 48
If you want a big bruiser spring-piston air rifle, the Diana RWS 48 is one I would recommend. And, I recommend it in .22 caliber, where you get all the power it can develop. The 48 is a sidelever that's surprisingly easy to cock, despite the level of power it delivers. It's also very accurate. One thing, though, the 48 is a big air rifle, so be sure your shooter knows what he's in store for. Definitely for adults, only.


Diana 48 sidelever from RWS is large and in charge!
TalonP air pistol
There's no other smallbore air pistol that can hold a candle to the TalonP air pistol from AirForce Airguns. It comes in .25 caliber and has 10 shots per fill at over 50 foot-pounds of muzzle energy! Many rifles can't equal it! When I tested it for accuracy, I got sub-one-inch groups at 50 yards. It's a hunting air pistol extraordinaire.

The TalonP pistol from AirForce Airguns leads the pack for power and accuracy.
Walther LGV Challenger
If you want a really fine breakbarrel spring rifle, you can't do better than the Walther LGV Challenger. I recommend the .22-caliber gun because it was so smooth when I tested it.
by B.B. Pelletier

The Ruger Mark I pellet pistol is a powerful spring-piston gun.
Before I begin, here's a followup to yesterday's blog on the importance of stock length. I discovered, thanks to blog reader Mike, that the No. 4 SMLE has both a long and a short stock. Apparently, when there are complaints that the rifle kicks, the stock is always a short one. I tested that at the range yesterday with a friend of mine. He had a hard-kicking Mark III and, sure enough, it has a short stock. But my No. 4 stock is at least .75 inches longer and feels like a mild 30/30 when shot.
Okay, on to today's blog.
There's a lot of interest in this pellet pistol, and I've learned a lot more while testing it. Before I did this report I read as many reviews of this Ruger Mark I pellet pistol as I could find — both on this site and on others. I discovered something while doing that. There's a sharp difference of opinion about the gun that divides around the age and airgun experience of the person writing the review. Those who are either young or have little experience with airguns say the Ruger is hard to cock and not very accurate, but they all praise the power they think it has. But veteran airgunners who own chronographs have learned that the pistol isn't as powerful as advertised, but it's easy to cock (very easy for the power, if you use the cocking aid) and also relatively accurate. So, come with me today while I show you what the Ruger can do.
I shot the gun for accuracy at 10 meters, because most of the reviews I read talked about shooting at distances from 25 feet to 10 meters. In the end, 10 meters turned out to be exactly the right distance for the gun.
I shot off a bag rest with both hands holding the pistol out just past the bag, so there was no contact between the bag and the gun. My forearms were resting on the bag. The sights are fiberoptic; but when held at arm's length, the front sight just fills the rear notch perfectly. It's possible to get a precise sight picture that can be repeated with every shot.
Trigger and cocking effort
The trigger-pull is very heavy — to the point of being a distraction. Blog reader Victor asked me to report on the trigger-pull and cocking effort after this test; I guess because he wanted to see if there was any change during break-in. After this accuracy test was completed, the gun had a total of about 140 shots on it. The trigger-pull measured 5 lbs., 13 oz., and the cocking effort with the aid installed is 26 lbs. That's a pound higher for cocking, and the trigger is a half-pound heavier than the last time I checked. Both numbers are probably just due to how they were measured and no real change has occurred.
Accuracy
The nice thing about testing a gun with open sights is that it's usually on the paper right out of the box, where a scope can be almost anywhere. This pistol was shooting high and left, but it was on the paper at 10 meters. It took a little elevation reduction and a lot of right adjustment to get the pellet to land in the bull. I sighted-in with RWS Hobbys. Then, I shot the first group of 10.
The first group surprised me, but that was when I realized that many of the reviews had been written by new shooters. I say that because the Ruger Mark I is an accurate air pistol when you use the correct holding technique. You hold the pistol firmly but do not try to prevent it from bouncing around in recoil. It's not as accurate as a Beeman P1 or an RWS LP8, but it's accurate, nonetheless. But only the experienced pistol shooters will know how to get this pistol to perform its best.
Ten RWS Hobbys grouped in a 1.073-inch group at 10 meters for me. The group is open but also nice and round. It was a lot better than I'd expected.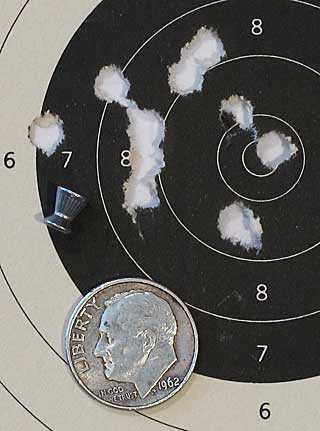 Ten RWS Hobby pellets made this nice round 1.073-inch group at 10 meters.
Following the Hobbys, I was in the right frame of mind for all further shooting. Next up was the JSB Exact RS domed pellet. We know from past experience that this pellet often does well in lower-powered springers, though I don't think I've tried it in a pistol before now.
This time, the RS pellet did very well, indeed. In fact, it was the most accurate pellet of the three I tested. Ten made a group measuring 1.059 inches between centers. Though this group isn't much smaller than the Hobby group, the smaller holes made by the domes make it appear smaller.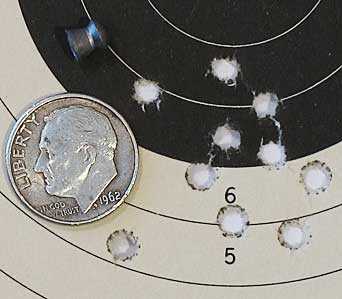 Ten JSB Exact RS domes made the best group of the test. It measures 1.059 inches between centers.
The last pellet I tried was the Gamo Match wadcutter. Sometimes, they surprise me by being the very best pellets in a gun, but this wasn't one of those times. Ten pellets grouped in 1.595 inches between centers — hardly in the running with the first two pellets.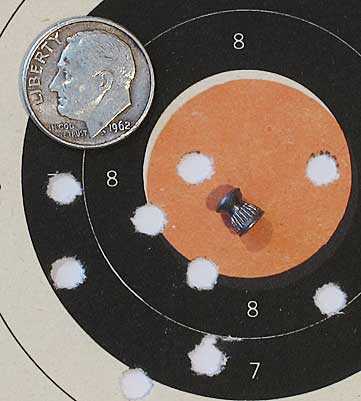 It only looks like nine holes because two pellets went through the same hole next to the number 7 at the bottom of the bull. Gamo Match pellets were not in the running, with this 1.595-inch group.
At this point in the test, my trigger finger was hurting from the weight of the pull, and I was concerned that further shooting would be affected by it. So, I ended the test. It sounds like it shouldn't have hurt, but the pull is so long that it really does hurt.
The bottom line
If you want a powerful spring pistol at a budget price, I don't think you can do any better than the Ruger Mark I. It demands good shooting technique and rewards it with decent accuracy. The power is respectable, and the cocking effort is low for the power generated. The trigger is heavy and the sights aren't perfect, but they do adjust and the pistol does respond to them very well.
Most shooters will like the shape of the grip, which is reminiscent of the Luger. The Ruger Mark I is just about right in the weight and balance department and encourages plinking with its surprising accuracy.