by B.B. Pelletier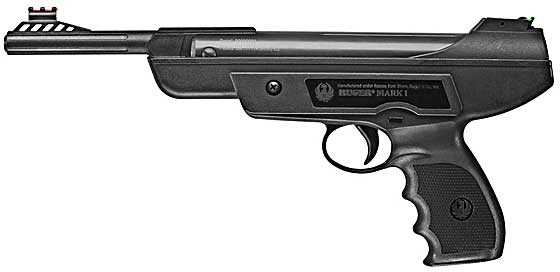 The Ruger Mark I pellet pistol is a powerful spring-piston gun.
Before I begin, here's a followup to yesterday's blog on the importance of stock length. I discovered, thanks to blog reader Mike, that the No. 4 SMLE has both a long and a short stock. Apparently, when there are complaints that the rifle kicks, the stock is always a short one. I tested that at the range yesterday with a friend of mine. He had a hard-kicking Mark III and, sure enough, it has a short stock. But my No. 4 stock is at least .75 inches longer and feels like a mild 30/30 when shot.
Okay, on to today's blog.
There's a lot of interest in this pellet pistol, and I've learned a lot more while testing it. Before I did this report I read as many reviews of this Ruger Mark I pellet pistol as I could find — both on this site and on others. I discovered something while doing that. There's a sharp difference of opinion about the gun that divides around the age and airgun experience of the person writing the review. Those who are either young or have little experience with airguns say the Ruger is hard to cock and not very accurate, but they all praise the power they think it has. But veteran airgunners who own chronographs have learned that the pistol isn't as powerful as advertised, but it's easy to cock (very easy for the power, if you use the cocking aid) and also relatively accurate. So, come with me today while I show you what the Ruger can do. read more