All about airgun powerplants (April 2009)
by Tom Gaylord
Copyright PyramydAir.com ©2009. All Rights Reserved.
This report is for all the new airgunners who have asked for descriptions of airgun powerplants. The ones listed here are found in traditional airguns, which means pellet-firing and steel BB-firing guns. This is not a look at airsoft powerplants, though some of those are virtually the same as some of the ones described here.
Pneumatics
A pneumatic gun uses a stored charge of compressed air to propel a projectile. Because the pneumatic powerplant has so little moving mass and because it's less sensitive to temperature than any other airgun powerplant, it's the easiest type of powerplant to shoot accurately. The field of pneumatics is further broken down into four principal categories.


The Evanix Blizzard S-10 is a good example of a modern PCP.
Precharged pneumatic (PCP): This is possibly the oldest type of airgun powerplant--dating to some time before the year 1600. PCPs store an air charge in a reservoir, then release part or all of it when the gun is fired. Most big bore airguns are PCPs, as are most target guns and precision sporting rifles. In Europe and among target shooters everywhere, this powerplant is called compressed air.


Benjamin 397 and 392 are classic multi-pump pneumatics that have been around for over 50 years.
Multi-pump pneumatic: Multi-pumps date back to at least the 18th century but were reborn in America at the start of the 20th century. Today, they're found chiefly on low-priced sporting guns made in America. They require multiple pumps of a built-in lever to compress an air charge for firing--typically from three to eight or even ten.

Almost all multi-pumps are single-shots, but in the past some were made as repeaters. Repeaters take from 20 to as many as 250 pump strokes to charge completely, but you then get 10, 20 or even more shots without recharging.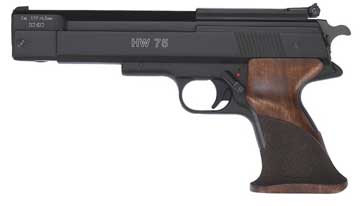 The HW 75 pistol is a single-stroke pneumatic. Made by the Weihrauch factory in Germany, it's easy to cock and quite accurate.
Single-stroke pneumatic: Perfected in the 1960s, single-strokes are just what they sound like--guns that use a single pump stroke to pressurize the firing charge. If you attempt a second stroke, the air from the first stroke will be released. This powerplant is primarily found on target guns and low-priced guns geared toward the youth market, though there was a semi-successful single-stroke sporting rifle made in England several years ago.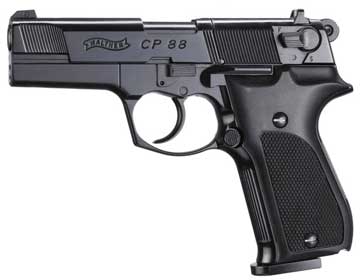 Looks, shoots and handles like a firearm. The Walther CP88 is a firearm lookalike. It uses one 12-gram CO2 cartridge, which fits in the grip.
CO2
Yes, it has occurred to many people that carbon dioxide (CO2) is not air at all. Still, you will always find the CO2 guns included with airguns. Carbon dioxide is a refrigerant gas that expands dramatically at room temperature. At 70 deg. F, it produces 853 psi (pounds per square inch) of pressure. If introduced into a gun as a liquid, CO2 provides steady power for many shots. Because it's a refrigerant, CO2 will cool the parts of a gun as it passes through at firing. As the gas becomes colder, the pressure drops and, below 50 deg. F, CO2 is not very efficient.

CO2 was first used in the middle 1800s, but Benjamin and Crosman both pioneered its use in the 20th century. Liquid CO2 is put into convenient Powerlets (a term coined by Crosman, the company that invented the 12-gram size used in airguns) for ease of handling. It can also be put into guns from large bulk tanks. Normally, CO2 provides the lowest power potential of all the airgun powerplants, unless something drastic is done. The most practical way to get higher power from CO2 is to use a heavier projectile and a longer barrel.
Spring-piston guns
Spring guns appear to be an invention from the 19th century, though one type of spring gun--the bellows gun--dates from at least a century earlier. They're simpler in construction than the gas guns, with fewer moving parts, but they also have less potential for power than pneumatics and even CO2. Still, shooters like them for their simplicity. Today's typical spring gun falls into one of three categories.


The Gamo Whisper is a breakbarrel spring gun. Other cocking methods for spring guns include sidelever and underlever actions. The Whisper is one of many guns whose coiled metal springs can be replaced by a gas spring.
Coiled steel spring: This is by far the overwhelming leader in spring guns. A coiled steel spring drives a piston forward to compress air in a compression chamber. At the far end of the chamber, a hole called a transfer port lets the compressed air escape and get behind the projectile in the barrel. The steel spring technology has changed from a coiled volute spring in the mid-1800s to a coiled wire spring today.
Gas spring: Argentine airgun designers were apparently the first to adapt gas springs to airguns, but Theoben of England made them famous. They're also called gas rams and gas struts. Gas springs are longer-lived than coiled steel springs, plus they can be rebuilt. They act faster than coiled steel springs and have less mass, which lowers both the recoil and vibration of the gun. On the outside, gas spring guns look exactly like guns with steel springs.


Did you own a Red Ryder BB gun as a kid? It's also considered a spring gun.
BB guns (Daisy-type mechanism): The BB gun mechanism is a hybrid of spring-piston design. It also uses catapult technology (explained below) to enhance the effect of the compressed air charge. Not all BB guns use this special type of powerplant, but the Daisy Red Ryder is the poster child of those that do.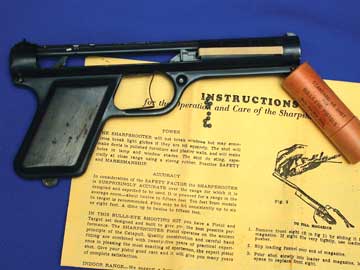 The Sharpshooter is one of many catapult guns that use mechanical force rather than compressed gas to launch a projectile. This brand traces its roots back to 1923, though this particular model was probably made in the early 1980s. It shoots a single No. 6 lead shot, which is nominally 0.118" in diameter. The gun is safe enough that it won't break a window, yet with rubber bands it'll kill a fly at 10 paces. These guns are remarkably accurate at short range. And, they're repeaters!
Catapult guns
Like CO2 guns, the catapult gun is not an airgun, strictly speaking. Still, you'll usually find it positioned among airguns because of its low power and quiet operation. Instead of an air or gas charge propelling the projectile, a mechanical catapult launches it.

Catapult guns have existed since at least the late 1500s in the form of the stonebow. In the 1840s, Hodges in England built a catapult gun larger than .40 caliber. Spear guns that use elastic bands are also catapults.

The best-known airgun example must be the Sharpshooter pistol that was invented by a dentist in 1923. Daisy once marketed a catapult that looked like a single-action revolver. It was their single-shot model 179 BB pistol.