by B.B. Pelletier
Update on Tom/B.B.: When I visited him Monday afternoon, we discovered that he'd lost 50 lbs. of water in less than a week. All vital signs are stable and things look quite good!
Today's blog was written by B.B., but we have an announcement first.

Pyramyd AIR is having its 3rd Annual Airgun Garage Sale on June 5. As in previous years, there will be a mountain of guns and accessories with slashed prices and dented pellet tins at huge discounts. Come early, bring cash or credit cards, and shop til you drop!
Now, on to today's blog.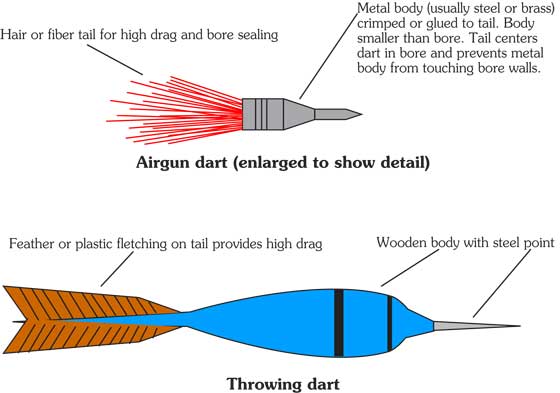 An airgun dart is very accurate due to the high drag of its animal hair or fiber skirt. It's forward-weighted and has fletching, just like the hand-thrown dart.
Here's another subject I've hit before: Darts in airguns. Back in the 1600s, darts were the most accurate ammunition available for airguns. They were considered for target use only, were very low-powered and were shot from smoothbore guns of approximately .40 caliber. When airgunners see these old guns, they imagine things that just aren't true, such as shooting them with lead balls, bullets or pellets. The truth is that darts were at one time a very popular airgun ammo.
The progression: from then to now
The early darts were very carefully made with metal bodies and animal hair fletching. Accuracy was controlled by removing hairs from the tail of the dart…one at a time. One hair was always a dark one, and that one never got removed. It was the way you oriented the dart in the barrel of the gun each time you loaded (e.g., always put the dark hair at the 12 o'clock position in the breech).
In the 19th century, they started producing darts with machines. This made them cheaper to buy but considerably less precise. They were still the ammunition of favor until the late 1870s.
The felted slug acted like a modern diabolo pellet.
Henry Marcus Quackenbush
When H.M. Quackenbush brought out his popular line of airguns, he also made darts for them, and that was considered their best ammunition. Later, he brought out several different types of ammo for the same guns. Cat slugs were solid lead cylinders with felt glued to the tail. The felt acted like a modern diabolo waist and flared skirt, creating high drag that kept the slug on track. Later still, some H.M.Q. guns were made to fire modern diabolo pellets and lead balls. Once, again, they were never very fast because of their roots in a dart gun design.
After WWI, the popularity of darts faded quickly. Webley kept them alive for their smoothbore pistols, most notably the Junior model, on which I reported recently. By the 1950s, the concept of the airgun dart was not very well understood in the USA. Benjamin made and sold them for their smoothbore guns that were also BB guns. But, most owners paid no attention and shot the metal body darts in their guns with rifled brass barrels!
You can still buy darts, but not many people do. A good dart gun is very low-powered and a very smooth shooter. Anything else defeats the purpose. They're not, as some airgunners believe, super-penetration hunting ammunition.
Before I sign off today, I have another announcement.
Oehler 35P now available again
Most of us are more than happy with our Shooting Chronys, but a few of you have asked me for years about getting an Oehler 35P printing chronograph. I'm not here to sell an Oehler to you, but there's no substitute if that's what you really want.
The new package includes 3 skyscreens, a skyscreen bar, tripod, chronograph with built-in printer, and diffusers…all packaged in a hard rifle case. The Oehler is the only chronograph I know of that has a second proof channel that constantly compares to the output of the main chronograph channel. Both channels print out on the built-in printer. The price for this package is $575 with shipping (which is an introductory offer). At that price, this product isn't for everyone. For 95% of my testing for Pyramyd AIR, I use a Shooting Chrony.