by B.B. Pelletier
I was watching American Pickers last week. That's the show where two men called pickers travel around the country looking for old things to buy and resell at a profit. Pickers have been around for many years. I can remember my grandmother who ran an antique store buying from them back in the 1950s, but these two guys on American Pickers have put the show on television and made it interesting.
Except for one thing. Sometimes they walk right by the major find and act thrilled to find something on which they can make a couple hundred dollars. The show I watched last week was one set in Florida in which they were picking a bar that had closed. They stood in front of two antique BB guns on the wall and talked with awe about finding a risque neon sign. One of the BB guns was a Sentinel, worth perhaps between $1,500 and 2,500, depending on the condition. Okay, it was way in the background, so maybe it was trashed out and only worth $500. They didn't even mention it on the show, despite the fact that BB guns is one of the categories on their buy list.
That got me thinking. Have I ever walked past some airguns worth a lot of money, only to dismiss them for some reason? The answer is YES. I passed on not one but two Sentinels at a local flea market years ago. They were priced at $100 and $110 apiece, and at the time they were probably not worth over $400 each. I passed on them because I didn't know for sure what they might be worth. When I found out, the price was already beyond $1,100 and the two guns were long gone. This was several years before I started writing The Airgun Letter, and no Blue Book of Airguns existed so I may be forgiven my lack of knowledge, except that deep down inside I knew they were valuable. That's why I caught them so quickly when they made a brief appearance on American Pickers.
I'll never forget the Haviland & Gunn BB pistol Edith found at the same flea market for $5 (she won't let me forget it). She sold it to a collector a year later for $500, and today they are worth over a thousand. It was in a case of "smalls" on a guy's table that consisted mostly of Avon decanters. He thought it was an old squirt gun from a carnival game and had marked it $10, but Edith got him down to $5. I bet he never had an offer on that gun before she came along.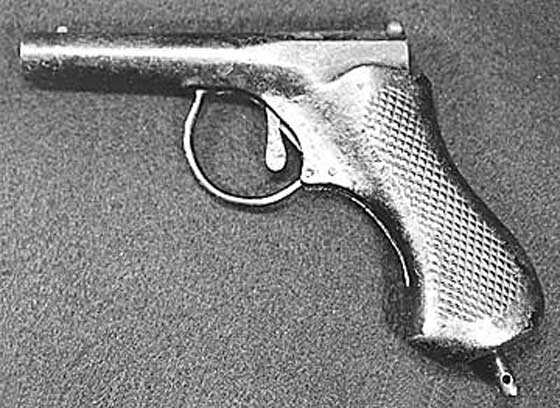 Edith paid $5 for this 1872 Haviland & Gunn BB pistol at a flea market. She sold it a year later for $500.
Decorative art
Most of you know that I'm not a fashionista. To me, style means a mechanical device for counting people as they board the train. I see on television that, besides gout, depression and retirement worries, I'm supposed to have something called a "man cave." Back when I was still able to feed myself and hold my own drool cup, I believe such places were called dens, and every home had one. Today, the trend is toward diamond-plate refrigerators and vintage neon bar signs. Well, vintage airguns go with that decor quite well, I think.
Here's where I'm going with this. You're an airgunner. You can acquire airguns that every other airgunner knows are not worth the powder to … well, you know. But they look cool. So ,you take that old King Model D BB gun that looks like the airgun version of a handlebar moustache and you peddle it to an interior decorator as the perfect accent for some man's wall. You paid $60 for the BB gun (and thought you took a bath), but the decorator pays $250 to acquire this rare and vintage piece that will set off her client's I'm-a-man-and-don't-you-forget-it wall to perfection. It's crystalized testosterone in the eyes of the decorative arts community.


You might not pay very much for this common King model D BB gun, but where else is a decorator going to find one?

A few years ago, this Daisy Targeteer BB pistol with shooting gallery might have brought $300. Today they bring half that. But they still make great accent pieces.
Or do the same with that old Marksman BB pistol that you can throw faster than it shoots. Or the vintage Daisy Targeteer. Selah.
Do you see where this is headed? You go to an airgun show, buy up as many cheap but decorative airguns as you can find, then resell them for a good profit to an interior decorator. Do it again and again and soon you will have enough leather to make shoes for all your children — to mix a few metaphors.
Oh, but you don't know any interior decorators, do you? Of course not. So you start a website where decorators can come to look and buy your items, knowing they can always count on you to supply those hard-to-find knickknacks for their clients.
But you don't set up a table at the next airgun show. The airgun shows are where you go to buy. You sell elsewhere.
My last big tip
Okay, here's my final tip for those who would like to make money in airguns. Buy the old beater guns, then cut them up and make cutaway guns for display. With some skill, time and a $50 beater spring rifle, I'll bet you could make a display piece worth at least $500. Cutaway guns are always in demand, and cutaway airguns just don't exist. Oh, I'm sure there are a few, but they're very rare. Imagine if someone were to begin offering them as decorations!
There are plenty of other things that can be done with old airguns, I'm sure. The thing is, you know where to buy them, while the average person does not. You have the advantage. What you do with it is up to you.