by B.B. Pelletier
Announcement: If you've been waiting for the Mendoza diopter sight to come back in stock, your wait is over!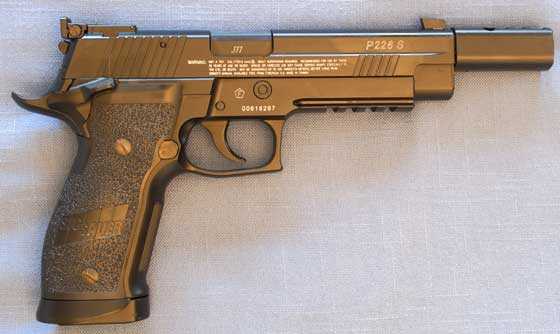 The SIG Sauer P226 X-5 combo BB pistol comes as an adjustable-sight version for just a few dollars more than the same gun with fixed sights.
Today is accuracy day for the SIG Sauer P225 X5 combo BB pistol, and it's a big day, indeed, for this is a gun that was recommended by several readers — starting with Rob from Canada.
I was told three things about this air pistol. First, that it's extremely accurate. Second, that it's very loud; and third, that it has the greatest amount of blowback-simulated recoil of any BB pistol around.
I was further directed to specifically test the pistol that Pyramyd AIR refers to as the P226 X5 combo, but which we know in Canada is called the Open pistol. That differentiates it from the standard version of the P225 X5 pistol, because that one lacks the compensator, the optical sight base and, most importantly, the adjustable sights.
Noise is about average
On the discharge sound question, my judgement is that this pistol sounds about the same as every other CO2 pistol in its power class. It might sound loud to someone who has nothing to compare it to, but I actually found it to be a reasonably quiet air pistol for a gas-powered gun.
Recoil is not the hardest
In the recoil test, the SIG Sauer P226 X5 doesn't blow back as hard as the GSG 92 BB pistol. It does recoil, and the effect is realistic, but it does not have the most blowback I've seen in a gun of this class.
Accuracy is great
However, in a wonderful twist from the norm, the test pistol turned out to, indeed, be an extremely accurate BB pistol. It's well ahead of the GSG 92, the Tanfoglio Witness 1911 pistol and the SIG Sauer SP 2022, which were all fine handguns.
It does not shoot better than the Umarex Makarov, however. I had to test that after seeing how well this pistol shot, and it did about as well. I'm getting ahead of myself. Here are the results.
First at 15 feet
The first test was offhand at 15 feet, just to see where the gun was shooting. I only shot five and then checked the target to see what kind of sight adjustments were needed. The first group was relatively in line with the center of the bull and hitting just below the point of aim. I used a 6 o'clock hold, so that put the shots below the bull. Nine clicks of elevation raised the point of impact about a half-inch.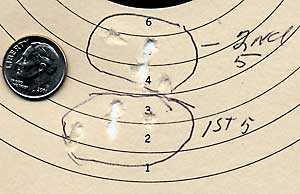 The first five shots went low, then nine clicks up on the rear sight produced the second group of five. All shots offhand at 15 feet.
After the first two groups of five, I shot 10 offhand at 15 feet. The sights were raised another 6-7 clicks, or so. This group was also impressive and centered up a little higher on the  target.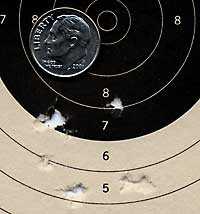 Ten shots at 15 feet were impressive. The rear sight was adjusted up for this target, as well.
This was impressive, because I was shooting offhand with a pistol for the first time in 18 months. The trigger is as nice on this BB pistol as the one on my Taurus PT1911 .45. Now, I was reasonably certain that Rob was right about the accuracy. I backed up to 25 feet and shot some more.
At 25 feet
Twenty-five feet was where Rob said he shot his pistol, and I was curious if it could shoot that far with reasonable accuracy. The first two 10-shot groups were pretty bad, and I was about to give up on the gun, but then I got out the Umarex Makarov to check myself.
At 25 feet I shot from a strong-side barricade position, and the Makarov front sight is so thin that I was seeing it as multiple images in my glasses. When I took them off, the image sharpened and the group tightened, so I went back and tried the SIG again without the glasses. This time it shot about as well as the Makarov, which is pretty good for a BB pistol.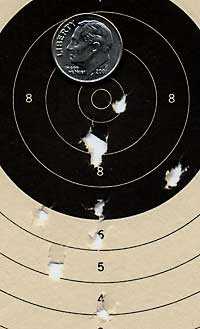 Back at 25 feet, ten shots from a strong-side barricade position with the P226 went into a decent group.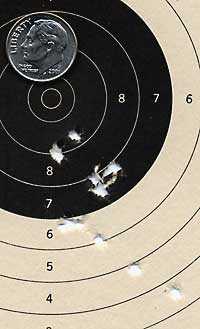 The two shots low and to the right were made while wearing glasses. The rest were with the glasses off. Ten shots at 25 feet from an Umarex Makarov, also shot from a strong-side barricade.
But the SIG has a couple things going for it that the Mak doesn't. First, because it has blowback, you always shoot single-action, and the trigger pull is far better. Of course, you can shoot the SIG double-action on the first shot, but why would you want to? The single-action trigger is so much nicer. You can manually cock the Mak hammer, which I did, but the SIG in single0-action still has the better trigger. Second, the SIG has adjustable sights. You can move the shot group anywhere you want within reason.
The bottom line
I'm going out on a limb and saying that this SIG Sauer P226 X5 combo pistol is such a fine shooter that you can even get maximum training effect for firearms from it. Of all the handguns I own, only a couple have better triggers than this one. Everything you need to do to shoot well, you can practice with this BB pistol. I'm going to add it to my Tom's Picks page, because I think it's a world-beater.
I got about 30 reliable shots per CO2 cartridge during this test. You would get a few more if you were just plinking, but there aren't 40 shots available when the target is important.
Edith noticed how enthusiastic I seemed to be when testing this air pistol. It's always a pleasure to test something that works as advertised and maybe even better than you thought it would. My thanks to Rob and others who asked for this test.