by B.B. Pelletier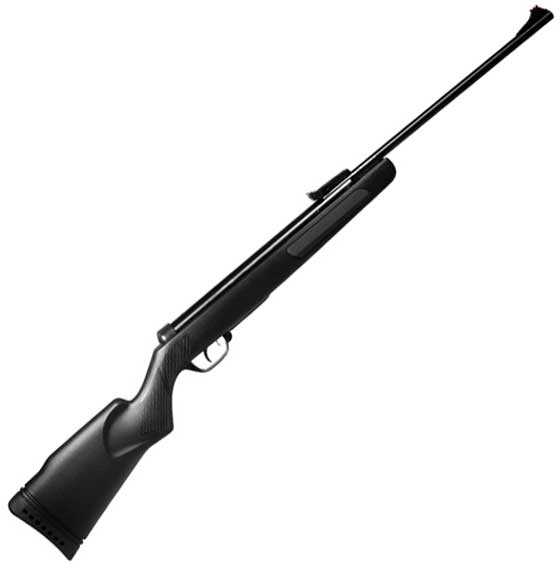 It's medium-sized and lightweight. The velocity in .177 is 825 f.p.s. The BSA Comet is a different air rifle.
Today, we'll look at the accuracy of the BSA Comet. To refresh your memory, we've learned that this breakbarrel rifle has strong family ties to Gamo breakbarrels and that it pretty well delivers on it's advertised velocity of about 800 f.p.s. in .177 caliber.
That sort of made me hopeful that the rifle would not be very hold-sensitive, since sensitivity rises with power. Breakbarrels are the most hold-sensitive rifles in the world, so any break you can get is a blessing.
I always learn more about the airgun when I'm testing it for accuracy, because I'm forced into such close proximity though the shooting. This time was no different. I learned, for example, that the trigger has a very long and very creepy second-stage pull. It was a mystery exactly when it was going to release; and while that's usually a good thing, in this instance it wasn't.
I also discovered that the rear sight hangs over the breech just enough that you notice it when loading. I was fortunate that the scope still cleared this sight when the barrel was broken open, but buyers should take this into account when thinking about a scope.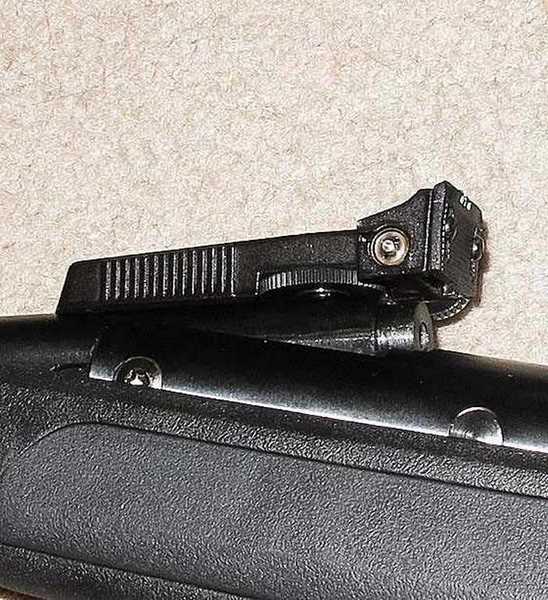 The rear sight hangs past the breech just enough that you notice it. Make sure your scope is short enough for this sight to clear when cocking.
On the plus side I can tell you that the balance of this rifle is quite good. When holding it with the artillery hold the muzzle is just slightly heavy — enough to stabilize the rifle but not so much that your off hand hurts from holding it.
Scope
I mounted the Hawke 4.5-14x42AO Tactical Sidewinder scope on the rifle, so there can be no doubt that good optics were used. I really like this scope and am trying to find a good reason to hold on to it; because whenever I need something really good, this is what I turn to. The optics are clear as a bell and as bright as they can be; and the reticle, which is illuminated by the way, is very thin for more precise aiming.
The test
It took five shots to get zeroed at 25 yards. Then, I was ready to shoot for the record.
I sighted-in with JSB 8.4-grain Match Diabolo pellets, so those were the first group I shot. Naturally, there were 10 shots per group, and the distance is 25 yards.
I'd hoped the JSBs would be accurate in this rifle, given the power level, and they didn't disappoint me. Ten pellets sailed into a group that measures 0.767 inches between the two farthest centers. While there's some openness to the group, notice that it's roundish, which means the gun has no bad traits.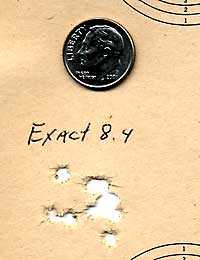 Ten JSB Exact 8.4-grain domes went into this 0.767-inch group at 25 yards.
RWS Hobby pellets, on the other hand, grouped into a much wider area. Ten made a group that measures 1.286 inches between centers. Clearly, they're not the pellet for the Comet. Isn't it interesting how simply changing the pellet has so much effect on the target?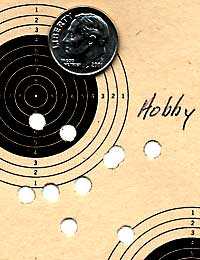 RWS Hobby pellets, on the other hand, went into this 1.286-inch group.
The next pellet I tried was the venerable Crosman Premier 7.9-grain "lite." These pellets are usually among the best in spring-piston rifles of this power. In the Comet, they're okay, but not spectacular, measuring 1.043 inches between centers for 10 shots. The group was rounded, once again, but not as tight as I would like to see at this distance.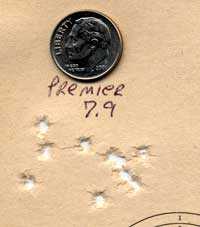 Premier lites made this group, which measures 1.043 inches between centers.
The last pellet I tried was the lightweight Falcon from Air Arms. At just 7.33 grains, this domed pellet is often a very good performer in airguns that run less than 1,000 f.p.s., so they seemed like a good choice for the Comet.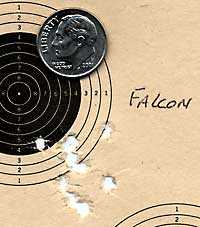 Ten Falcon pellets went into this 0.829-inch group.
The results of the test indicate that the rifle likes domed pellets that are well-made. Both of the best pellets in this test were made by JSB (Falcons are made by JSB), which means that would be where you should look if you get a Comet. There are still several pellets that I didn't try, and these are just a few shots, so the rifle could be even more accurate than what's seen here.
Bottom line
I have to observe that, for the money, this BSA seems to have some features I could do without. The creepy trigger is first among these, but the buzzy firing cycle is also an annoyance. Still, it does have some things going for it.
The light weight of the rifle coupled with easy cocking make it a fine intermediate airgun. True, the price is high, but quite not as high as an HW50 that would be a close equivalent in power.
I think the Comet would benefit a lot from a professional tune and from a couple thousand shots on the trigger. Like other Gamo-style triggers, a lengthy break-in period usually smoothes them out considerably.