by B.B.Pelletier
There I was, at the Roanoke airgun show, and this year was REALLY different! For starters, it wasn't in Roanoke. It was up a small mountain road several miles south of the big city, and I thought that would keep the attendance down. But at the Friday opening, there were hundreds of attendees who came through the doors. And those who struggled to find the place were rewarded with what I have to categorize as the very best airgun show I've been to. Allow me to explain.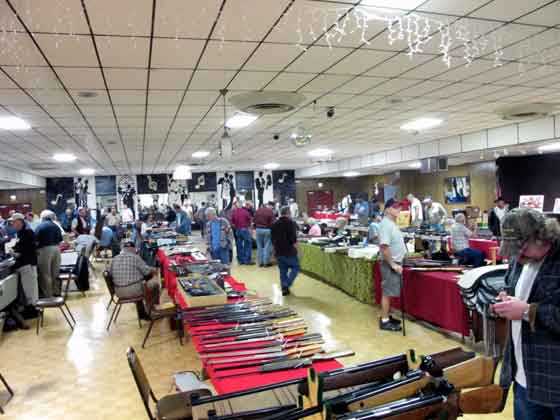 About midway through the first day, and the show was doing a brisk business.
It seems that hard financial times have hit the airgun market, and as a result there were too many great buys to count. Also, something else happened that I guess is like the changing of the guard. It seems that many of the old graybeards were cleaning out their closets and selling most everything they had. Some strange metal surfaced to bait the faithful, as well as the tried and true guns we all love.
One thing I was looking for are readers of this blog. RidgeRunner was first to step up and introduce himself. He was doing his impression of a walking garage sale by lugging a rifle, pistol and a daypack full of pellets around the show. And the last time I saw him, I think he had bought some pellets! Talk about taking coals to Newcastle!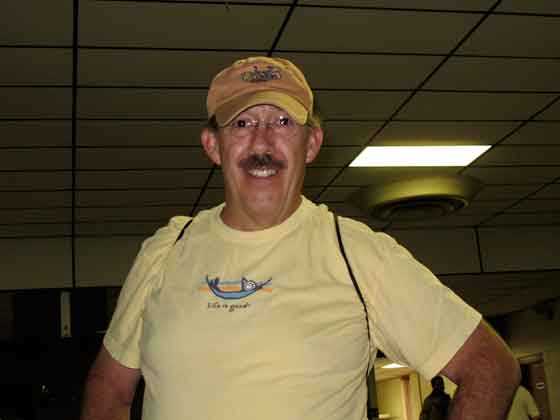 RidgeRunner was happy to be at the show.
Lloyd and his beautiful wife, Mary Ellen, were next to stop by. Mary Ellen was returning home from a business trip, and her plane was diverted to Roanoke; so Lloyd did the manly (and opportunistic) thing by rushing down to pick her up. We gabbed about old times while Mary Ellen looked around her very first airgun show. She said she was impressed, and I think that was an honest appraisal because for some reason this was a classy show.
Usually, a show has some sort of "flavor." By that I mean that there will be one or more memorable things that happen only at that particular show. I remember one where there were new-in-the-box Smith & Wesson 78G and 79G pistols stacked up in piles. At another show, a man was trying to sell a genuine Girardoni military rifle. I was flabbergasted when he sold it for $3,500. Several years afterward, I was even more flabbergasted to see a similar rifle sell for over $50,000!
I look for those "patterns" at every show, and they help me report the show. At this show, I couldn't see any pattern on Friday. Maybe there was a smallish group of 10-meter target rifles for sale and a few nice Benjamin Discovery rifles were out on the tables, but I couldn't see any real patterns.
But what did happen at this show more than at others I've been to was that we had time to actually talk. Several other readers came by and even people I know just from seeing them at every show I attend; but, for once, there was time to really talk. And as a result, I was set straight on a number of technical topics. The beauty of that is that Edith wasn't there to keep me in line, so the task was shared by many people. Of course, they weren't as good at it as Edith is…but, then, she's had many years of practice.
Mac shared a table with me, and he had a super first day! He brought most of his stable of 10-meter rifles, plus many of his finest sporting guns. His first sale was an FWB 124 I tuned about 10 years ago, and it still averages 881 f.p.s. with Premier lites. After that, his guns were flying off the table as I watched enviously from the sidelines. Part of his success is due to his engaging style. He stood in the aisle in front of the table and hooked them as they ventured too close.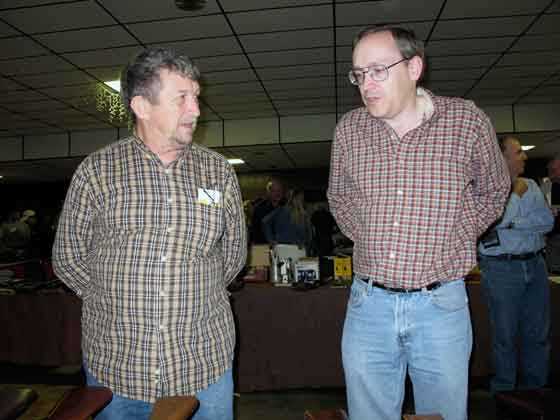 Mac discusses the finer point of airgun trivia with a patron who moved too slow.
I'm always on the lookout for different things, and Wayne Fowler had one on his table. It was a .35-caliber single-shot round ball shooter with a ball reservoir that Mike Reames made. Wayne said his pistol is very accurate, so he mounted a red dot sight to the barrel and shot a group with it. The proof is right in the center of the bull.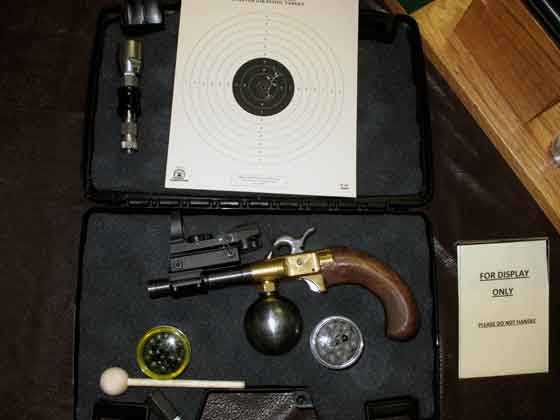 Wayne Fowler's handmade pistol drilled the bull. The 18th century meets the 21st as the red dot sight sits atop a round rifled barrel. Strange but true!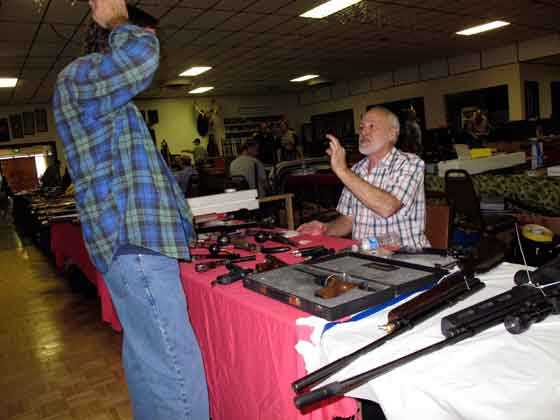 Want a ball reservoir pistol of your own? A customer deals with maker Mike Reames, who has several unsold ball reservoirs on his table.
I vowed I wasn't going to buy anything at this show, and that resolution lasted until almost 12 hours before the doors opened. How could I need anything more, I asked, as I forked over the cash for several impulse purchases made while chatting at the motel the evening before the show opened? You'll be seeing the results of those purchases in upcoming events. But here's one: Edith has been asking for a slingshot with a laser for almost a year, and I found one for her that has a laser and a red dot sight. (Note from Edith: Woohoo! He's right. Ever since I saw some online demo videos, I've been wanting one of these.)
Saturday
The Saturday show was much different than Friday. Saturday is normally when the locals come; and while a few did make it in, it was a very slow day. Mostly dealers trading with dealers.
I did overhear conversations between several dealers saying they'd had as good a show as ever despite the smaller size and change of location. I would estimate was only 75% as large as the Roanoke shows of the past. There's room to grow in the current facility, and show promoter Davis Schwesinger has plans to do just that.
One last comment. Although I mentioned him earlier and even showed a picture of one of his pistols, I must say that Mike Reames, who makes the unusual ball reservoir pistols, is making a name for himself. His work is of good quality, and everybody who gets one seems to enjoy it. I think we'll do more with Mike in the future.
The show ended around 2 P.M. Saturday, but all the dealers I talked to said they were coming back next year. I know that many of the dealers who were not there will make plans to attend. It may take a while, but I think we'll grow this into a fine, large airgun show, again.