by B.B. Pelletier
In Part 1, we saw seven airguns that copy firearms. Let's look at some others, plus I'll give you an appraisal of how one of them functions as a firearm.
This is such a fascinating part of airguns, and the time has never been better for collecting airguns that look like firearms. But lookalikes have been with us a lot longer than many suppose.
Hakim
The Egyptian Hakim 8mm battle rifle was an adaptation of the Swedish Ljungman 6.5mm rifle. It's a gas-operated semiautomatic that has close-fitted parts (the Swedish heritage) and an adjustable gas port to adapt the rifle to different ammunition. It's been called the "poor man's Garand" and the "Egyptian Garand," but its operational history tells us it was anything but. Where the Garand operated well in a dirty environment, the Hakim jammed quickly when sand was introduced into the mechanism. Not a gun for use in the desert!
In 1954, Egypt contracted with both Anschütz and Beretta to make a number of training rifles. Anchütz made .22-caliber air rifles, and Beretta made a 10-shot .22 LR semiauto. Navy Arms wound up buying most of the air rifles and importing them to the U.S. in the 1970s. They ranged from a few that had apparently seen little use to the majority that looked like they had been stored in a sewage ditch.
I acquired a Hakim air rifle through a newspaper ad. After discovering what it was, I went on a buying spree that netted me more than a dozen rifles over the next few years. I've cleaned and rebuilt them exactly as they came from Egypt, and I've also seen a couple that others have cleaned up and tuned. The least I've paid for one was $60 and the most was about $150, but the price has risen considerably since those days a decade ago. Today, a good shooting specimen should sell for about $250-300, while a nice one will command considerably more. But beware of the ones that have been reworked, because they're out there. I see one on Gun Broker that has parts missing, and the starting price is about twice what it's worth, in my opinion.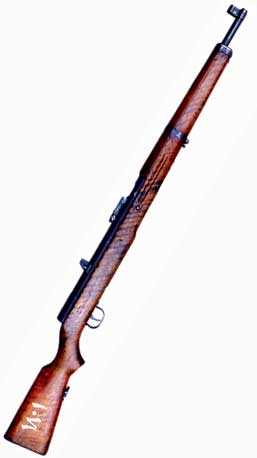 The Hakim pellet rifle was made by Anscütz in 1954.

The 8mm Hakim battle rifle is closely fitted and not suited to a dirty battlefield.
The Hakim action is based on the Falke 90 air rifle that I showed you last year. And the Falke 90 is based on the BSA Airsporter. The rifle is an underlever spring-piston action that's loaded through a tap. And like the Falke, the Hakim is doing very well to make it into the mid-500s with medium-weight, .22-caliber pellets. They can be tuned to shoot faster, but in doing so you lose the calm demeanor the rifle was designed to have and get a bucking, snorting headache machine in return. It isn't worth it, in my opinion.
Because it's a taploader, the Hakim will do best with oversized pellets and with those that have thin skirts. I've always found RWS Superpoints to be the most accurate in my rifles.
As far as accuracy goes, I had no problem putting 5 shots into a dime at 10 meters. I never really shot the rifle at longer distances, but I think the accuracy would hold together out to 25 yards or so.
Ruger Mark II — Crosman Mark I
I don't know very much about airguns, but I've been shooting and collecting them long enough that, to a newcomer, I can sometimes sound knowledgeable. Several times each year, I'm asked why no one has ever thought about copying the Ruger Mark I and II target pistols. Well, the fact is, they have! But not recently.
You have to go back to 1966 to see the first Crosman Mark I (.22 caliber) and Mark II (.177 and BB caliber) target pistols. They were single-shots and had the lines of the Ruger pistols down pat, as you can see in the photo. Both airguns were powered by CO2 and had remarkable triggers–but also high-quality, rifled barrels. With modern pellets, these guns can hold their own with a firearm Mark I or II out to 20 yards with no problem.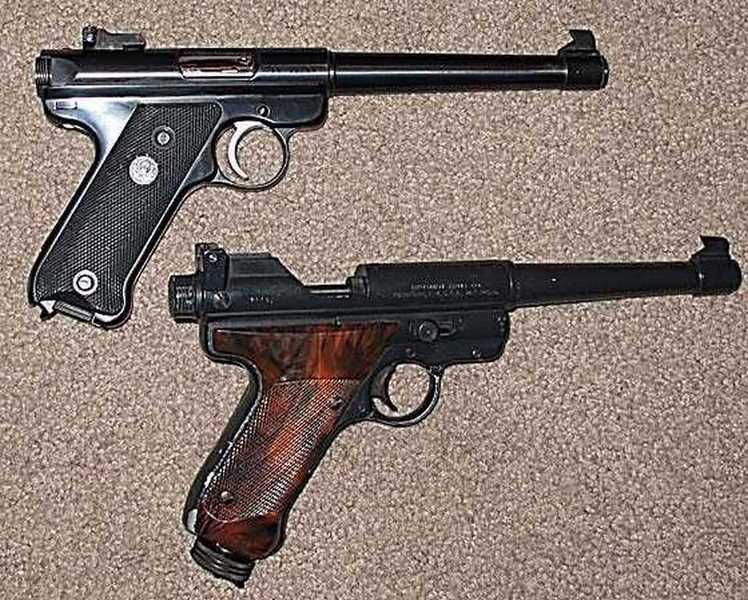 Ruger Mark II above the Crosman Mark I Target pistol. Both are wonderful target sidearms.
My own Mark I air pistol is a delight to shoot; and until I tested it against a Crosman 2240 a couple years ago for a Shotgun News article, I thought it was just about the most accurate pellet pistol I owned — other than an outright competition model. But the 2240 beat it fair and square, so I have to concede that.
Of course, many readers own the Ruger pistol and can tell you what a joy it is to shoot. For less than half what some .22 target pistols cost, the Ruger will keep up with all but the specialty Olympic models. In fact, I've gotten rid of Colt Woodsman and High Standard Victor pistols because my Mark II Ruger is everything I need.
Desert Eagle
Several years ago, I got the Magnum Research Desert Eagle .177 pellet pistol to test and ultimately kept it. I was impressed with the accuracy and the blowback action, though this air pistol does use a lot of gas when it shoots. But the thing that impressed me the most was the huge grip. I wondered for years what the actual firearm would be like.
Edith joined me in this curiosity, because she could see how large the grip is. It's incredibly long front to back, so even though the magazine (of the firearm) is a single-stack design, the grip is still very large.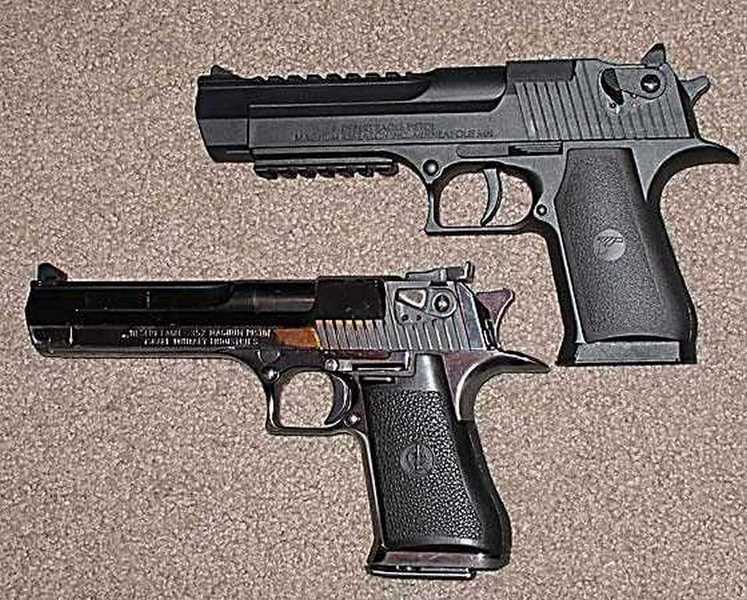 The Magnum Research Desert Eagle pellet pistol (top) is larger but lighter than the .357 Magnum Research Desert Eagle. The air pistol copies the current Mark XIX pistol, but my .357 is the earlier Mark VII, which accounts for the lack of accessory rails.
Then we happened to see not one but three Desert Eagles in a local pawn shop about six months ago. Edith got to hold the .357 (the other two were .44s), which was the only one I thought we might be interested in, and the salesman was surprised to see her one-hand the gun. Unfortunately, the price was too high and although we made an offer, they declined to accept.
Fast-forward to a couple weeks ago. We happened to stop by the same pawn shop and looked around, but saw nothing. When the salesman asked if we had found what we were looking for, I told him we were looking for a Desert Eagle but none were in the case. He asked us to wait a moment and brought out the very .357 that Edith had looked at previously. Someone had started buying it and didn't finish paying for it, so it was for sale again.
This information gave us a tremendous bargaining position, because the gun had already earned the store some money. So I lowered my offer from several months earlier (they didn't remember it) and stood firm. We got this gun!
Now, we have the firearm to compare to the airgun. This is the third firearm we've bought on the basis of seeing the airguns first. There was the Walther PPK/S BB pistol that turned into a .22 LR pistol and the Walther Lever Action rifle that became a Winchester 1894 .30-30.
Now that we had the .357 Magnum, I had the opportunity to dispel a rumor that's very common — namely that a Desert Eagle pistol soaks up so much recoil because of its gas operation and its weight that shooting a .44 Magnum feels just like shooting a .45 ACP. Bull! Our .357 Magnum, which has considerably less recoil than a .44 Magnum, still has at least twice the recoil of a .45 ACP in a 1911 pistol! It's true that it recoils less than any other .357 Magnum I've fired, but that's not the point. The point is that the gun still kicks hard, and shooters need to know that going in. I did find it very pleasant to shoot about 30 rounds of full-power magnum ammo, which usually starts me flinching if I do the same in a revolver.
As for accuracy, that'll have to wait for another day. The ammo I was shooting was not what is recommended for the firearm, and the best I could do was an 8-inch group at 50 yards. I know I can do much better than that when the gun does its part. We'll have to return to this sometime in the future.
Cleaning firearms
I don't have any place else to put this, so I'm adding it in to today's post. If you dislike firearms talk, now is the time to stop reading.
For decades, I've stayed away from shooting genuine black powder because of the mess involved in cleanup afterwards. Just this past week, as I was reading Ned Robert's The Muzzle-loading Cap Lock Rifle for the umpteenth time, I happened to pay attention to how he said to clean a rifle that's been shot with black powder.
When you return home from shooting, boil water and remove the nipple of your rifle. If you have a patent breech, remove the barrel from the stock and stand it in a pail. Pour two quarts of boiling water down the muzzle while holding the barrel with a towel wrapped around it. It does get very hot! You will see particles of black soot coming out of the nipple hole.
Then, let the rifle stand until the barrel cools down to just warm. When it is cool enough to hold, run an oil-soaked swab down the bore several times. I used Ballistol on a wool mop, and it worked perfectly.
This entire process took about 10 minutes start to finish. The next day, I ran a dry patch down the bore and removed the excess Ballistol. No dirt came out! The rifle is sparkling clean. I even looked down the bore with a tactical flashlight, and all I see is clean rifling.
This process won't work as well for a flintlock because of the small flash hole not draining water fast enough. But with a cap lock, this is the easiest way I've even seer to clean a rifle. My centerfire rifles take longer and are messier and more involved than this charcoal burner, which is a .32-caliber by Thompson Center! I'm going to stop shooting black powder substitutes and return to the genuine product, now that I know how to clean my gun so fast.
Marinate the barrel
The black powder process reminded me of another great cleaning tip I learned. If you don't want to clean your gun right away, coat the bore liberally with Ballistol and let it sit and "marinate" for several days. Using this process, Mac and I have cleaned dozens of guns that hadn't been cleaned in many years. Ballistol softens the residue and makes it come out with minimal effort when you finally get around to cleaning.
Get the rust out
Earlier this year, Mac acquired a Ruger Mini-30, which is a Mini-14 chambered for 7.62×39. The rifle appeared to be in excellent condition until you looked down the barrel. It was coated with red rust that even repeated soakings of Ballistol could not remove. What happened is that an owner unknowingly shot military surplus ammo in his rifle without appreciating that it is corrosive. It then rusts the bore within a couple of days.
So, I fired three rounds through the gun and then cleaned it. The bore came out sparkling — with no trace of pitting or frosting from the rust. When I finished cleaning the gun this time, you could not tell that it had ever been abused.
The reason I knew this would work is that I used to encounter a lot of GI 1911A1 guns back in the 1960s that had the same problem. Uncle Sam used some corrosive pistol primers in WWII, and that ammo was still available in quantity in the 1960s. The guns that shot it often had rusted bores. But shoot a couple rounds of FMJ through them, and they cleaned up just like it never happened.