by B.B. Pelletier
The Longrange Airgun Silhouette Shooters Organization (LASSO) 2012 meet last Saturday was a lot like the blind men examining the elephant. What it looked like depended on where you were. It was a renaissance fair of airgun gatherings, and I don't say that lightly. I have been to all but one of the five events they've held, and this one was the best by far. Promoter Eric Henderson has delegated many of the organizational functions to the right people, and each took their responsibilities seriously.
The shoot was held on Terry Tate's ranch, several miles south of Sulphur Springs, Texas. The land is flat, open and perfect for this kind of event; and Terry and his wife went out of their way to be gracious hosts. Weather is the one variable you cannot control, but this day was nearly perfect. It was a little breezy, but that just sharpens the competition. And it also keeps the bugs at a minimum and the hot Texas sun at bay.
The event exists to give big bore enthusiasts the opportunity to shoot their rifles (and a couple pistols) against one anotherand to see what's happening in the world of big bore airguns. So, it's not surprising that shooters drove in from Chicago, Kentucky and other regions equally far away. Driving over a thousand miles for a one-day event like this separates the serious from the tire-kickers, and these boys and girls were serious.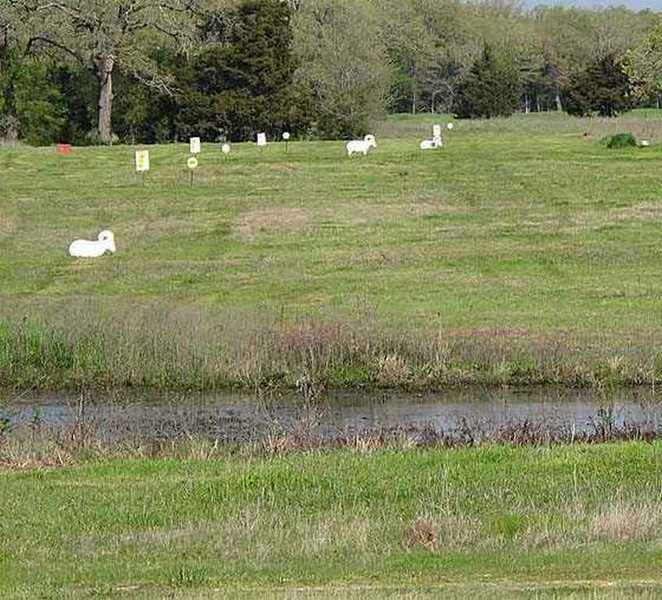 This telephoto shot of the big bore range shows targets out to 300 yards. The pond begins about 40-50 yards from the firing point. The first ram is at 100 yards.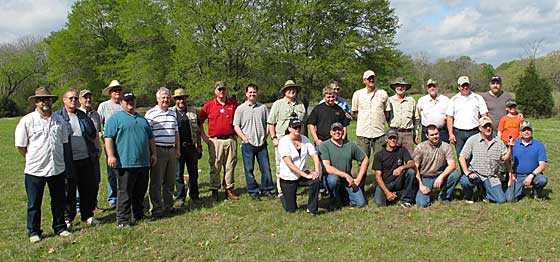 The shooters were ready for a big day!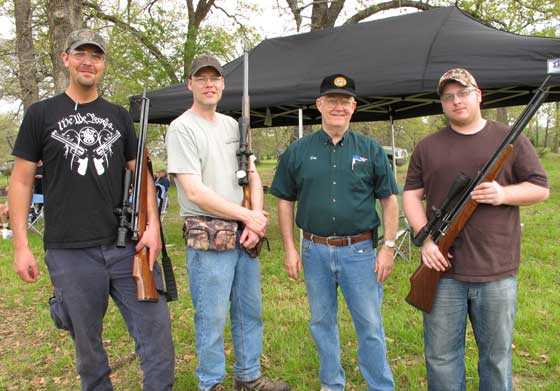 Chase, Clint and Chris are big bore shooters who drove all the way from Chicago to the LASSO shoot. The guy in the black hat is also a big bore!
Girls? Yes, this year we had our first female shooter on the line. Regina Williams asked for no special consideration and was just as competitive as the rest of the shooters.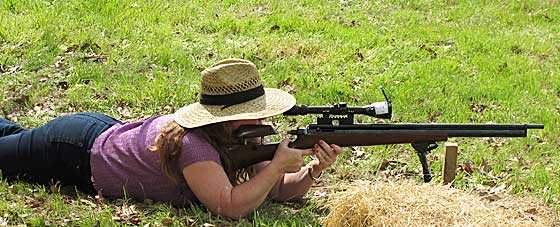 Regina Williams was the first woman to compete in the LASSO match. She placed astonishingly high!
The big deal of the day
As Rosanne Roseannadanna said, "It's always something!" This year, it was our most fundamental rule. What is a big bore airgun, you ask? Well, there are four smallbore calibers — .177, .20, .22 and .25. Anything larger than .25 caliber is considered a big bore. But this year, someone showed up with a .257 rifle made by Jack Haley that launches 75-grain bullets at 1,100 f.p.s. They develop over 200 foot-pounds of energy at the muzzle.
For those who are unfamiliar with caliber designations, .25 caliber measures .257 inches in diameter. So, here was a gun in a caliber we have always called a smallbore but shooting much heavier bullets and developing big-bore energies. What to do? There was much hand-wringing the evening before the match, but in the end promoter Eric left the decision up to the shooters, who agreed to allow the rifle to compete to win. If they hadn't, it might have been like ignoring the guns of another Roy Weatherby.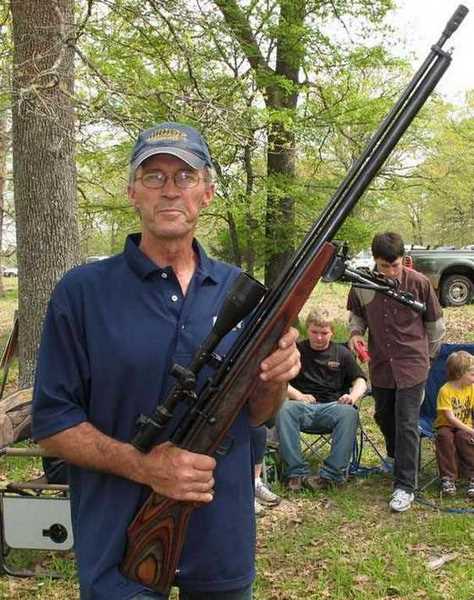 John Bowman shook everyone up with his Haley .257 rifle. We'll see his picture again. I'll bet he's going to have the same impact as Weatherby when everything settles down.
I talked with John Bowman, owner of this scandalous rifle, and was informed that he lapped the bore himself after talking to Dan Lilja, no less. He claims the rifle will group inside two inches at 300 yards. We will hear more about this rifle in a bit.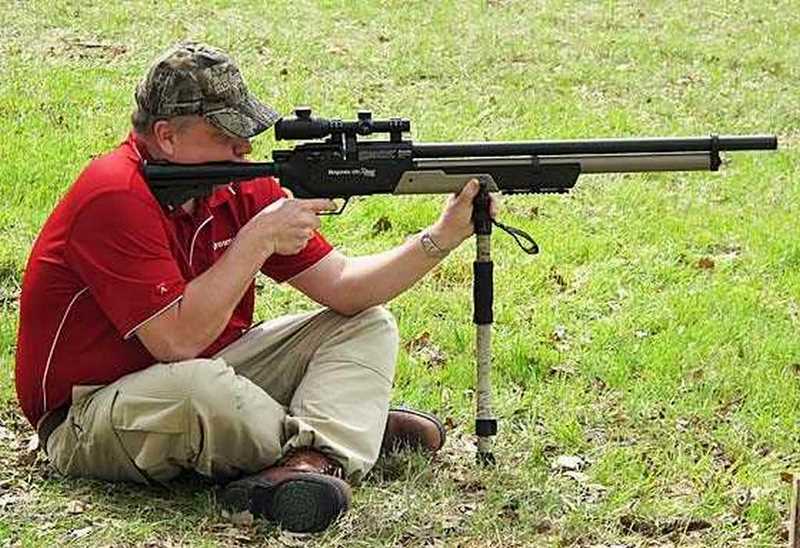 Ed Schultz, Crosman's head engineer, competed with his Rogue.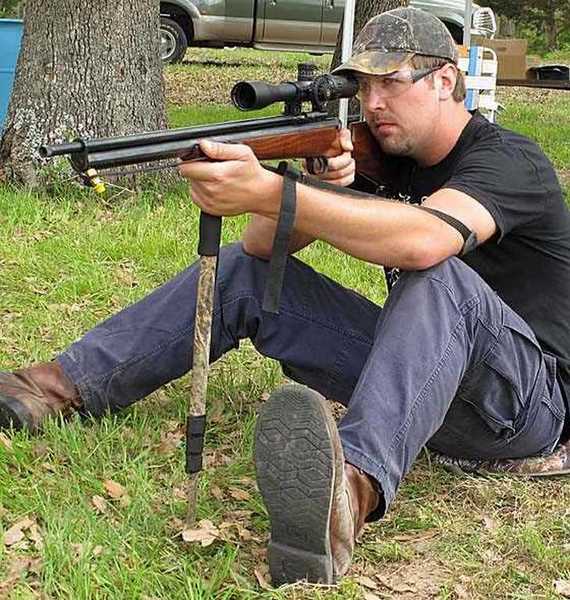 Chase used a shooting stick for his Quackenbush.

Not everyone used a support for their rifles. This is the classic military seated position.
The rifles that competed were by Quackenbush, Benjamin, Haley and AirForce. There might have been one or two other makes that I missed. The AirForce gun was a Condor converted to .308.
The smallbore range
Not everyone owns a big bore airgun, so blog reader David Enoch organized a smallbore component at this event for many years. This time, he had a beautiful 100-yard range set up with metal reactive targets from 20 yards all the way out to 100. And Jerry, who's a new reader of ours, brought his faithful CZ 634 out to the range so everyone could see why he loves it so much. I had a chance to shoot it, and I see that this tuned Slavia springer is much better-behaved than my untuned 631. Jerry also brought out his new TX200 and started what I think will become a lifelong love affair with the rifle. The trigger was not adjusted and did have some creep, but the action and accuracy were pure TX200 — which is to say the best there can be.
David set out some quadrant sight-in targets at 35 yards, so people didn't have to shoot at paper to get sighted in. They were a one-inch bull, a three-quarter-inch bull and a half-inch bull. You started on the one inch and worked your way over to the half-inch bull. By the time you were spinning the half-inch bull, your rifle was a good as it was going to be at that distance. David bought his targets online from Steelplinkers.
The giddy guy
I noticed a young man at the AirForce booth asking questions about the Condor, so as usual I butted in. Greg is from just north of Austin, Texas, and he drove out because he was hoping to see and handle some smallbore PCPs. I glommed onto him and took him over to the smallbore range, where he proceeded to have the time of his life! I started him with my Talon SS and learned that he had never looked through a scope sight before this day.
He was startled to see the crosshairs move, despite all he did to control the rifle. But after all of us assured him that it happens to everyone, he settled down and started shooting well. Reader new2this complained about a Talon SS in yesterday's blog comments. Well this new guy, Greg, was hitting half-inch spinners at 35 yards in a strong breeze. Not just now and then — every time. He almost got bored from his success, once he figured out the gun. He was torn between a Condor and a BSA Hornet, which another shooter happened to have on the line, so he got to try that one, as well.
I know he shot a lot because I was refilling his air cyinders all day long. Greg was so caught up in the day that he reminded the rest of us what it was like, and we intentionally made certain that he got to try everything. He even hit a 75-yard spinner in the wind with a .177 Marauder! Now, that's some real shooting!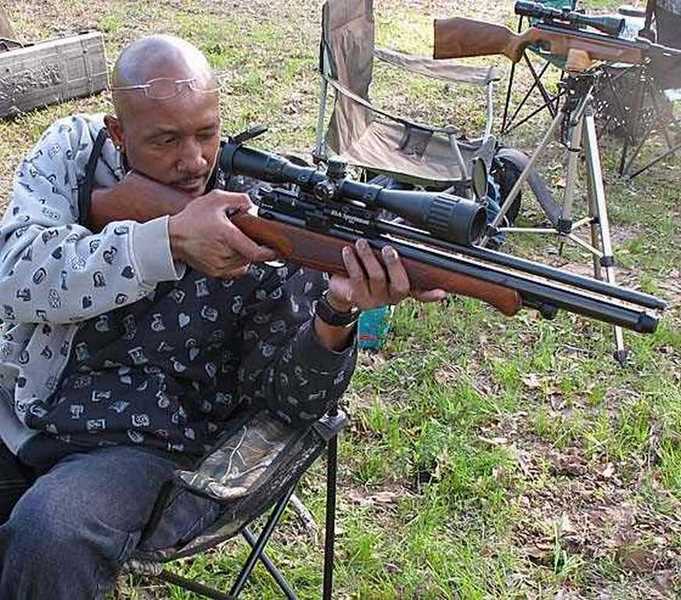 Greg came to LASSO just to see a couple airguns he had read about. He wound up shooting his two top picks — this BSA and an AirForce Condor (as well as my Talon SS) and was completely satisfied. After an hour of shooting on the smallbore range, he was hitting half-inch spinners at 35 yards and full-sized spinners at 75 yards in the wind!
I mentioned Greg was a young man. Well, to me he is. But as youthful as he appears, he's 50 years old. He's a boxing instructor and boxes 72 two-minute rounds each week.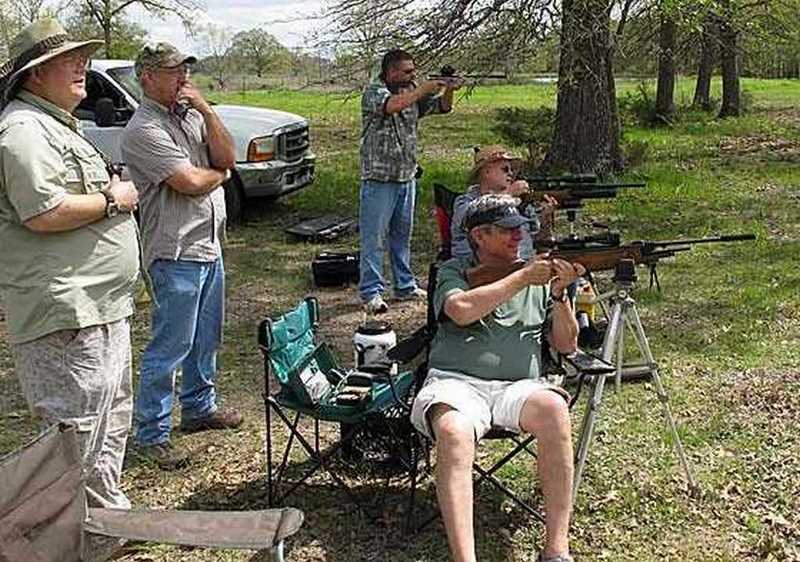 The smallbore range was just as active as the big bore range. David Enoch, left, ran it.
Lunch
Lunch was a bar-b-qued pig shot on Terry's ranch the day before. Everyone loved the spread and it was part of the $10 entry fee for the match. For the same money, you also got a door prize ticket for valuable drawings. Among the prizes donated were a Sam Yang Dragon Claw big bore rifle from Pyramyd Air, a scoped Condor from AirForce Airguns, a Benjamin Marauder from Crosman and a Shoebox air compressor from Shoebox.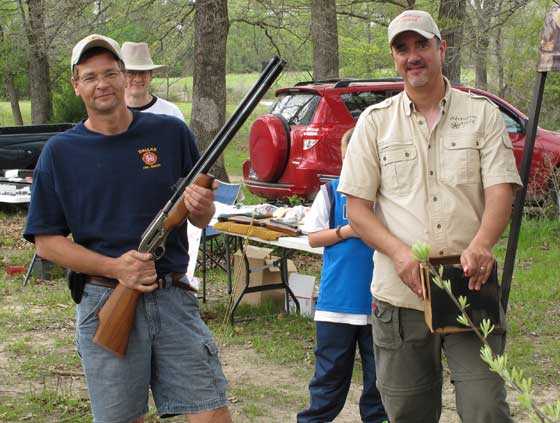 Jim Lowder was the lucky winner of the Sam Yang Dragon Claw big bore rifle.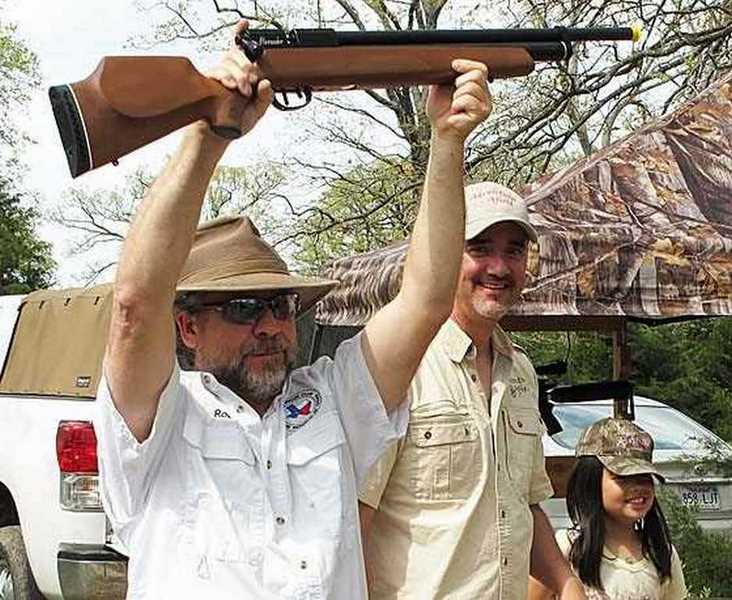 Ron Robinson won the Benjamin Marauder .25 caliber. He almost dropped it in this victory dance! His brother Kim won the shoebox compressor!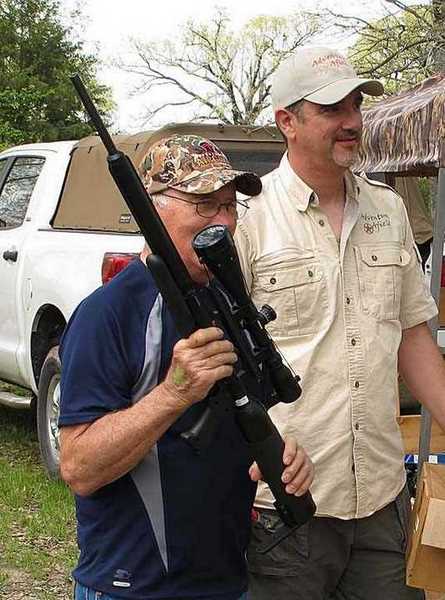 Wes Fry won the AirForce Condor.
Winners
Someone had to win this match, and I told you we would be seeing John Bowman, again. That little Haley .257 of his won the day. So now all us silverbacks have to give up room on the branch to this upstart who dared to buck the system. But I'm warning you, folks, this will be the absolute last time we bend the rules for anyone! 😉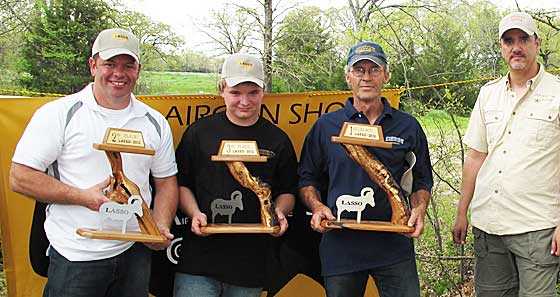 Eric Henderson, LASSO's promoter is on the right. Next to him from right to left are John Bowman — 1st Place, Joey Tidwell — 3rd place and John Crumpley — 2nd place. The .257 Haley big bore took first and third place. A Quackenbush .308 took second.
This was a wonderful event for all who came and participated. It was a drive of over one-thousand miles for some, but they were glad to be there and will be returning next year.