by B.B. Pelletier
Announcement: Jacque Ryder is this week's winner of Pyramyd Air's Big Shot of the Week on their facebook page. He'll receive a $50 Pyramyd AIR gift card. Congratulations!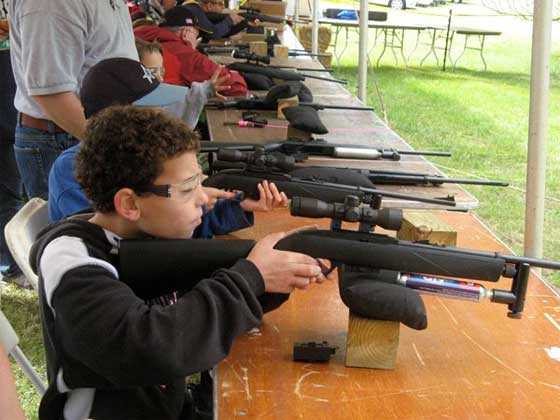 Jacque Ryder is Pyramyd Air's Big Shot of the Week. He says this about the photo: I took this picture a while ago of my friend at a local shooting range. This was my first time shooting an airgun, and now I am excited to try to purchase one on a tight budget….So, I am entering this photo for Big Shot of the Week!

The B25H breakbarrel air rifle looks striking with its bamboo stock.
It's Friday and time for me to kick back and write about something something different.
Let's start a look at a beautiful breakbarrel air rifle I bought at the Roanoke airgun show three or more years ago. I bought it because I thought it was beautiful — and I still think that today. It's a rather traditional breakbarrel spring rifle, but the barreled action sits in a stylish bamboo stock!
When I bought it, the bamboo stock was relatively new and not well known. But in the years that have passed since the show, these rifles have been seen by many airgunners. Bamboo may not seem like a good material for a rifle stock, but that's only if your experience is with cane poles for fishing. They're hollow, lightweight and reasonably strong, but no one would ever call them rugged. The stock on this rifle, however, is an entirely different matter. The bamboo is extremely strong and impervious to the pressure denting that plagues softer woods such as walnut. It reminds me very much of clear maple, only I think bamboo is a little tougher.
I bought the rifle thinking that I would review it for you in the normal way. But other things got in the way, and I didn't get to look at the gun. So it languished in its box. Every six months, I might look at it, but I bet I didn't fire 10 shots in the entire time I had it — until now. I want is to finally test this air rifle, to see if it operates anywhere near as good as it looks. Let me begin with a general description.
The speculation is that this rifle is a copy of the Diana model 34. I would say that it resembles a 34 in many ways — like the ball-bearing barrel detent and the centrally mounted safety switch; but in other ways, like the trigger, it's different. I don't think of it as a copy of anything.
My rifle is a .177-caliber breakbarrel, though this model also comes in .22 caliber. The barrel is 18.7 inches in length, and the entire rifle spans just over 45 inches. It's fairly large. It weighs 7.7 lbs. and some of that can be attributed to the stock that is heavier than beech or walnut. You've noticed the huge hole in the butt. Setting styling aside, it's there to decrease the weight of the very dense bamboo.
The metal is finished to a matte sheen, but it is uniform and reflects much more work than just a tumbled finish. The automatic safety button comes out the center of the end cap, making the rifle entirely ambidextrous.
There are a few small plastic parts on the rifle, namely the end cap, the safety and the triggerguard. The rest of the dark parts are all metal, including the large muzzlebrake, which is steel.
The bamboo stock is gorgeous — or at least that's my opinion. It's flawlessly finished to an ultra-smooth surface that's been sealed with some kind of (probably) clear synthetic finish. I've seen other examples of this rifle with the bamboo stained medium brown like every other breakbarrel rifle stock in the world, so this blonde color is part of what attracts me.
Close examination of the wood reveals the laminated layers that went into making the whole stock. After careful scrutiny, I find no spots where wood filler has been applied. There's shallow checkering on either side of the forearm, and the pistol grip has been left smooth. This is a quality stock.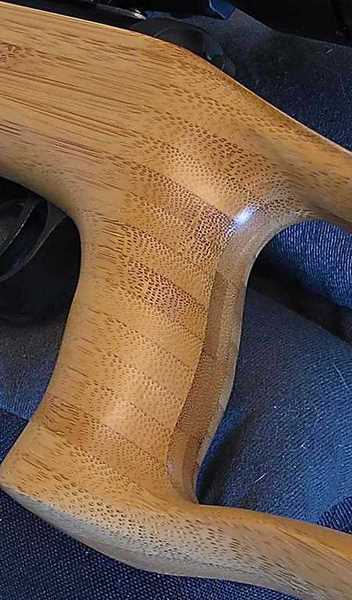 Here you clearly see the bamboo laminations. Notice that there's a center section that runs counter to the outer sections.
Whoever decided on the shape of the stock is either a shooter, or they listened to one, because this rifle is made to be held! It has a wide, flat forearm that's perfect for holding in a field target position or just in a good artillery hold. Air Arms did the same thing with their TX200SR years ago, and I think the shape dates back to the British field target stocks of the 1980s. The pull is 14-1/4 inches from the very straight trigger blade to the center of the thick black ventilated rubber buttpad.
There are no sights, though the baseblock does have two rubber buttons that fill the screw holes for a rear sight on some of the cheaper B25 models. Scopes and other optical sights can be mounted to the 11mm dovetail grooves cut directly into top of the spring tube. There's an anchor plate at the back of the dovetails to stop the scope mounts from moving under recoil.
Trigger
The trigger is adjustable, though I must criticize it. It's long and mushy, with no definite release point. It just goes off whenever it wants to. It's certainly not heavy, but I would much prefer a 5-lb. trigger that has a sharply defined second stage over something vague like this. As I experiment more with the gun, perhaps I can adjust it to something more civilized. The owner's manual warns that if the adjustment screw is turned out too far, the trigger loses its second stage and becomes unpredictable — which is exactly what I have.
I did try to adjust it, but the screw that adjusts the pull was turned out very far and would not go in without stripping the head. I think someone has put some thread-locking compound on it, or they've staked the threads. All I know is that even with the triggerguard off the gun I could not get that screw to turn very far. For the time being, it remains a light, vague and mushy single-stage trigger that releases with 1 lb., 13 oz. of pressure.
My rifle has supposedly been tuned, though I don't know all that entails. I can see some aftermarket lithium grease on the baseblock, so perhaps it was just a lube tune. I'll report more on that as I test the gun, but for now it cocks smoothly with 33 lbs. of effort — and it shoots smoothly, as well. There's a fair amount of forward recoil, so I'll assume the piston is on the heavy side and the stroke is a long one.
And, speaking of the baseblock, the one on this rifle is fastened to the spring tube with what appears to be a bolt and nut. That will allow adjusting the tension on the baseblock, which is sometimes a key to improving accuracy.
The cocking linkage is two-piece and articulated, so the cocking slot in the stock can be shorter. That cuts down on vibration when the gun fires, and with a powerful springer that's always a good idea.
Velocity
The rifle is rated to 1,000 f.p.s. in .177 caliber. The manufacturer doesn't specify which pellets were used to test it, so I'll assume they were lightweight lead pellets.
I started testing with the JSB Exact 8.4-grain dome. It averaged 818 f.p.s., but the spread was from 780 to 825 f.p.s. Actually, just one pellet went 780 f.p.s. All the rest were 817 and higher. At the average velocity, this pellet generates 12.48 foot-pounds of muzzle energy.
Next, I tried the 7-grain RWS Hobby pellets. They averaged 950 f.p.s. and ranged from a low of 937 to a high of 961 f.p.s. At the average velocity, this pellet averaged 14.03 foot-pounds of muzzle energy.
The last pellet I tried was the Beeman Kodiak — a 10.6-grain lead pellet. These averaged 757 f.p.s. and ranged from 744 to 764 f.p.s. At the average velocity, they generated 13.49 foot-pounds of energy at the muzzle.
So, the rifle shoots okay. It's not especially consistent, but it's also not too bad. The power is where it should be, and it seems to meet the advertised power specifications. It shoots smoothly but has a noticeable two-way recoil.
The manufacturer says to expect 0.20-inch groups at 10 meters, and I'll assume they mean 5-shot groups. At 25 yards, I should be able to put 10 into a group a little smaller than three-quarters of an inch. We'll see if I can do that in the next report.