by B.B. Pelletier
Announcement: Jacque Ryder is this week's winner of Pyramyd Air's Big Shot of the Week on their airgun facebook page. He'll receive a $50 Pyramyd AIR gift card. Congratulations!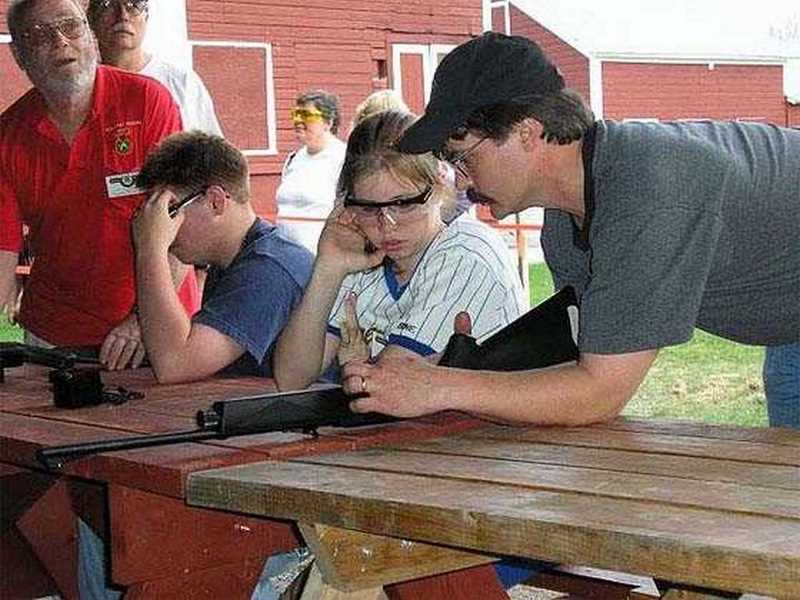 Jacque Ryder is this week's BSOTW.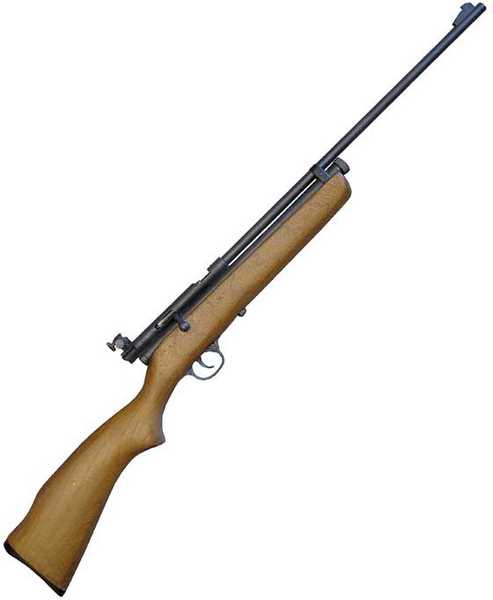 Fresh from the closet, another fine Crosman 160 emerges into daylight. We will watch this one blossom.
I was at the rifle range yesterday, and a friend delivered an air rifle that another friend had asked him to give me. It's a Crosman 160, and that's a classic air rifle that I've never reported in this blog, so here we go.
History
The Crosman 160 and 167 (.22 caliber and .177 caliber, respectively) was first produced in 1955 and lasted until 1972. There were several variations of the basic model over the years, but most airgunners rank them by their triggers. There was a very simple trigger in the first variation from 1955 through 1959, then Crosman put out a very special variation with a super-adjustable trigger in the guns made after 1959. The gun I'm testing has this wonderful trigger.
At some time in the 1960s, the Air Force bought a large number of 160s that were fitted with a Crosman S331 peep sight (made by Mossberg) and sling swivels that held a one-inch leather sling. As chance would have it, several hundred of these rifles were discovered unused in a government warehouse in Maryland or Virginia in the 1990s, and Edith and I bought one. It was brand new and still contained the original Crosman CO2 cartridges that had been used to test it at the factory. I knew they were original cartridges because they were sealed with the patent-dodging "bottlecap" tops Crosman had to use for several years. The end flap of the box had the Air Force Federal Stock Number for the gun, and everything inside the box was new and untouched.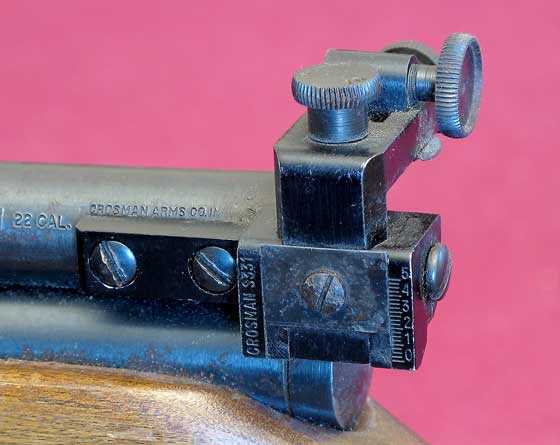 Still rusty and dusty from long years of storage, the Crosman S331 peep sight is a great addition to this accurate target rifle.
I reported on that 160 in The Airgun Letter several times, but eventually I got rid of the rifle. And until yesterday, that was all I had to do with a Crosman 160.
A shooting friend of mine told me a couple months ago about an airgun he had, and from his description I guessed that it was a 160. Yesterday, he sent it to me so I could examine it and tell him what he has. Jose — I have your rifle, and it's a Crosman 160!
Yours is the last variation they made, which in all ways is the best 160 model to have. It isn't a former military model, because they all have sling swivels and your rifle has no evidence of ever having them. But you do have the adjustable trigger and the S331 peep sight.
Your rifle has a lot of surface rust that I'll remove with Ballistol and a special scrubbing pad I'll show you in the report. I'll also open the sideplate on your adjustable trigger and clean and adjust it for you. If it's like the other 160 triggers I've adjusted in the past, I should be able to get a glass-crisp trigger-pull of a little less than one pound. I think you'll be surprised!
Barrel lottery
Back when these air rifles were new, people thought they were only capable of putting 5 shots into a quarter at 25 feet. What we didn't appreciate back then were the poor pellets we used held us to that level. Once world-class pellets became available in the 1980s, everything changed and these rifles suddenly became capable of putting 10 shots inside a dime at 10 meters. That is — if they had a good barrel.
Crosman made the barrels for the 160s. When they were good, they were very good. But when they were bad, they were horrible! I've heard tales of barrels with only half their rifling and even some that had no rifling at all! It isn't common, but it happened often enough that old Crosman collectors know about it.
Pellgunoil works, again!
I installed two fresh powerlets and a LOT of Crosman Pellegunoil, and the gun held gas. I then fired 5 shots at a 50-yard target, just to see what kind of barrel it had. I got a group of about 5 inches, but it was a windy day and all I was trying to do was see if the barrel was rifled or not. It is. When I shoot it for accuracy, this rifle should do very well.
The safety switch is broken, which means I'll have to use pliers on it, because it's key to disassembling the rifle. The good news is that some plastic aftermarket safety switches exist and I may be able to locate one.
Gas-guzzler
The big problem with a 160 is that it uses gas like a Hummer towing a house trailer! Typically, the two CO2 cartridges give about 30-35 good shots before they give out. Since they cost at least 50 cents apiece, a 160 can cost more than a .22 rimfire shooting good ammunition.
The solution is to convert the rifle to bulk-fill operations. That reduces the gas cost per fill to around 5-7 cents per fill. You still get the same number of shots and the same velocity, but the operating cost is much lower. Of course, you have to have all the equipment that's needed for bulk-fill to do this, and that does cost some money.
Power
Most 160s I've tested pushed 14.3-grain pellets out the spout at between 600 and 630 f.p.s. on an 80-deg. F day. It was about 90 when I shot through the chronograph at the range and the 14.2-grain Daisy pointed pellet (very similar to the current Precision Max) went through the Oehler skyscreens at 656 f.p.s. — right on the money! The rifle can be souped up a just a bit, but at the cost of increased gas usage. There's really no convenient way around that.
By contrast, the Crosman 180 was a single-cartridge rifle that shot a .22-caliber pellet at around 575 f.p.s. and got about 40 good shots per cartridge. It was the favorite of many shooters. But the Air Force obviously didn't care about how much CO2 they used, and the slightly more powerful 160 also had a better stock, a longer barrel and better sights. It was the obvious choice for a target rifle. I feel the procuring agency must have bought the gun, not so much for its accuracy but more for its much safer operation when compared to a standard .22 rimfire that was the normal target rifle of the time. A pellet rifle range could be set up safely in a gym, where a rimfire range required more safety measures.
General description
The Crosman 160 is a .22-caliber single-shot CO2 rifle. It cocks on closing the bolt. It needs two CO2 cartridges to operate, though it will work with just one at lower velocity and with fewer shots.
The rifle weighs 6 lbs. and is 39-1/2 inches long. The barrel is 21 inches. The pull is 14-1/4 inches.
The rifle is mostly blued steel in a solid wood stock. The metal was not highly polished and I've always thought that the wood stock was some very clever kind of laminate, since it shows more grain than I think it should. I will show you the detail and let you be the judge.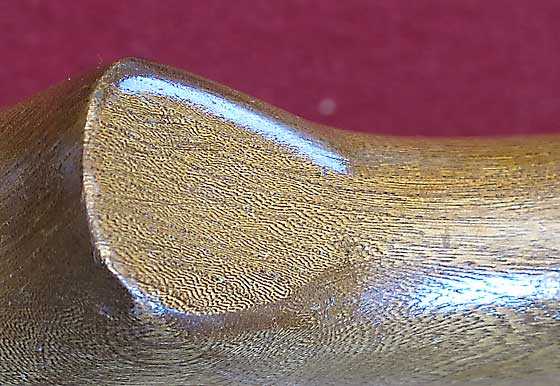 The stock sure looks like a laminate to me.
What's next?
I plan to clean the metal of this rifle and preserve it with Ballistol. I'll open the sideplate of the trigger and show you the inner workings, then I'll adjust the trigger to get it working as fine as I can.
Next, I'll test the rifle for velocity with several pellets. I'll also get a shot count for you.
Finally, I'll shoot the rifle for accuracy at 10 meters with several pellets. I've examined the barrel, and the bore appears sparkling clean. The rifling is deep and everything looks okay. We should have some fun with this one.
Jose, you have a very nice air rifle, here. I hope you enjoy this report!