by Tom Gaylord, a.k.a. B.B. Pelletier
Announcement: Pyramyd AIR has changed their Big Shot of the Week to the Big Shot of the Month, and the reward has been upped from $50 to $100. Guy Roush is this month's winner of Pyramyd Air's Big Shot of the Month on their airgun facebook page. He'll receive a $100 Pyramyd AIR gift card. Congratulations!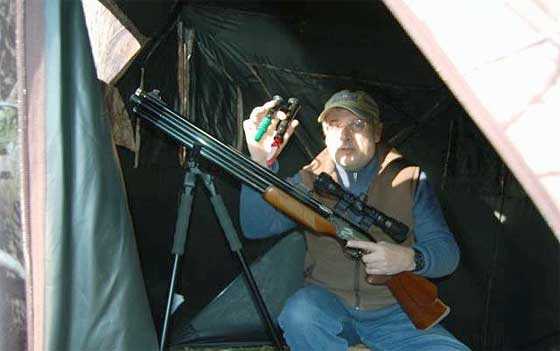 Guy Roush is the Big Shot of the Month on Pyramyd Air's facebook page.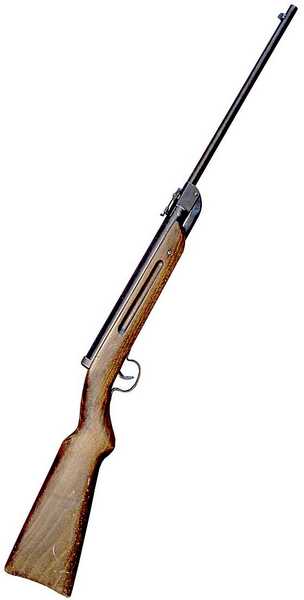 This Diana model 25 smoothbore is an old airgun!
This report comes to you courtesy of Vince, who sent me this Diana 25 to test for you. While I just recently tested a .22-caliber Diana 25, this one is quite different. It's a .177-caliber smoothbore gun, and I think it'll be the very first smoothbore pellet gun that I've tested since this blog began in 2005. There have been plenty of combination guns that shot both BBs and pellets, but to my recollection, they all had rifled barrels.
How pellets are stabilized
Diabolo pellets are so-named for their wasp waist and flared tail, which is hollow. They're named after a juggling apparatus called a diabolo that a juggler works with a string. The wasp waist and hollow tail create lots of aerodynamic drag that both slows the pellet down and also keeps its weighted nose pointed forward. Because of how much the shape of the pellet affects its stability in flight, the question often arises whether the rifling in the barrel that spins the pellet is necessary.
I often see comments asking how much I think the presence of rifling affects the accuracy of such and such a gun, and I never know what to say. My best guess is that at close range, say 10 meters, a smoothbore is okay; but as the distance to the target increases, the smoothbore quickly falls behind the gun with the rifled barrel. Now, I have the means to actually test that, and we can all see for real!
The origins of this airgun
Vince acquired this gun recently, and I don't think it was represented to him as a smoothbore. I think he even asked me if it was a smoothbore, and I told him to look for the word glatt somewhere on the barrel, as that would be the term they would use. Well, guess what? There are no words on the barrel of this gun, so what do I know? I think the early manufacture of this gun is the reason why things like being unrifled were left off.
In fact, other than the Diana logo and model number on the spring tube, there are no marks of any kind on this gun. There's no serial number, of course, but that's common for guns this old. But this gun goes even farther than most. Not even the caliber is marked, so I guess buyers either had to get that from the hang tag, or perhaps this gun was originally sold in Germany at a time when .22-caliber pellets were not common. I went over the entire barreled action with a tactical flashlight and a magnifying hood looking for other marks. It doesn't even say Made in Germany, which leads me to think it wasn't made for export.
This model is also a much earlier gun than the 1970s-era Winchester 425 (Diana 25) that I tested for you recently. Looking in the Blue Book of Airguns, 10th edition, I would say this is either a model 25 Improved that was produced 1933-1940 and 1950-1985, or it's an even earlier model 25A. If I had to guess, I would put it in the earlier group for the lack of country of origin and caliber markings, plus the strange configuration of the breech (which I'll show in a moment). It's definitely a leather-seal gun with a direct-sear trigger. This will be the first direct-sear model 25 or 27 Diana I've ever tested, so I'm curious how well the trigger works. Naturally, it isn't adjustable.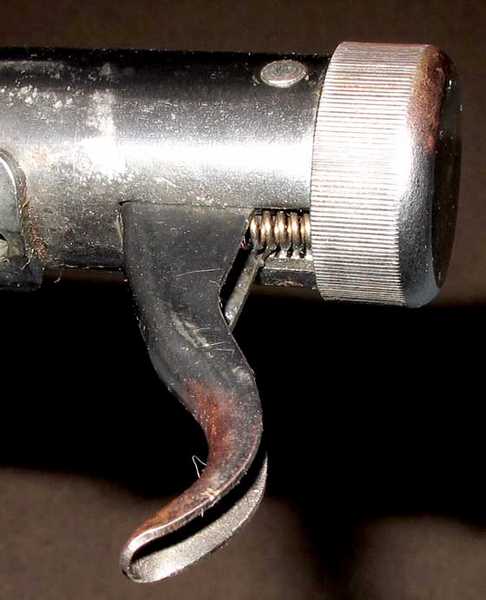 The trigger on this rifle is old-school, with direct-sear contact.
What model is it?
I know it's a Diana model 25, but that can be any of three different airguns. And here is a puzzlement. The overall length of the gun is 38.375 inches. That's close to the 38.5-inch Blue Book-listed length of the earlier model 25A that was made from 1925-1934. The model 25 Improved is supposed to have a length of 39.7 inches, which is too much of a difference from the gun I'm testing. But the earlier gun is supposed to have a walnut stock, according to the Blue Book, and this one definitely has a beech stock. So, I'm thinking this might be an earlier gun and that the Blue Book might have overlooked the beech stock possibility.
Perhaps, the strange shape of the breech is a clue about which model it is. Instead of a conventional straight-cut breech with parallel sides, the action forks have strange-looking scalloped cuts on both sides of the baseblock —  and they really stand out.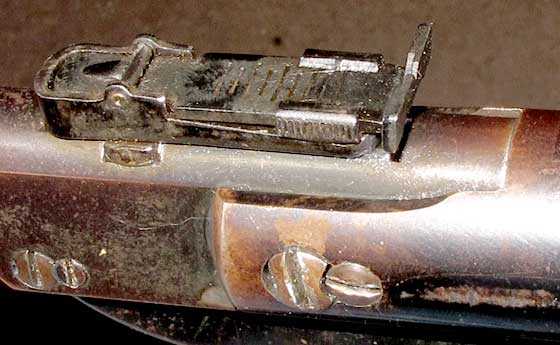 Here you can see the rather strange, scalloped breech shape. The rear sight adjusts for elevation, only.
As little as this gun is, it might look cheap at first glance, but all you have to do is break open the 15.4-inch barrel one time to feel the bank-vault quality that's built into the locking detent. While the price was undoubtedly modest at the time, this is no cheap airgun. The beech stock is very slim, yet the pull is an adult 13.25 inches, making the gun pleasant to shoot for older children and adults, alike.
Vince went through the gun and tuned it before sending it to me, so I can't comment on how the original powerplant might have felt. He installed the mainspring from the harmonica gun I reported on several years ago. A couple coils were cut to make it fit, and now the rifle cocks with great ease.
I've shot the gun several times just to familiarize myself with the operation. It shoots with the same authority that a more recent model 25 has. The buzzing is very low, which I must attribute to Vince, since I can see his work through the cocking slot. I imagine the original gun was probably a little buzzier.
The front sight is a tapered post that's dovetailed to the barrel. The rear sight is leaf-type sight that's adjustable for elevation only. It's also dovetailed to the barrel.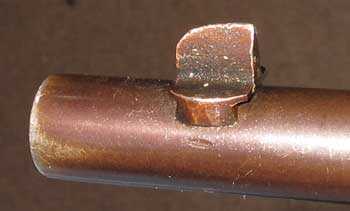 The front sight is a tall, tapered post.
Test plan
My plan is to test this gun exactly like I would test any airgun. I'll check the velocity next, and then the accuracy in Part 3. If I can find an accurate pellet when I test at 10 meters, I might do a fourth test from 25 yards. Everything will be done with iron sights, as there's no convenient way to mount a scope on the gun. But I think I proved with the El Gamo 68 that I can shoot iron sights at 25 yards.
Future plans
Once the gun has been baselined for accuracy, I plan to use it as a testbed for other tests with diabolo pellets. Finally, we'll have a basis for comparison, rather than just guessing what might happen. Between this airgun and the Twist rate test, we should wind up with a pretty good idea of what rifling is doing for diabolo pellets.