Gamo P-25 air pistol: Part 3
by Tom Gaylord, a.k.a. B.B. Pelletier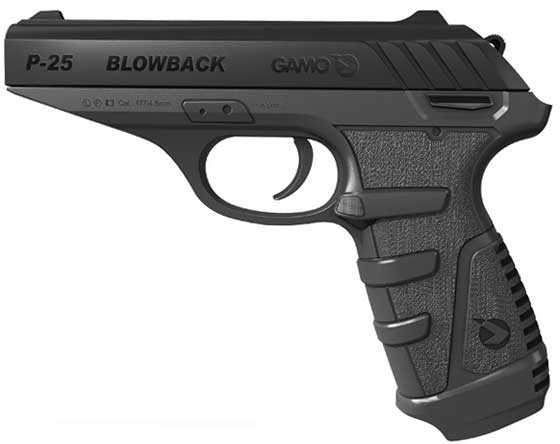 Gamo P-25 is a 16-shot blowback pellet pistol.
Today is accuracy day with the Gamo P-25 air pistol. I inserted a fresh CO2 cartridge into the gun, loaded both of its 8-shot rotary clips and then slid the magazine into the grip.
I shot the pistol at 10 meters, which seems appropriate for a gun of this type. I shot it rested with a two-hand hold and my arms resting on the sandbag but the pistol free to move.
The pistol has open sights that are not adjustable. They have white dots, both front and rear, but that was cancelled by lighting the target brightly and shooting from a dimly lit place. I used a 6 o'clock hold, and the sights were very sharp and easy to align.
Because each rotary clip holds 8 pellets, I shot 8-shot groups instead of the usual 10. I don't think it makes a big difference; and when you see the targets, I think you'll agree.
The P-25 has blowback, so every shot except the first is single-action. I therefore cocked the hammer for that first shot, so all shots were single-action. It's the most accurate way to shoot any handgun.
RWS Hobby pellets
The first pellets I shot were RWS Hobbys. Because they're wadcutters, they left good holes in the target paper that were visible from the firing line. The pistol shot Hobbys to the left, as you can see, but the elevation was pretty good. The pistol's sights are not adjustable, so to move the shots means you have to either aim off or use some Kentucky windage.
The group isn't very impressive — 8 shots in 2.169 inches at 10 meters. Perhaps one of the other pellets will do better.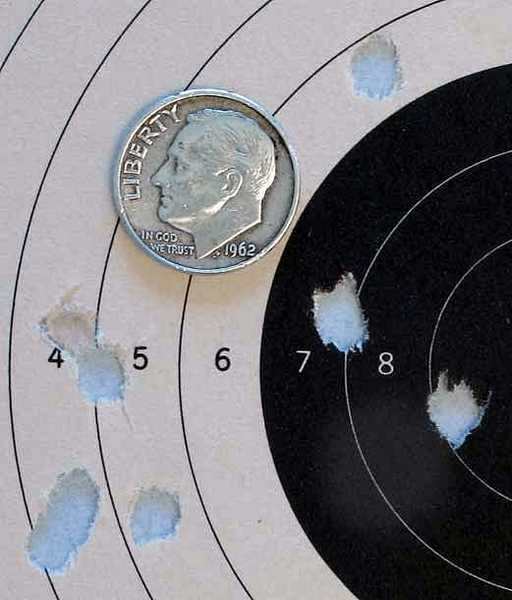 Eight RWS Hobby pellets went into 2.169 inches at 10 meters.
Gamo Match pellets
The next 8 pellets I shot were Gamo Match wadcutters. These pellets will sometimes be very accurate in a particular gun, but the P-25 I'm testing isn't one of them. Eight shots went into 2.894 inches, though 7 of them are in 1.846 inches. Still, neither group size is especially good. They did go to approximately the same point of impact as the RWS Hobbys, however.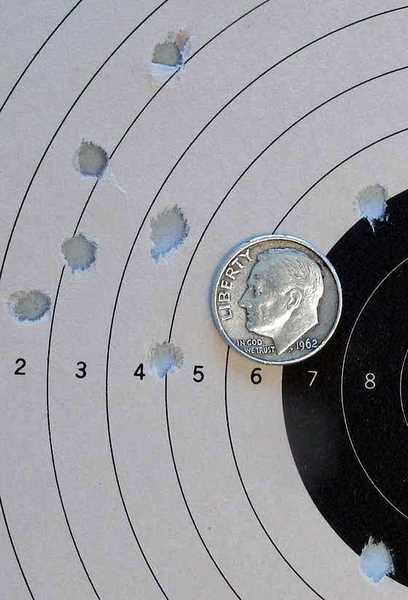 Eight Gamo Match pellets went into 2.894 inches at 10 meters.
Crosman Premier lites
Next, it was time to try some 7.9-grain Crosman Premier lites. These domed pellets are sometimes the very best in certain airguns. And this was one of those times. Eight of them went into 1.624 inches, though they also went way over to the left.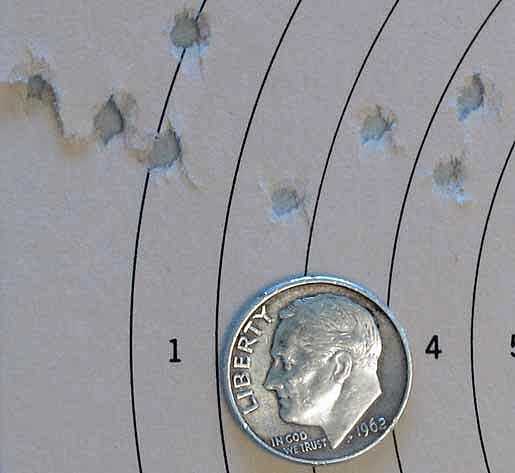 Eight Crosman Premier lites went into 1.624 inches at 10 meters. This was the best group of this test.
Gamo Raptor PBA
The last pellet I tried was the lead-free Gamo Raptor PBA. We know from the velocity test that these pellets go the fastest in the P-25, but now we'll see how accurate they are.
And the answer is — not very. Eight PBA pellets made a shotgun-like pattern that measures 4.036 inches between centers. Interestingly, they did tend to group in the center of the target — the only pellet of the 4 tested to do so.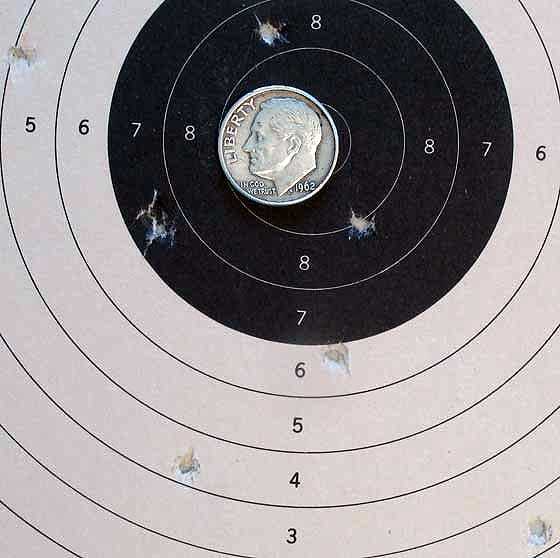 Eight Gamo Raptor PBAs went all over the place, making this 4.036-inch group. I had to reduce the size of the photo to get all the holes into it.
Shooting behavior
This was one time I found myself hoping for greater accuracy from the test gun because it was so much fun to shoot. The blowback action is quick, crisp and comes as close to the recoil of a .22 rimfire pistol as I think I've experienced in an air pistol. Although the trigger is long and full of stops and starts, it's also light and can become predictable after you learn its quirks.
Bottom line
The lack of adjustable sights means you have to find a pellet that shoots to center and is also accurate. Good luck with that. If Premier lites had shot to the center, they would have made this test end on a higher note. Because it shoots lead pellets from a rifled barrel, I'd hoped for better accuracy than this. Had I seen it, I would have rated this Gamo P-25 a best buy.
Tom Gaylord is known as The Godfather of Airguns™ and has been an airgunner for over a half-century, but it was the 
Beeman
 company in the 1970s that awoke a serious interest in airguns. Until then, all he knew were the inexpensive American airguns. Through the pages of the Beeman catalog, he learned about adult airguns for the first time. In 1994, Tom started
The Airgun Letter
 with his wife, Edith. This monthly newsletter was designed to bring serious reports about airguns to the American public. The newsletter and
Airgun Revue
, a sister magazine about collectible airguns, was published from 1994 until 2002, when Tom started
Airgun Illustrated
-- the first American newsstand magazine about airguns. Tom worked for three years as technical director at
AirForce Airguns
, the makers of the 
Talon, Condor, and Escape
 precharged air rifles. Today, he writes about airguns and firearms for various publications and websites. He also makes videos, and you'll find short clips embedded in some of his artices on Pyramyd Air's website. Tom is a consultant to Pyramyd Air and writes under the name of B.B. Pelletier.