by Tom Gaylord
Writing as B.B. Pelletier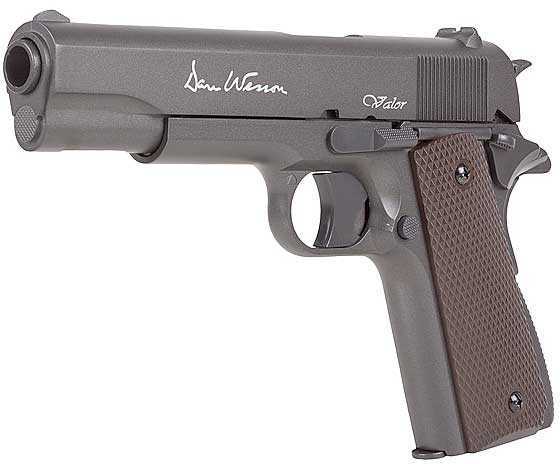 Dan Wesson Valor 1911 CO2 pellet pistol.
This report covers:
History
New cartridge
Service use
Features that were changed
The Valor
Repeater
No blowback
Sights
Licensed replica
Barrel
Summary
Today we start looking at a new pellet pistol — the Dan Wesson Valor 1911. They call it a 1911, but this pellet pistol is a replica of a 1911A1 if ever I saw one. Let's begin the report by learning the difference between the two firearm models.
History
The Colt 1911 pistol was designed by John Moses Browning in — that's right — 1911. Earlier versions of the gun competed in rigorous Army trials, along with many other pistols from around the world — including the gun we call the German Luger! The 1911 was far superior to all other pistols being tested in terms of ruggedness and resistance to hostile climates. It was the best of its time with the result that it served the American military from acceptance in 1911 until it was phased out in 1985. I say it was phased out, but that is only for general military use. The pistol continues to be used by special operations forces with the U.S. Marine Corps placing an order for twelve thousand M45A1 pistols (an upgraded M1911A1) in 2014. It turns out that the .45 caliber round is just too good at what it does to pass up for those who really need a sidearm. read more