Evanix Rainstorm 3D bullpup: Part 3
by Tom Gaylord, a.k.a. B.B. Pelletier
Today, we'll look at the accuracy of the Evanix Rainstorm 3D bullpup PCP air rifle. Since this is such a powerful and loud air rifle, I decided not to shoot it in my house. So, today is a 25-yard accuracy test that was conducted at my rifle range. I doesn't matter, though, because 25 yards is the same indoors or out.
You may recall that I adjusted the trigger last time. I said I got it as light as it would safely go because the adjustment acts on the sear contact area, so this day on the range was the first real chance I had to test it under real shooting circumstances. Although it's a little heavy at 6 lbs., 10 oz., it's now reasonably crisp. There is no significant creep in the trigger, which for a bullpup is pretty amazing. It's about the same as some military rifle triggers. I can shoot this rifle with no excuses.
Someone thought that the rifle would be easy to cock because the sidelever is on the right side of the receiver. Well, touch your right shoulder with your right index finger to get an idea of how easy it is. I found it best to dismount the rifle from my shoulder to cock it each time.
Another assumption I made while in my office was that the Bug Buster scope that comes with medium-high rings would work well on this rifle. Size-wise it does look good; but when I went to shoot off the bench, I discovered that the high rings will be best, after all. That's no reflection on the Bug Buster scope — the rings just need to be higher. As it is now, I have to tilt my head severely to see the image.
JSB Exact Jumbo Heavys
While I usually begin any shooting session at 10 feet to check the scope's alignment, this time I settled down at 25 yards and just started shooting. The pellets for the first group landed 3 inches low and 1.5 inches to the left, which is not bad for just mounting the scope and shooting without sighting in. The first group was 10 JSB Exact Jumbo Heavy pellets — an 18.1-grain dome that often works well in airguns in this 40 foot-pound power range.
The first group measures 0.574 inches for 10 shot at 25 yards. I thought that was an auspicious start for this rifle.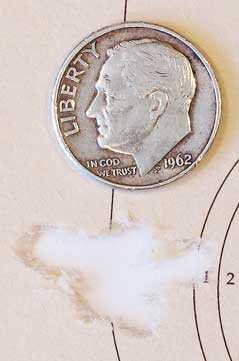 Ten shots into 0.574 inches at 25 yards is a good start.
The rifle doesn't move when it fires. I think that's due to the weight, though I had a good hold on it, since I was in a somewhat odd position and had a tight grasp, just to see through the scope.
JSB Exact Jumbo Monsters
After the first group, I adjusted the scope by guesswork and brought the next group up to just under the bull I was aiming at. This was with a clip of the 25.4-grain JSB Exact Jumbo Monster pellets. This is another dome that's even heavier than the tried-and-true Beeman Kodiaks. They acted like they wanted to group, but a couple strayed outside the main concentration, making me think they're not the best for this rifle. Too bad; because at that weight, they really pack the punch.
Two pellets got stuck in the clip and had to be unloaded and reloaded to work right. That would be reason enough not to pick this pellet.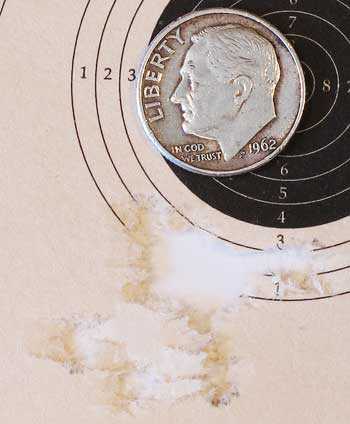 Ten JSB Jumbo Monster pellets went into 0.942 inches at 25 yards. Two pellets got stuck in the clip, so this pellet is not recommended for the 3D bullpup.
Eun Jin
Next, I tried 10 of the 28.4-grain Eun Jin domes. They just barely fit in the clip lengthwise and 2 got stuck in the magazine; but if they were accurate enough, I could overlook any shortcomings just to get the extra power. Ten landed in a group that measures 0.666 inches. That's pretty darned good when the extra power is needed.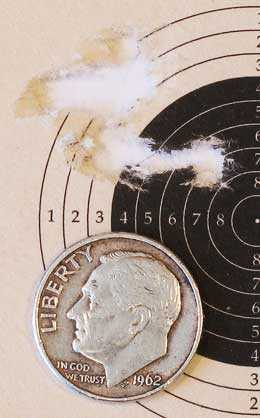 Ten Eun Jin pellets went into 0.666 inches at 25 yards. Two pellets got stuck in the clip, so this pellet is only recommended for this rifle when you need the extra power.
Beeman Kodiak
It was time to try the Beeman Kodiaks that I thought might be one of the best pellets in this rifle. And I was right! Ten of them went into a group measuring 0.491 inches — the smallest group of the test! Don't be misled by the appearance of this group. It does appear larger than the first group, but careful measuring shows that it's smaller.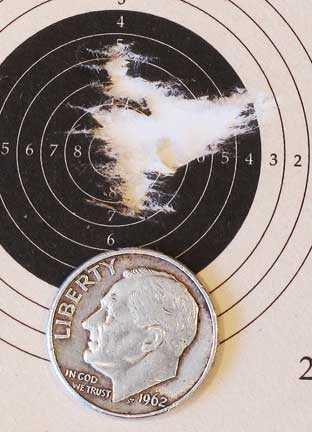 Ten Beeman Kodiaks went into 0.491 inches at 25 yards. No pellets were stuck in the clip, so this is the pellet of choice for the Evanix 3D bullpup.
RWS Superdome
The last pellet I tried was the 14.5-grain RWS Superdome. It's a very popular pellet — especially among spring-gun shooters, so I thought I'd include it in this test. Boy, what a dramatic finish it was! Ten Superdomes went into a group that measures 2.914 inches between centers! If I hadn't shot it myself I wouldn't have believed it after seeing all those other groups! Obviously, I'm not going to recommend Superdomes for the Rainstorm 3D bullpup!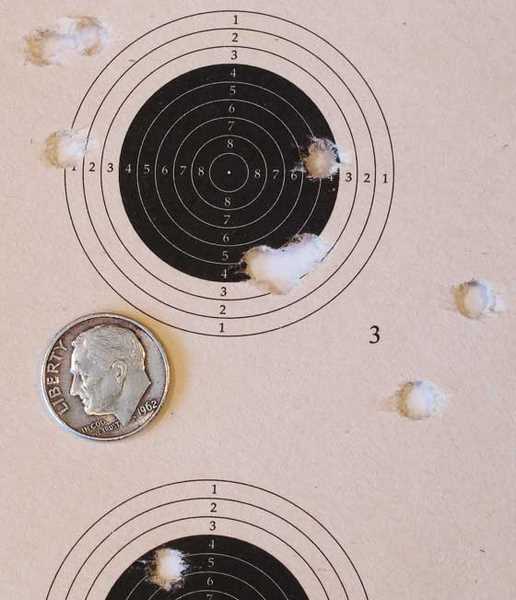 Ten RWS Superdomes went into 2.914 inches at 25 yards. This is a non-starter for this rifle.
Cool carrying case
A while back, AirForce Airguns presented me with a TalonP pistol that I tested for you. They were kind enough to put it in one of their soft carry bags, and I found that it fits this bullpup perfectly! After posting this, Edith told me that the bag is no longer being made. If you are buying the 3D, you might want to try one of the tactical bags made by Leapers. They're about the same size and are already linked to the gun on Pyramyd Air's site.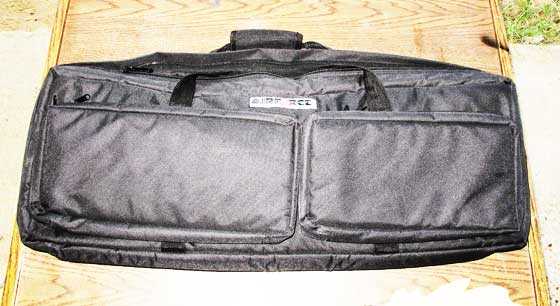 The AirForce tactical bag is perfect for the Rainstorm 3D bullpup.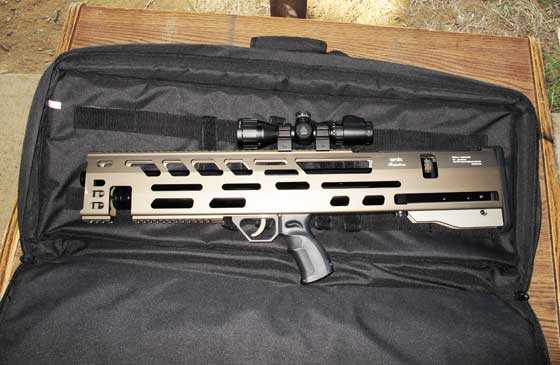 Besides the rifle, there are many zippered pockets for the rest of your shooting stuff.
General impression thus far
I learned in this session that, while the Bug Buster is a wonderful scope, the medium-high rings it comes with are too low for this bullpup. Since I'll be changing the rings anyway, I'll use this opportunity to mount a different scope on the Rainstorm 3D bullpup.
I also learned that JSB Exact Jumbo Heavys (the 18.1-grain dome) and Beeman Kodiaks are the 2 best pellets in the test rifle. Next time, I'll shoot these 2, plus perhaps one additional pellet I haven't tried yet. That will be the final test at 50 yards.
The bullpup configuration was never meant to be shot from a bench. It would feel and handle much better in the offhand position, I'm sure. But the test was to prove how well the rifle shoots, which is why I shot it rested.
The long pull length is no hinderance whatsoever. I found that it supports the bullpup configuration and helps you control a rifle that's otherwise too short.
If this is a rifle that fascinates you, I would have to say it's probably a good one to get. I'll still shoot it at 50 yards, but I believe today's test shows all that you wanted to see.
Tom Gaylord is known as The Godfather of Airguns™ and has been an airgunner for over a half-century, but it was the 
Beeman
 company in the 1970s that awoke a serious interest in airguns. Until then, all he knew were the inexpensive American airguns. Through the pages of the Beeman catalog, he learned about adult airguns for the first time. In 1994, Tom started
The Airgun Letter
 with his wife, Edith. This monthly newsletter was designed to bring serious reports about airguns to the American public. The newsletter and
Airgun Revue
, a sister magazine about collectible airguns, was published from 1994 until 2002, when Tom started
Airgun Illustrated
-- the first American newsstand magazine about airguns. Tom worked for three years as technical director at
AirForce Airguns
, the makers of the 
Talon, Condor, and Escape
 precharged air rifles. Today, he writes about airguns and firearms for various publications and websites. He also makes videos, and you'll find short clips embedded in some of his artices on Pyramyd Air's website. Tom is a consultant to Pyramyd Air and writes under the name of B.B. Pelletier.