by Tom Gaylord, a.k.a. B.B. Pelletier
Benjamin Marauder PCP .177-caliber air rifle: Part 1
Part 2
Secrets of loading the Benjamin Marauder magazine
Part 3
Part 4
Part 5
Part 6
Fixing a Marauder magazine
Part 7
Benjamin Marauder .25 caliber: Part 1
Benjamin Marauder .25 caliber: Part 2
Part 3
Part 4
Benjamin Marauder .22 repeater with synthetic stock: Part 1
Benjamin Marauder .22 repeater with synthetic stock: Part 2
Benjamin Marauder .22 repeater with synthetic stock: Part 3
Benjamin Marauder .177 caliber 50-yard test: Special part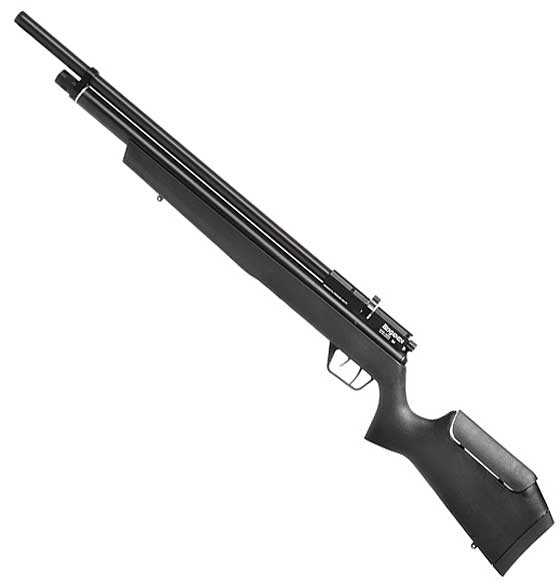 New Benjamin Marauder with synthetic stock has all the features of the classic Marauder in a lighter, trimmer package.
Well, it's certainly been a long time between reports on this rifle, hasn't it? Today, we'll begin looking at the accuracy of the .22-caliber Benjamin Marauder with the synthetic stock. Some of you have already asked me if I plan to also test the new wood-stocked Marauder that has the same new action as this one. I have no plans to test it because I feel this test encompasses everything on the rifle, except for the stock material.
I was particularly keen on testing this rifle because we had a couple new readers who had purchased this gun and were having accuracy problems with it. I wanted to pay closer attention to accuracy than normal. After all, this is a new action, even if the changes have been relatively minor. Also, this is the first .22-caliber Marauder I've tested. Since Crosman makes both the .177- and .22-caliber barrels and buys the .25-caliber barrels from Green Mountain, I feel it's worthwhile to examine this rifle more closely.
Sight-in
I filled the rifle to 3,000 psi because we learned in Part 3 that it's on the power curve with a 3,000 psi fill. Then, I fired a single shot from 12 feet to see if I was on paper. Following that, I backed up to 25 yards and refined my sight picture. Only the 14.3-grain Crosman Premiers went everywhere! I got them on target, but sometimes a pellet landed an inch away from the aim point.
What was happening?
This is what a couple readers had described, so I did what I advised them to do. I removed all the baffles (see Part 2 of the Synthetic Stock review for this) to see if the pellets were touching any of them. Since they're just plastic, it would be obvious if a pellet nicked one; but there was no sign of this on close inspection. So, I assembled the baffles and closed the shroud again.
And the next 10 shots with Premiers were remarkable! They went into a group that measures 0.246 inches between centers. Right away I guessed what might be happening is that the rifle was smoothing out as the air pressure dropped. So, even though the power curve seems to support a 3,000 psi fill, the targets do not show the same thing.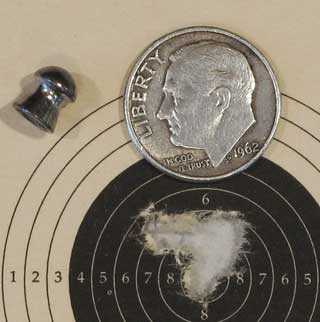 Ten Crosman Premiers in 0.246 inches is pretty conclusive! The new synthetic-stocked Marauder can shoot!
You can't tell everything from just a single group — even a tight one like this. More testing was needed, but now I would be careful about the pressure level at which the groups were shot.
I tried many more pellets, but I'm not going to show all the groups. In all, I fired a total of ten 10-shot groups, making this test more exhaustive than my usual 25-yard accuracy test. I wanted to pin down this pressure-versus-accuracy correlation to see if it was real or imagined.
JSB Exact Jumbo
The 15.89-grain JSB Exact Jumbo pellet gave a very clear example of how the pressure affects the groups. The first group was fired from a fresh 3,000 psi fill and 10 pellets went into 1.131 inches. You can tell at a glance that the pellets are scattered around.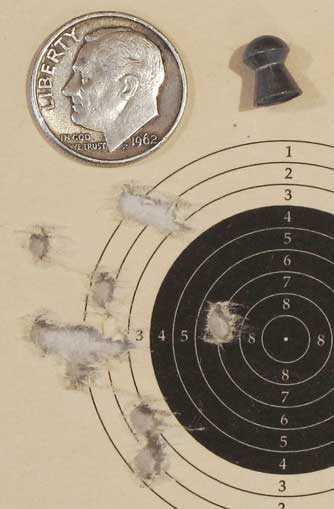 On a fresh 3,000 psi fill, 10 JSB Exact Jumbos are scattered around in a 1.131-inch group.
The second group of the same JSB pellets was fired after the first group. By this point, the rifle's internal pressure has dropped to the mid-2,000 psi point (2500 to 2600 psi). This group still isn't a good one, but you can see that it's tightening up. It measures 0.872 inches between centers.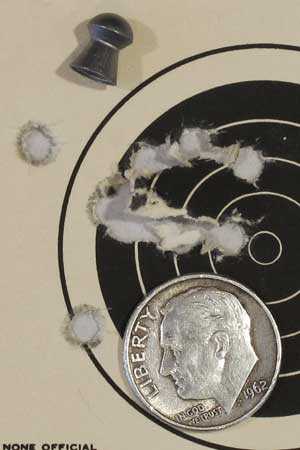 The second 10 JSB Exact Jumbos on the fill tightened up to 0.872 inches. Still not a good group, but better than the first.
On the third group of 10 shots (still on the same fill), the group really tightened up. These 10 went into 0.592 inches. That's a good group, but maybe I don't want to use this pellet in this rifle because it seems too fussy.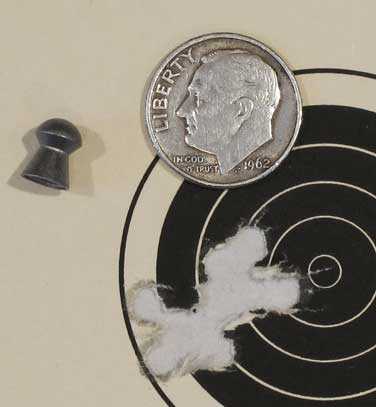 The third 10 JSB Exact Jumbos on the fill tightened up to 0.592 inches. This is an acceptable 10-shot group for 25 yards.
No Predators, no Newboys!
I tried both Predator Polymag and Skenco Newboy Seniors, but both were too long to fit in the Marauder's rotary magazine. If you want to use these pellets, you'll need to use a single-shot tray; and since Crosman no longer makes them in .22, good luck finding one. Of course, you can load pellets without the tray, but it's more difficult to align them with the breech.
I wondered how Premiers might do on the third batch of 10 shots after the fill. Ten pellets went into 0.496 inches. Not as tight as the second 10 after the fill, but still very good!

The third batch of 10 Premiers after the fill went into 0.496 inches. This is a good 10-shot group for 25 yards.
JSB Exact Jumbo Heavy
The 18.1-grain JSB Exact Jumbo Heavy pellets behaved much the same as the regular Jumbos, except the groups were tighter. The first 10 went into 0.653 inches; the second 10 went into 0.657 inches, and the third batch went into 0.591. All 3 groups are pretty close to one another; but in light of the Premiers and the Kodiaks we have yet to see, I don't think they're the best in this particular rifle.
Beeman Kodiaks
I was burned out when I got to the Beeman Kodiak pellets — 100+ shots is too much for a single session when every shot requires concentration. I didn't mention shooting RWS Superdomes yet. I did shoot 1 group with them, and it was a bust at 0.83 inches. When I got to the Kodiaks, I wasn't concentrating as well as I would have liked. And I shot this single group on a fresh 3,000 psi fill. I felt I could get away with that because of the weight of the 21-grain Kodiak pellet.
And I was right. Even though I was fading, 10 pellets still went into a tight round hole that measurtes 0.378 inches between centers! It's the second-best group of the test and earns the Kodiak a spot in the 50-yard test, for sure!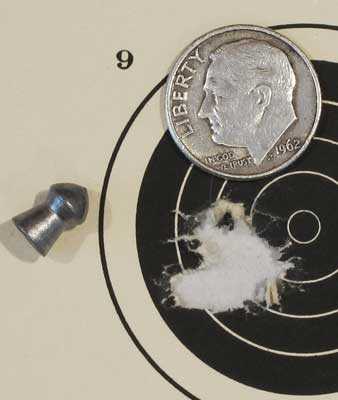 Ten Beeman Kodiaks made this very round 0.378-inch group at 25 yards. What a nice finish to today's shooting!
What I've learned
The first thing I learned from today's test is that this particular rifle doesn't seem to shoot as well on a fresh fill as it does on the second and third magazine of pellets. So, if you stop filling at 2,600 psi, you'll get 20 good shots from the rifle and not waste any air. I also learned that Crosman Premiers are the miracle pellet in this rifle, just like they've always been.
That last group of Beeman Kodiaks has me thinking that Premiers and Kodiaks will battle it out at 50 yards for the overall accuracy championship. I know Premiers are aerodynamically excellent, but the Kodiaks look like a real challenger in this air rifle.
I need to comment on the noise, or lack of noise. This .22 caliber Marauder is extremely quiet. It's more like a .177 than it is like a .25 in that respect.
I expected to have problems with accuracy when I encountered those wild shots during sight-in. But by hanging in there and shooting both the second 10 and the third 10, I learned that this rifle likes to push its pellet slower than most. I would have to live with the gun for a long time to learn all of its secrets, but the test rifle is a very accurate PCP that's worthy of the Benjamin Marauder reputation.
I like the synthetic-stocked rifle, but in my opinion it is no better than the older model in the wood stock. I never minded the thickness of the old wood stock, so I'm just going on the performance of the gun at this point.