by Tom Gaylord, a.k.a. B.B. Pelletier
I asked you last week to send me an email about how this blog changed your life (see last subhead). The special email set up for that didn't work after that blog went live, but we've just tested it — and it's fixed. I look forward to hearing from you.
This report covers:
• History of the gun
• The rifle
• Firing behavior
• A poor man's R7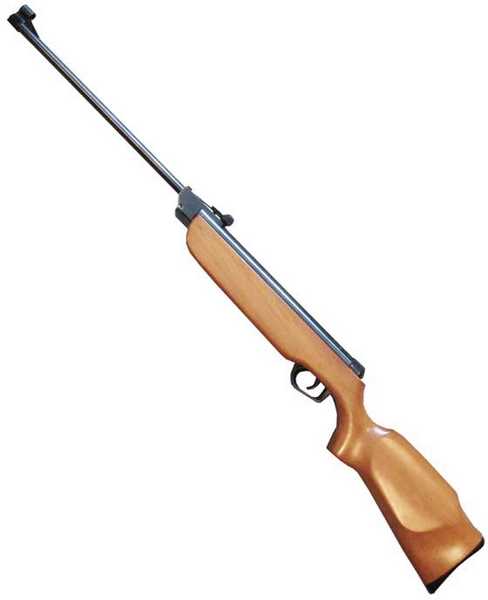 El Gamo 300 was a low-priced quality breakbarrel from the 1960s and '70s.
I told you that I bought an El Gamo 300 at this year's Toys That Shoot airgun show in Findlay, Ohio. And those readers who have been with me for a couple years know why I wanted this rifle — I said it was the conventional version of the El Gamo 68-XP breakbarrel that I bought from blog reader David Enoch at the 2012 Arkansas airgun show. I wrote 6 reports on that rifle, which today lives in my collection as a fine example of an airgun from an earlier time.
The recent passing of Robert Law caused me to read a 1979 Air Rifle Headquarters catalog yesterday, and I looked at the El Gamo 300 writeup very closely. Apparently, it isn't as much a conventional version of the 68-XP as a variation on that powerplant. The two rifles do share the same velocity and accuracy potential; and even though their styling looks different, I believe they have a lot of the same parts. When I examined the triggers, I could see that the 300 trigger is much simpler than the one on the 68-XP. So, what I said about their similarity needs to be better defined. The two rifles are closely associated, but the 300 is not just a 68-XP in a conventional stock.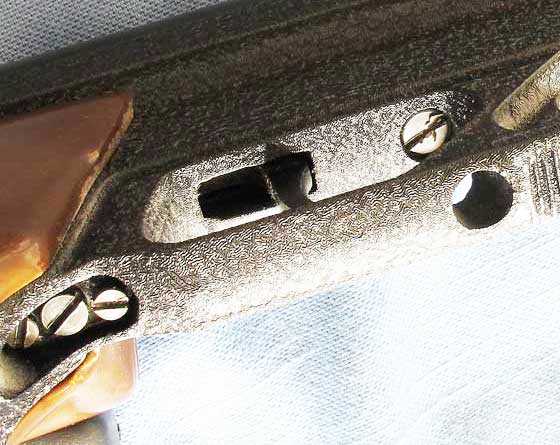 The 68-XP trigger has three adjustments (behind the guard).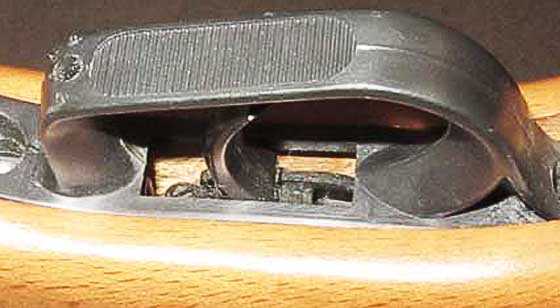 The 300 trigger has a single screw behind the trigger blade for adjustments.
History of the gun
Robert Law, the owner of the original Air Rifle Headquarters, was the George L. Herter of the U.S. airgun world. He published a large black-and-white catalog in the 1960s and '70s that got thousands of people started in this hobby — including me! He wrote tons of descriptive information about each gun, and he made you salivate over the thought of acquiring them. Here's what he wrote about the 300.
"An opportunity to buy a match profile rifle at a price typical of the 1960's era might seem a little too much to ask in this day and age. Yet that is just what the ElGamo people have accomplished in their remarkable 300 model! The remarkable price breakthrough has been made possible by eliminating expensive frills, using mass production, and the use of less expensive labor."
Let's look at that price a moment, for I have the price list that came with this April 1979 catalog. The 300 (he called it the 300 Target in the price list) sold for $82.95. The 68-XP brought $89.95. At the same time, a Weihrauch HW30S (the model with the Rekord trigger) was bringing $114.50, and a deluxe FWB 124 right-hand rifle went for $209.50. In today's dollars, the 300 would fetch around $225-250 because the HW30S is now bringing $329.99. But in 1979, Law felt that $100 was a price point that a rifle like the 300 could not top.
The rifle was actually discontinued in 1975 because of the increasing price, and then brought back when a large purchase was made by a single customer, dropping the production cost. The 68-XP and the 300 were made in both Spain and Brazil. When you bought one from ARH, it could potentially come from either country.
The rifle
The El Gamo 300 is a breakbarrel spring-piston air rifle in .177 caliber that I believe is the only caliber it came in. It's midsized, at 42-7/8 inches overall and weighing 6 lbs., 12 oz. The barrel is 17-1/2 inches long. The length of pull measures 14-1/4 inches.
Cocking is light and easy. I'll measure it in Part 2. The barrel is held shut by a chisel detent that's easy to open. For the modest power the rifle develops, the detent is sufficient to keep the barrel closed during firing.
The stock is a dark blonde-stained beech with almost no grain. The forearm is tall and narrow, having a boxy cross-section and pistol grip. The butt has El Gamo's "melted" look, where the raised cheekpiece barely stands out from the stock. And the comb has a Monte Carlo profile. The buttplate is hard plastic with some anti-skid lines and a bullseye mark and nothing else.
There's also some other plastic on the gun. The end cap, trigger blade, triggerguard, as well as some front and rear sight parts are made of plastic. The metal parts are blued steel that, by today's standards, is quite good. In its day, the 300 wasn't finished better than any other airgun in its price range.
The sights are a fixed hooded post in front and a rear notch that's click-adjustable in both directions. El Gamo made the notch too narrow, so the front blade fills it completely, making this rifle difficult to sight. A pair of 11mm dovetail grooves will handle a scope, but no provision for a scope stop. Remember, this rifle comes from a time when scoping an air rifle was considered a novelty.

The rear sight adjusts in both directions with light, smooth clicks. The rear notch is too narrow for the front post.
El Gamo also put a hole in the spring tube that allowed the direct oiling of the piston seal. I guess they wanted to keep the leather seal supple. I have only seen that on the Mendoza rifles of a few years ago.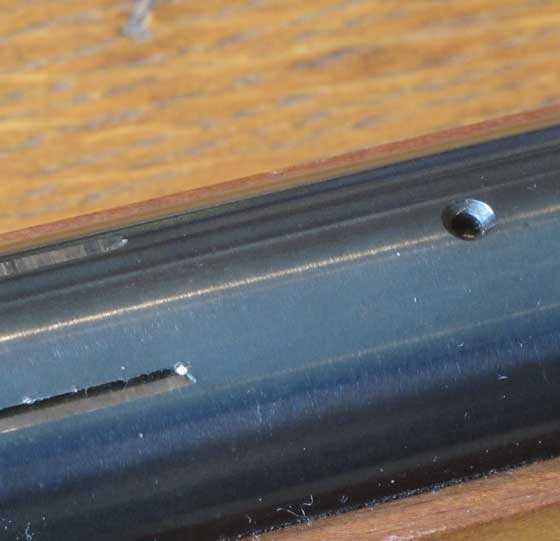 Two 11mm dovetail grooves allow a scope to be mounted. That hole is for oiling the piston seal.
Firing behavior
I've shot the 300 several times just to get a sense of how it feels. There's a little buzzing upon firing, but it isn't objectionable. Compared to my tuned 68-XP, though, I did notice the difference. The breech seems to fit most pellets well, so I hope that the accuracy Robert Law promised is achievable. He said I could expect to put 5 shots into 0.21 inches at 25 feet. I'll be shooting at 33 feet (10 meters), so I'm hoping that means I can expect a quarter-inch group. Then, again, I'll shoot 10 shots instead of just 5, and use today's super-accurate pellets. So, all bets are off.
Air Rifle Headquarters said to expect a velocity of 665 f.p.s. after conditioning, which is the combination of a break-in and initial lubrication. They said to expect 680 f.p.s. with their accurization. I don't care what my rifle does in the velocity department, but I do want it to shoot smoothly.
It isn't fair to compare this rifle to my 68-XP because I tuned and adjusted that rifle extensively. Maybe if I see enough potential from this one, I'll do the same.
At the time when the rifle was initially being sold, there was probably talk about whether or not a Brazilian model was as good as a Spanish model. I have no way of knowing whether there's any basis to that — both of my rifles were made in Spain.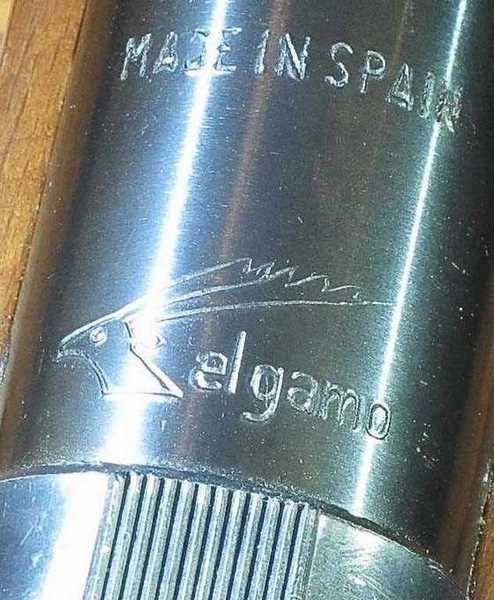 The El Gamo logo and the country of manufacture are stamped on the spring tube.
A poor man's R7
Whenever there's a rifle like this 300 that embodies a lot more quality than the price signifies, it gets labeled as a "poor man's something." In this case, given the size, accuracy and power, I think the Beeman R7 is the comparison. I do remember thinking back when this catalog was new that there was no way I would ever want either the 300, which looked cheap to me, or the 68-XP that looked like a kid's gun. But the long lens of time has a way of distorting things.
In light of the air rifles being offered today, the El Gamo 300 seems to offer a lot more than it did 35 years ago. I don't need the supersonic velocities being offered today, and will trade them in a heartbeat for a cocking effort that's lower. The questions that remains are how well the trigger performs and what kind of accuracy I can get.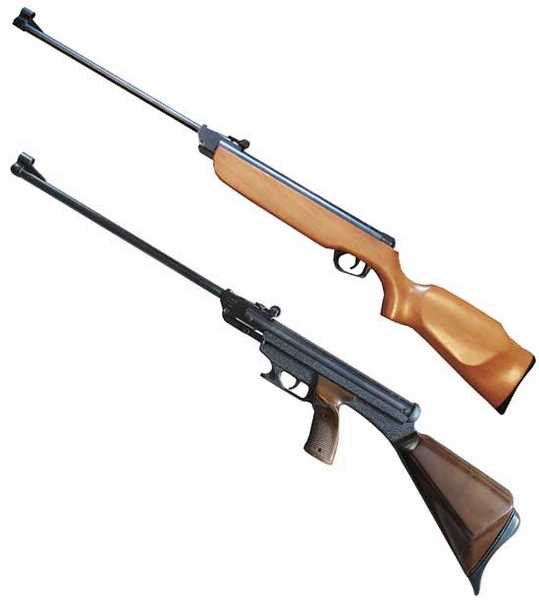 The El Gamo 300 (top) is a conventional breakbarrel, compared to the 68-XP.