by Tom Gaylord, a.k.a. B.B. Pelletier
Today's report is a continuation of the guest blog from HiveSeeker. Today, he tells us about accuracy
If you'd like to write a guest post for this blog, please email me.
Over to you, HiveSeeker.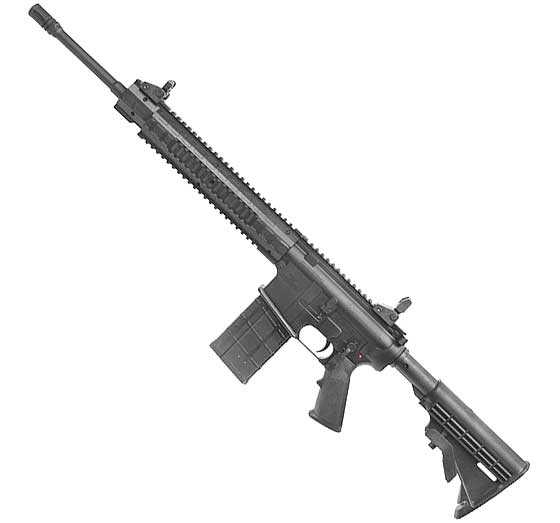 Winchester MP4 is a realistic and fun-to-shoot military replica pellet rifle.
This report covers:
• Shots per fill
• Heavy trigger
• Best results
• The normal grouping
• Bug Buster
• Summary
• The Dallas Field Target Club inaugural shoot
• How the blog changed my life
Shots per fill
While testing pellet accuracy, I shot at 6 bullseye targets (60 shots), swapping CO2 cartridges after each set, and did not notice any decline in performance at 10 yards. I also did a lot of enjoyable spinner silhouette shooting and started noting an increase in misses only as I approached the 80-shot mark (you go through pellets fast with this semiauto!). In conclusion, shooters can expect at least 60 accurate shots before swapping CO2 cylinders, depending on temperature.
It doesn't matter how good the Winchester MP4 CO2 rifle looks with that bipod or red dot scope on it while you're reconnoitering the backyard. How well does it shoot? A gun is only fun if you can hit what you're aiming it at, and the Winchester MP4 does reasonably well in the accuracy department.
Heavy trigger
My rifle does not appear to be suffering from the reported loose barrel problem (which can ostensibly be remedied by removing the 6 screws holding the Picatinny forearm and hand-tightening the barrel). However, the trigger-pull on this rifle is a conspicuously heavy 7.6 lbs. according to my hand scale. My wife and brother-in-law, who is former military (both ends of the spectrum, and both experienced shooters), singled this out as a major complaint. This is no youth rifle. I agree that accuracy would be better without having to exert so much pressure to get a pellet off. However, after some limited travel, the trigger — heavy as it is — breaks clean and crisp.
I shot outdoors at 10 yards from a benchrest using the aforementioned Bug Buster scope and a Leapers Golden Image 30mm red dot sight. All pellets tested grouped right around 1″ — give or take a little. Results were slightly better using the BugBuster. This rifle is not a tackdriver but is certainly a solid performer as long as you keep the range at 10 yards.
Best results
The following pellets gave the smallest 10-shot groups. At least one out of three measures 7/8″:
Crosman Destroyer
Crosman Destroyer EX (the slightly different version sold only in discount stores)
Crosman Premier Hollowpoint
H&N Finale Match Pistol
Air Arms Falcon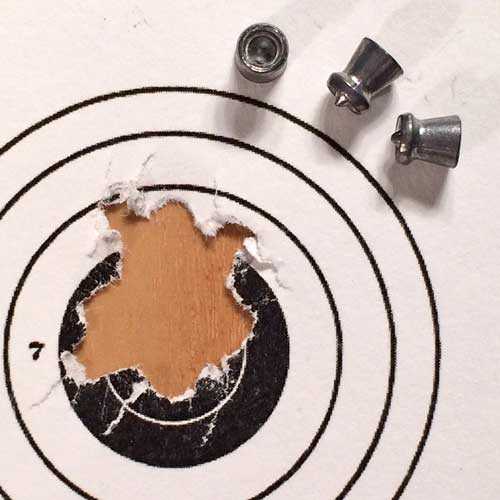 Ten Crosman Destroyer EX pellets (a slightly different version of the Destroyer pellet sold at discount stores) went into 7/8″ at 10 yards.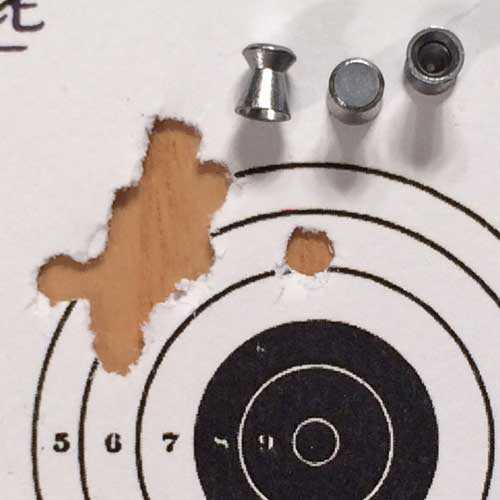 Ten H&N Finale Match Pistol pellets made this 7/8″ group at 10 yards.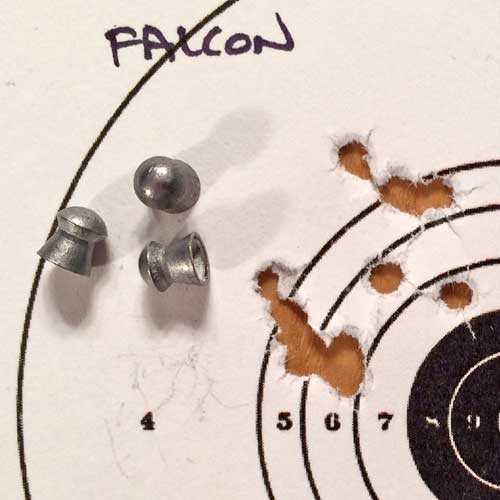 These Air Arms Falcons also grouped in 7/8″ at 10 yards.
These three pellets gave at least one 10-shot group out of three as small as one inch between centers:
Crosman Competition Wadcutter
Crosman Premier Super Match
Gamo Tomahawk
The worst pellet tested was the JSB Match Diabolo Light Weight. They gave a best group that measured 1-1/8″ between centers.
The normal grouping
Most groups were erratic and inconsistent, with more pellet scattering than clustering. Nevertheless, the largest groups I got were still a reasonable 1-1/2″ (for the Crosman Destroyer EX and Gamo Tomahawk). Since each group was 10 shots, I filled one drum of the magazine completely (8 pellets) and then put only 2 pellets in the drum on the other side of the mag.
One interesting and frustrating observation was that my final 2 shots, after flipping the magazine around, almost always opened up the group, in some cases by a full half-inch or so. At least part of the time, though, this gun is capable of significantly tighter groups than I'm reporting here.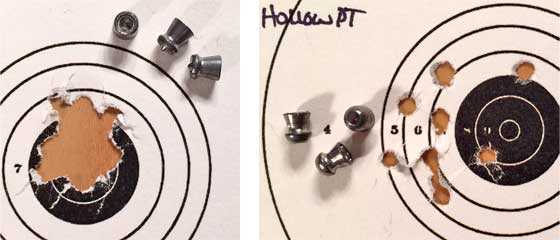 On the left is the only really tight group I got — 7/8″ for the Crosman Destroyer EX. Nearly every other group looked a lot more like the Crosman Premier Hollowpoint group on the right, with hardly 2 pellets in the same hole anywhere.
Bug Buster
I mentioned that I shot this gun with a Leapers UTG 3-9×32 Bug Buster scope. When I first started sighting in at 10 yards, my initial POI was a very low 5″ under the bullseye. I had to do a lot of clicking to get the POI near the bullseye; and by the time I was finished, I noticed a fair amount of blurring in the bottom quarter of the scope's field of view. I suspect I'm approaching the limit of adjustment on this sight. The amount of blurring worsens at higher magnifications. I own another Leapers UTG 4-16×40 scope that I just love, but field of view and eye relief on the compact Bug Buster are not nearly as forgiving or comfortable. Both my wife and brother-in-law (again, each an experienced shooter) complained about how difficult it is to sight through this scope. Although the Bug Buster has performed reliably and adds to the military look of this gun, I'm going to try a 40mm or larger compact scope on it at a later date.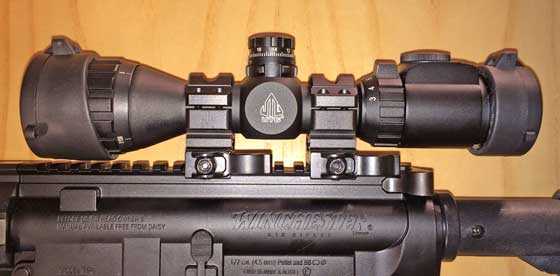 The Leapers UTG 3-9×32 Bug Buster was much better to look at than to look through. The scope showcased the drawbacks of a small-objective compact.
A couple minor notes before wrapping up: Although Pyramyd AIR rates this rifle a 4 out of 5 for loudness, I didn't find it to be especially noisy outdoors. On my screened porch, the report was definitely loud, but that depends on how the sound is bouncing off the walls. Shooting noise from inside a bedroom was only average, which is how I would rate this gun for sound.
Also, the manual states that you should store this gun uncocked. Every time you fire, the bolt is re-engaged by CO2 pressure for the next shot. After you've finished shooting and have removed the CO2 clip, remember to point the rifle in a safe direction and squeeze the trigger one last time before casing it.
Summary
In conclusion, the Winchester MP4 is an authentic- looking and handling military replica with some known issues but enough accuracy to make it quite enjoyable for casual shooting. For plinking around the yard while looking like a commando, this rifle fills the bill — and does so nicely.
The Dallas Field Target Club inaugural shoot
Bob Dye submitted the following report and photos of the first Dallas Field Target Club shoot.
Twenty-six shooters appeared on a beautiful June 14 day for the event, some traveling from as far as Oklahoma and Louisiana.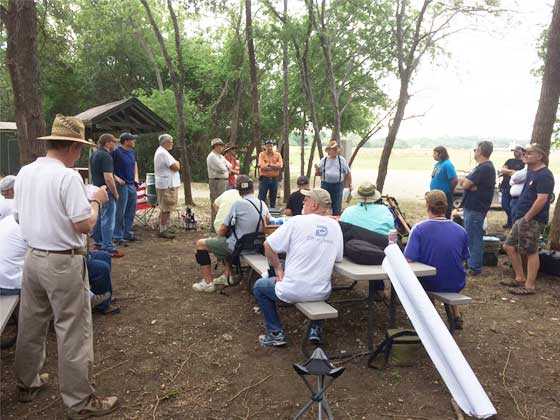 The first Dallas Field Target Club match was well-attended.
Everyone had fun with friendly competition in all the usual AAFTA competition classes. Among them were 6-7 new shooters. Some chose to participate in one of the regular AAFTA classes, while four others participated in a Fun Rifle category, where basically anything goes concerning shooting style and equipment choices.
Great scoring latitude was offered, scoring one point for simply hitting the animal faceplate and two for a knockdown. This appeared to be a great way to let the novice shooters have fun scoring points plinking lead against steel, along with the extra satisfaction when the target falls over. It also served as a fun change of pace among the experienced shooters.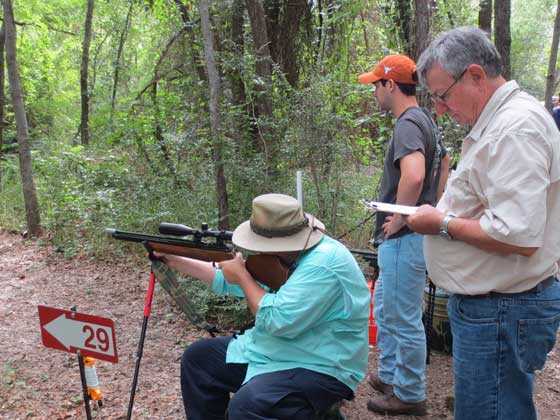 Shooters enjoyed the relaxed pace of the day.
While the facilities have lanes long enough to create a challenging Troyer difficulty of 36 or more, this first, 50-shot match was built on 9 lanes to a 23 Troyer, again to put some smiles on faces the first time out. [Editor's note: Brad Troyer devised a way to rate the difficulty of a field target course based on the size of the kill zones; the distances at which they're placed; and the difficulty of the shot based on placement, light and shooting position.]
Accordingly, two of the seasoned veterans rose to the challenge to ace the course. David Alsup shot a perfect 100/100 in Open PCP. And, while I told him I thought he was a shoo-in to do this, David asked to keep his score card, indicating it was a special day for him, too. Great shooting, David!
Likewise, perennial Hunter Class leader Ron Robinson also shot 100/100 with his brand new TM1000 rifle. I haven't seen such a big grin on Ron's face is some time. Or at least since last weekend in Pulaski. Ask him how he likes his new rig and be prepared for 5 minutes of superlatives. Excellent match with a new rifle, Ron!
Altogether, 17 of the 26 competed in one of the two Hunter Classes, including two in Hunter Piston. Four people posted scores in Open PCP — rather unusual in these parts.
The mostly sunny weather cooperated for a mid-June day, with a high of only 85 degrees F during the match, which made the humidity bearable. The turnout was superlative for this first ever club match.
Thanks to members Kevin Enzian, Jeff Latimer and Jerry Cupples for helping me set up the course the afternoon before. I couldn't have done it by myself.
Next match is in August. Stay tuned. Visit the Dallas Field Target Club website.
How the blog changed my life
I initially published this section on the May 30, 2014, blog. I'm going to repeat it at least once a week during June and July so it doesn't get lost or forgotten.
From the comments many of you make, I believe the blog may have positively impacted your lives. I invite you to send me an email telling me about that impact.
Were you a firearms shooter who accidentally discovered airguns through this blog? If so, tell me how this blog has helped your understanding of airguns.
Were you already an airgunner, but you thought what you saw in the big box stores was all there was? If so, how has this blog helped you understand more about airguns?
I've gotten quite a few responses already, but I want to make sure you know that I'm not looking for "attaboys," pats on the back or personal recognition. I'm looking for real feedback on what you've learned so I can target my blogs to what you feel is important, what you'd like to know and what you're still unsure of. This blog is written for its readers, and I want to share your stories with others who may be where you were before you found this blog.
Pyramyd AIR has created a special temporary email address for this. I'll be the only person to get these emails, and we're not going to generate any lists from the addresses.
My plan is to publish one or more blog reports with the more interesting comments. If you want, I will use your real name or blog handle; but you can be anonymous, too. I won't use your name or handle unless you give me written permission to do so.
This email address will be live for only a few weeks. We have tens of thousands of readers worldwide. Even if you've never commented on the blog, you can email me your message if you like. If you're reading this blog after July 2014, email submissions will no longer be forwarded to me, and you may get an auto-reply email stating that or your email might bounce back to you.