by Tom Gaylord, a.k.a. B.B. Pelletier
This report covers:
• Lots of interest
• Mounted the scope
• The scope
• Initial accuracy
• Examine the baffles
• Back to Premiers
• Conventional artillery hold not right
• Found the secret
• Cocking effort
• Trigger
• Firing behavior
• Summary
Today is like one of those pregnant pauses in a movie. You know what you want the hero (that's either me or the Benjamin Trail Nitro Piston 2) to say, but he just won't say it. The poorer the actor, the longer you wait. Not today.
The Benjamin Trail Nitro Piston 2 works!
Oh, there's a lot to tell, and I'm far from finished with my evaluation, but that's how the story will end. I want to tell you about the rough and rocky road it took to get to that point — and we aren't quite there yet.
Mounted the scope
I'm going to start shooting for accuracy, so first I mounted the 3-9X32 CenterPoint scope on the rifle. Mounting was easy, and the scope aligned very well. Then, it was time to sight in the rifle. I always start at 12 feet from the target, so I know I'm on paper. I would start at 10 feet, but I have a door jamb at 12 feet, so there you go. The object is to get the pellet to hit in line with the center of the target and as far below the aim point as the center of the bore is below the center of the scope.
It took 3 shots to adjust the scope to the point that I knew the rifle would be close at 10 meters. Next, I set up a bench at 10 meters and proceeded to shoot several more shots — refining the zero. At 10 meters, I want to hit one inch below the aim point so the pellet will be on target at 20 yards. I'm going to shoot from 25 yards today; but as fast as this rifle shoots, it will be on the aim point between 20 and 30 yards, approximately, if I sight-in this way.
A couple more shots, and I was sighted-in. I went back to 25 yards and started shooting seriously.
The scope
Before we move on, I'll comment on the scope. While it does have clear optics, the parallax isn't adjusted for 25 yards; so, on 9x the bull was out of focus. One reader asked me for my observation and there it is. I think a scope for a rifle like this should have its parallax adjusted for 20-25 yards if the scope is going to have fixed parallax.
Initial accuracy
I began shooting with .22-caliber Crosman Premiers, as those are the pellets I felt might do the best in this rifle. The first couple shots went to my exact aim point, then they started dropping several inches below. I ended up with a nice group of 6 shots about 2 inches below the aim point and 4 more shots that ranged up to the aim point. All in all, not a very good group. I switched pellets.
I tried JSB Exact Jumbos next; but when the first 3 shots went into 1.50 inches, I stopped shooting. Next were Beeman Kodiak pellets. By shot 3, the group was already larger than an inch and a half, so I stopped. Finally, I tried some RWS Superdomes, and this time I stuck it out for 6 shots. They landed in 2-1/4 inches, and that stopped the whole show. Something was wrong!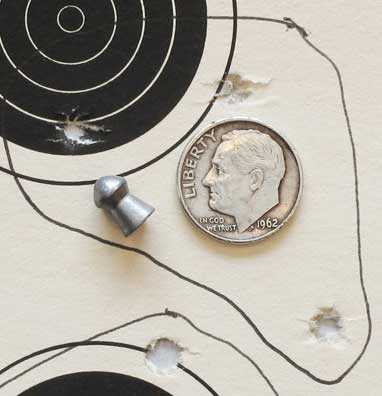 Three Beeman Kodiaks made this group that's larger than 1.50 inches. The shot at the bottom center is from another pellet shot at a different target.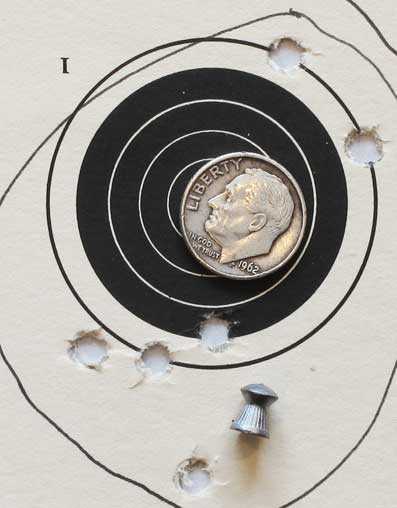 Six RWS Superdomes landed in 2-1/4 inches. Something was wrong!
Examine the baffles
Whenever I get wild or open groups like these from a gun that has baffles, I suspect the pellets are hitting the baffles or the end cap as they leave the gun. So, I shined a strong light down the muzzle and looked around all the baffles — looking for places where a pellet might have ripped off some of the plastic or left a gray streak. On aluminum baffles, a gray streak is what to look for, but these baffles are plastic, so I thought they might have been cut slightly.
But they looked perfect. They were completely round and there were no marks of any kind. I could see all the way down to the true muzzle of the gun, so I looked at the crown, to see if it was rough or out of round. And that's when I saw it. Or, rather, I didn't see it. I was unable to see the whole muzzle! Part of it was obscured by the last baffle! It was not in line with the bore!
The baffles are one cast piece of synthetic, and they're separate from the shroud tube. I showed them to you in Part 1. They have rubber o-rings on each end of the baffle tube to center the baffles inside the shroud tube. But here's the rub. The baffles, and not the shroud tube itself, thread onto the end of the barrel. The baffle tube has an end cap that holds tension against the shroud tube. Once the baffles are tight, everything is tight; but it's still possible for the shroud tube to rotate. If that happens, it's possible for the baffles to be misaligned with the muzzle of the barrel — or at least it is on my test rifle! All I had to do was rotate the shroud tube about 90 degrees, and then I could see the entire muzzle! It was time to shoot another group.
Back to Premiers
I went back to Crosman Premiers now that the muzzle was clear. The inside of the baffle tube looks like it has more than enough room for even a .25-caliber pellet to pass through without touching, so I figured it would be okay. This time, I shot a much better group of 10, with 8 pellets in 0.915 inches. The last 2 pellets opened the group to 1.748 inches, and they just looked wrong as I watched them fly to a different spot through the scope. Something was wrong, but I didn't think it was the pellets.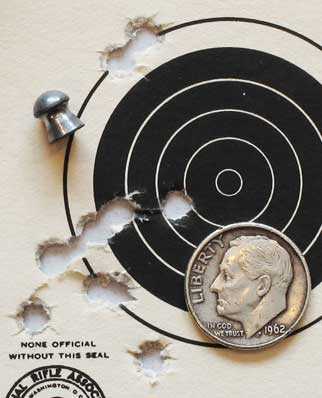 This first 10-shot group of Crosman Premiers has 8 shots within 0.915 inches, and 2 that open the group to 1.748 inches. Something isn't right.
Conventional artillery hold not right
I switched to H&N Field Target Trophy pellets. This time, they all landed in a nice 1.1357-inch group until the final 2 shots opened it to 1.704 inches. Clearly, something still wasn't right, but I didn't know what it was. However, I was starting to suspect that the conventional artillery hold isn't right for the NP2.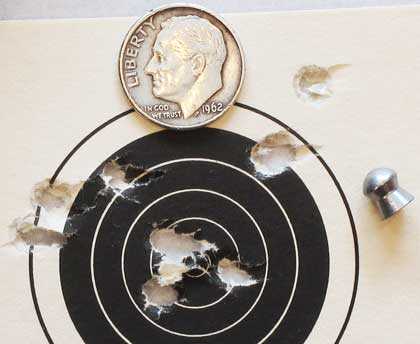 Ten H&N Field Target Trophy pellets went into 1.704 inches, with 8 of them going into a much smaller 1.135 inches. That's still not great, but it's more uniform.
I tried both Kodiaks and Superdomes, again — this time with the rifle rested directly on the sandbag. The results were about what you would expect when resting any breakbarrel springer directly on a bag — 3 shots scattering wide in 2-1/2- to 3-inch groups. Obviously, that's the wrong thing to do!
I found the secret
I shot another 10-shot group of Premiers and experimented with the hold as I shot. When I firmly held the pistol grip, the group tightened up. When I relaxed in a traditional artillery hold, the shots went wild. The group looks bad at 2.508 inches overall, but 7 of those shots are in 1.042 inches and 5 are in 0.802 inches.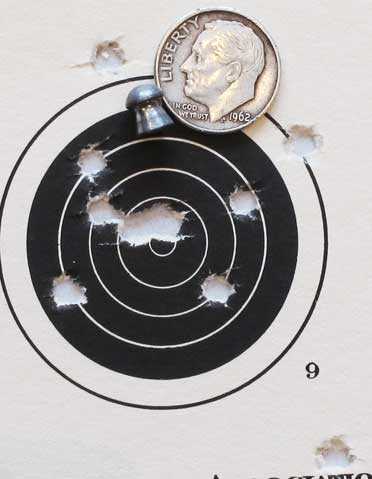 This group taught me what I needed to know. Hold the gun tight, and it groups. Hold it loose, and it scatters pellets everywhere.
Next, I shot another 10-shot group of Premiers, With the pistol grip held tight, 10 shots went into 1.207 inches, with 9 going into 0.835 inches. Eight shots went into 0.514 inches. It's not a smaller group overall, but there are more shots in the main group. I'm learning how to hold the rifle.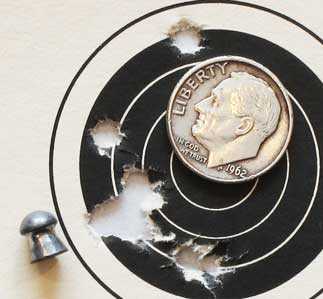 Now, we're cooking! 10 shots in 1.207 inches, 9 in 0.835 inches and 8 in 0.514 inches! This shows promise!
That was followed by another 10-shot group of Premiers. This time, 10 went into 1.178 inches, and 8 were in 0.721 inches. I was definitely learning how the NP2 wants to be held.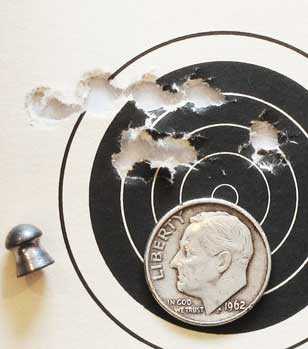 Ten in 1.178 inches, and 8 in 0.721 inches. I am getting to know the NP2.
Cocking effort
I said in Part 1 that the effort to cock the rifle was heavier than I remembered from the SHOT Show, and in Part 2 I gave the effort as 38 lbs. as measured on my bathroom scale. I also said in Part 2 that the rifle seemed to get easier as I tested the velocity, but testing it on the scale once more didn't bear that out. Well, after today's shooting, which added more than 70 shots to what was already on the gun, the cocking effort has dropped to 32 lbs. The rifle is getting into the area where it's worth taking notice! Do you remember that I said it probably needs to be broken in? I may have proven that in this test, but I need to test the velocity, again, just to show that lighter cocking doesn't also mean a loss of velocity.
After over 70 shots, I found myself tiring from the session, so I stopped; but the rifle didn't seem that hard to cock. This is a surprising and happy revelation.
Trigger
As I was shooting targets today, I found the trigger very heavy. I'll try to adjust it lighter next time. It's still smooth and crisp.
Firing behavior
The gun still shoots dead calm without vibration, but the two-way recoil is very noticeable. I had to tighten the ring caps after the scope slipped 3/8 inch from recoil in the first 15 shots. That was my fault for not tightening the screws enough to begin with.
Summary
These groups are not what I had hoped for, but they do show that there's a right way to hold the gun. I don't think I have that hold perfected, yet, but I'm closer than when I began. I actually believe the NP2 is capable of much better groups than those you see today because there are smaller groups that look wonderful in each of the final groups.
Crosman said they were able to get one-hole groups at 35 yards. I'm not there yet, but I'm certainly able to put 5 out of 10 into a single hole at 25 yards. Next time, I'll shoot only Premiers and will begin the test knowing how to hold the rifle. It should get better from there.